The Best Canicross Tips From Champions
Training your dog is a challenging topic, but even more, when you train for the Canicross! Get the best insights and Canicross tips from this awesome customer interview!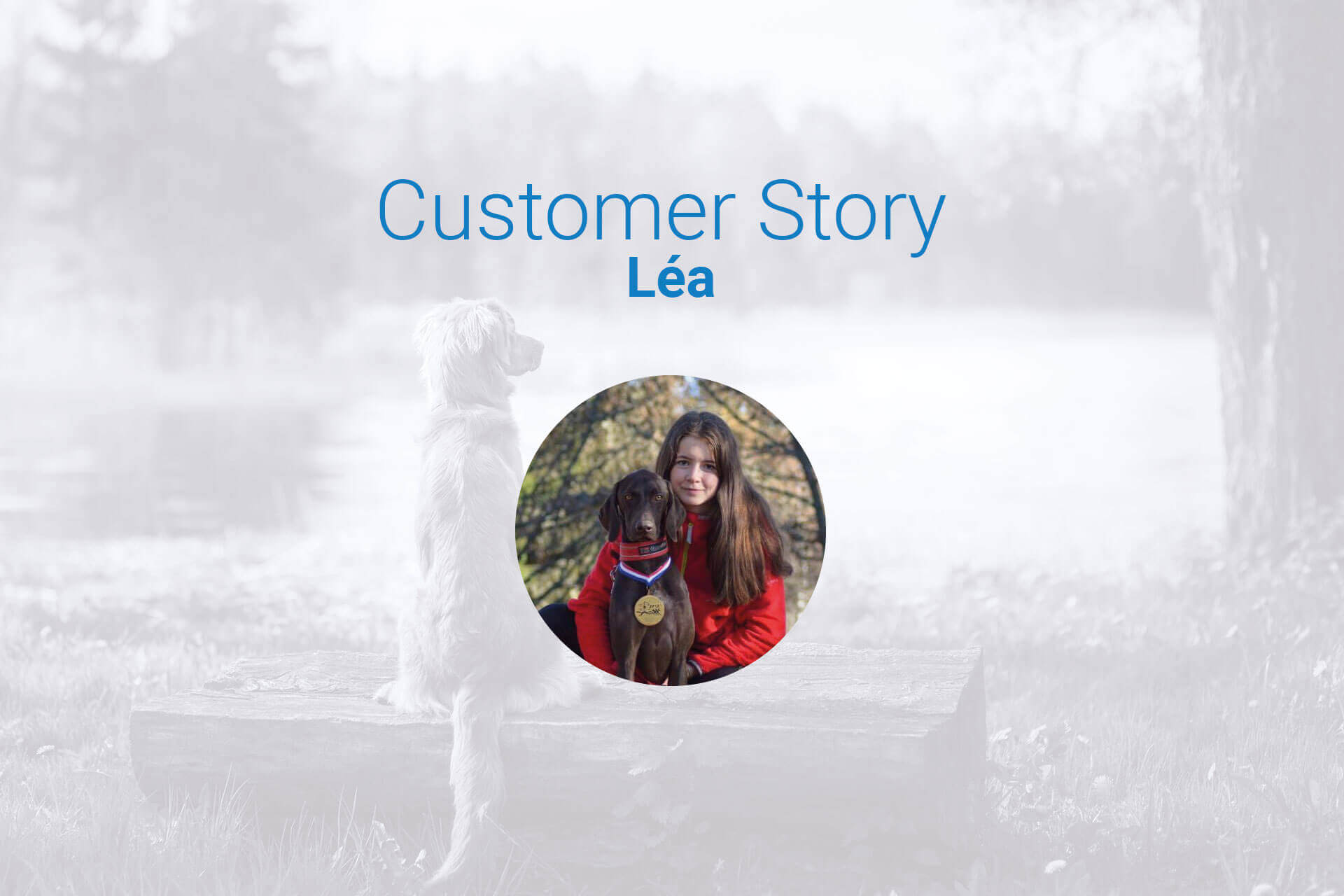 17-year-old Canicross French champion Léa and Tractive GPS user Arnaud Sapiot disclose what it takes to become professional Canicross runners. Get the best Canicross tips directly from the champions! Besides, learn how doing sport with your dog can strengthen the bond between you and your four-legged best friend.

1. Why Canicross?
Léa: I guess it's because Canicross combines what I love the most: running and dogs.
Arnaud: Easy. There is no better way to connect men with dogs. Training means spending quality time with your dog. That's why I highly recommend it.
2. Léa, who do you run with?
Léa: Laika is a 2-year-old German Shorthaired Pointer and my Canicross partner. I adopted her when she was 2 months old. She was diagnosed with having HS-HA syndrome and Canicross has helped coping with her disorder.
Arnaud: I can relate to Léa here. Canicross means discipline. You have no idea how rigorous this sport is before you actually start practicing it. From the equipment to the correct training techniques, focus, which is at the heart of the sport, can help both the runner and the dog become more mature.
Léa: That's true. Just a few months ago I adopted Lou, my second dog, from the animal shelter. She is more than 1 year old now and very shy. You know, adopted dogs can be very timorous. This has been the case for Laika and it is true for Lou as well.
Canicross seems just like the right sport to improve your dog's socialization skills while keeping it tamed. When you run, you are still competing against the others. This is why, ultimately, Canicross can be seen as a group sport.
And who is your running partner, Arnaud?
Arnaud: My one and only. He is a 5-year-old Standard Poodle. With an average weight, which varies from 20 to 22 kg, adult standard poodles don't have particularly strong muscles but perform very well in Canicross.
3. When did you start practicing Canicross?
Arnaud: Not that long ago. I've been practicing for two years now. Canicross is very popular in France. Throughout the country, you easily find FSLY* certified Canicross clubs. In Obernai- Alsace, where I live, I train at the "Empreinte67" sports club.
Léa: It was 7 years ago. I was only 10 and didn't have my own dog. I used to train with a Husky from Sébastien Dos Santos, the breeder.
You are a very young runner Léa, how does this feel?
Léa: Running for the first time was pure adrenaline. Yet something was missing. I wanted to be able to train and run with a dog I could call mine.
When I turned 14 and got Harry, a 2-year-old cavalier King, we started to train together. I was the happiest girl!
Sadly, Harry got poisoned one year later. But when Harry passed away, I knew I wanted a dog in my life and I felt ready to welcome a new puppy at home.
Yet giving up Canicross wasn't an option either? When did you take up running again?
Léa: Exactly! In 2015, I competed with Maya-an Alaskan dog with whom I'd developed a strong connection during training, and came second in the French Canicross National Competition of the year.
I was proud of our achievement and felt ready to take up new challenges, but this time with my own dog. That's when I got Laika.
Together we won the National Championship for young runners and the French Junior Grand Prix 2016, and we topped up our winning season by scoring 4th at the European Championship 2016.
4. What is the key to success?
Arnaud: It's your dog. Respect his needs and protect him. Do not train too hard or push more than he can take. Perform all routine check-ups and feed him according to his size and breed.
Never lose sight of him. Your running companion really is like an athlete; hence it needs special caring. Losing sight of where he is heading-during a walk, for example, can be dangerous and undermine its Canicross career. You never know which dangers lurk in when he's out there wandering.
To all who care for their dogs as much as I do, I recommend Tractive GPS Tracker. With the usage of such a device on a regular basis, I feel confident of leaving my dog playing alone outside. I know I can always check on him just by opening the Tractive GPS app on my phone.
To all Canicross runners, it is also good fun to use the Tracker during training. I activate LIVE-Tracking and often trace back the path once I am home.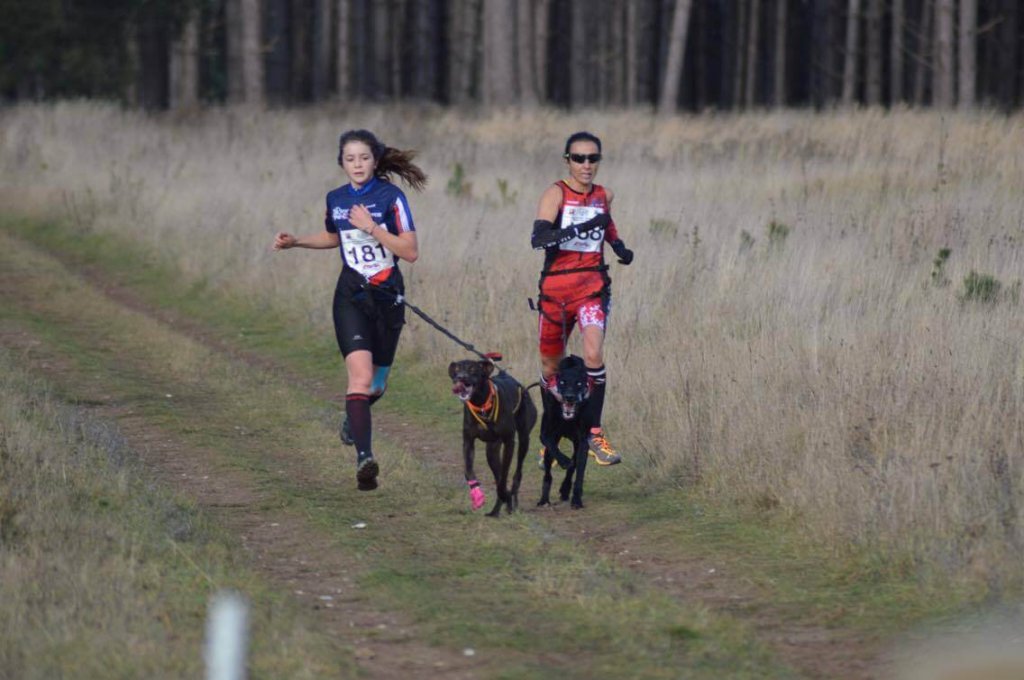 Léa: I agree, my dogs come first. Also, like with any other sport, having a good mentor is decisive. Mr. Antony Le Moigne is my coach and I couldn't ask for better. He is Canicross World Champion 2013, vice European Canicross Champion 2016 and has won the French national championship 5 times.
We train once or twice a week focussing on Canicross and bikejoring (called Cani VTT-in French) alternatively. The distance we run changes according to the type of training we perform. When we don't train, we like going running together. That's what keeps me motivated, knowing that my coach is always by my side.
5. What's your challenge at the moment? And what has been your biggest challenge in the past?
Arnaud: My challenge is more of an objective. I aim at winning the French Canicross national championship in 2017; this is what I am training hard for at the moment.
Léa: Me and Laika are part of the French national team and this is by far one of the achievements I am most proud of. When you are an athlete, though, getting better is your constant challenge.
When I look back at the adversities I faced when doing sport, there is this one episode I always like to recall. Picture me and Laika at the start. It is a very important competition and you can read the general excitement on each participant's forehead, pearled with sweat drops. Laika is in front of me, leash attached, ready to sprint once the judges say "Go!".
But before this could happen, Laika slips out of her collar and gallops away at full speed.
I freeze.
I could foresee a disqualification coming, when suddenly… she stops: it wasn't me running behind her! She was alone and once she realizes it, she hurries back to me, standing still at the starting point. Laika was not running for just herself, and this was the proof.
(French association for sports and leisure activities with dogs) FSLY*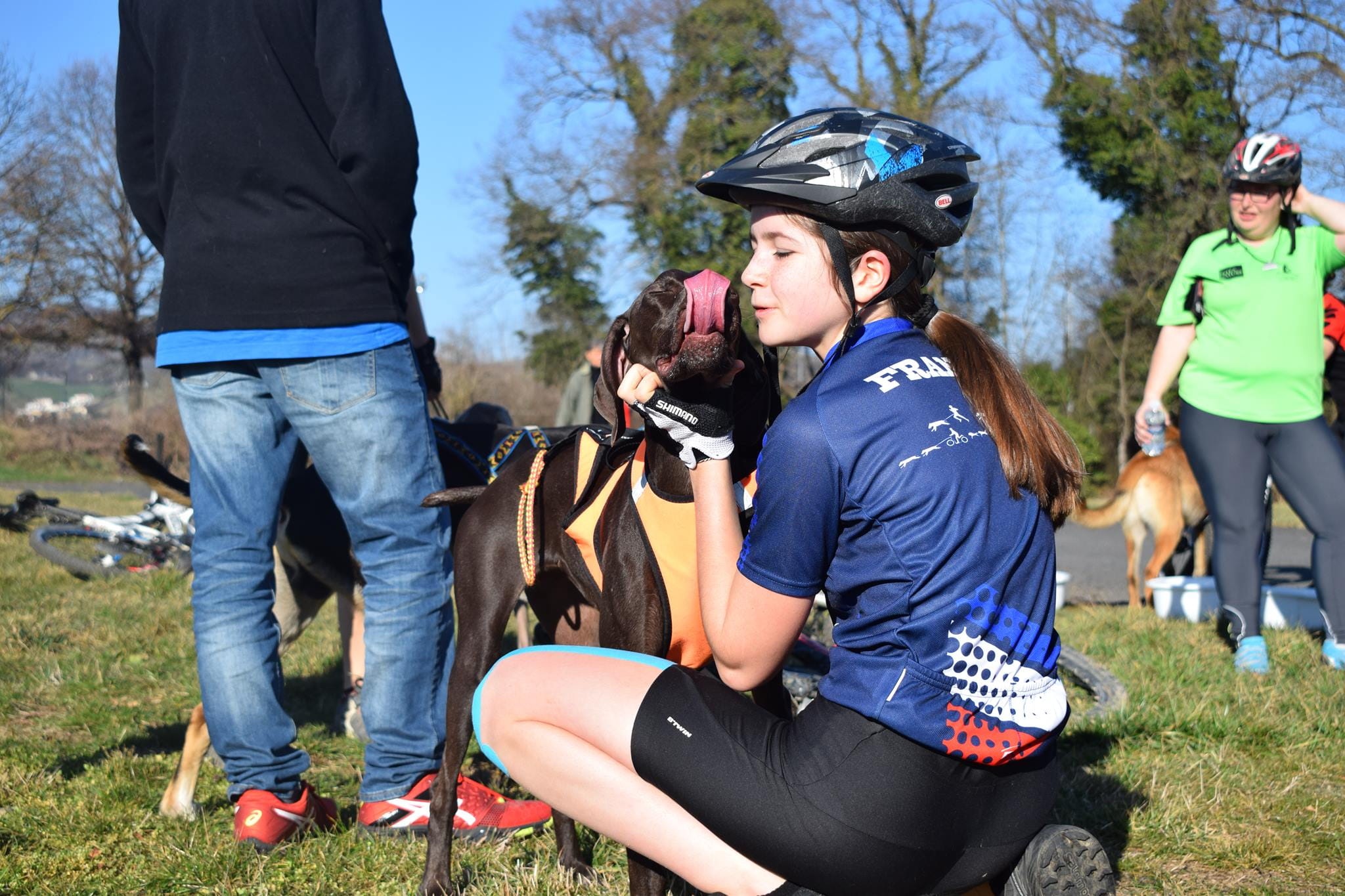 ---
Léa belongs to the Tractive community since April 2017 and she is fully satisfied of the benefits of Tractive GPS. This gives Léa the piece of mind that she needs for training worry-free with Laika and supports them both in their Canicross adventure! If you want to follow Léa and Laika in their adventures, check out Lea's Facebook profile.
Do you want to make use of Tractive GPS yourself? Try out the benefits of a GPS Tracker for your fluffy fried and don't forget to share your story with the entire dog-loving community!