Customer Stories
Mud about adventure – Meet Opie the energetic White Shepherd mix
Ever wanted to meet a White Shepherd mix? You're in luck. Read all about the Opie and his adorable adventures on the farm.
It was the ears that got her. When Autumn was searching for a rescue dog, she stopped on a photo of a White Shepherd mix whose big ears stood straight up. Autumn immediately knew this dog, Opie, was the perfect fit for the small farm she lived on with her family.
What Autumn didn't know yet was that Opie was a VERY energetic dog. One of the most active pups out there, in fact, according to Tractive's activity monitoring data. He logs 300-500 minutes running, walking, and playing – per day!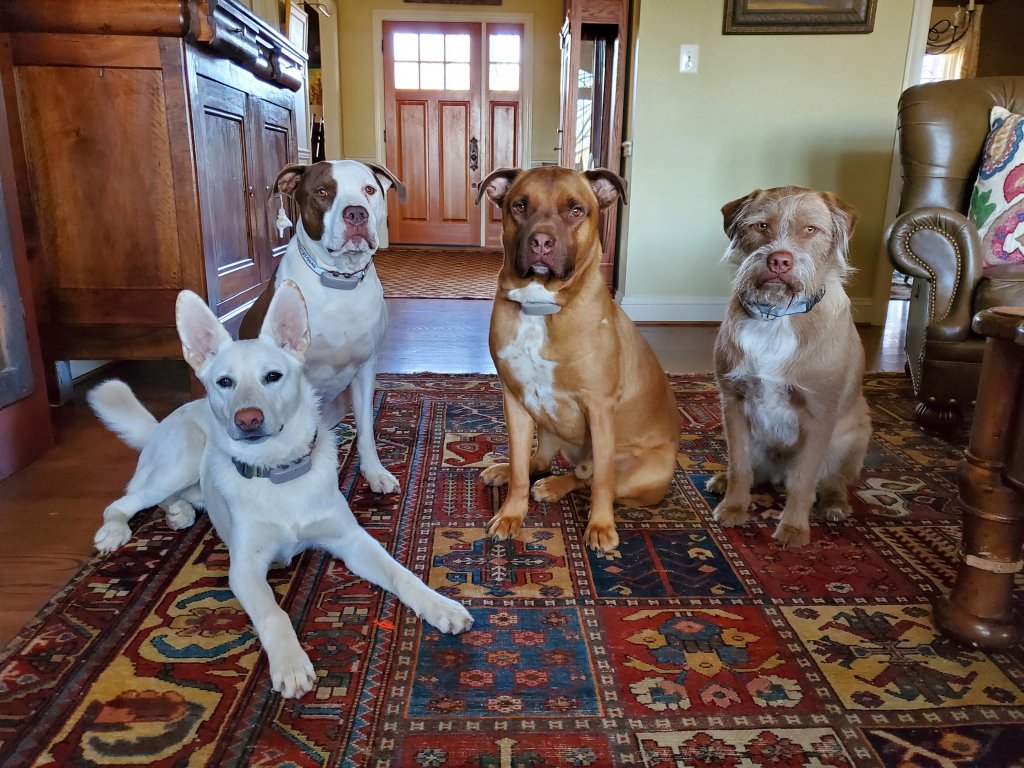 When Opie arrived at the farm as a puppy in November 2020, "We thought we were crazy for a while," Autumn said. "Then, we discovered Tractive and were relieved to find out we weren't crazy – Opie really was the most active dog around."
24 hours with Opie the White Shepherd rescue
Opie starts the day by chasing a soccer ball around the yard with his three brothers, who are also rescue dogs. Then the whole family goes for a 1 to 2 mile walk through the fields and woods near the farm. While his brothers later nap in the sun, Opie tags along as Autumn tends to the chickens and sheep. When it's time to visit the pigs, Opie gets a bit intimidated by their size. So he stays at a safe distance.
Opie carries his beloved ball everywhere and drops it at Autumn's feet whenever he feels ignored. "He chases squirrels with a ball in his mouth," Autumn says, "and he even drops it on top of the running vacuum."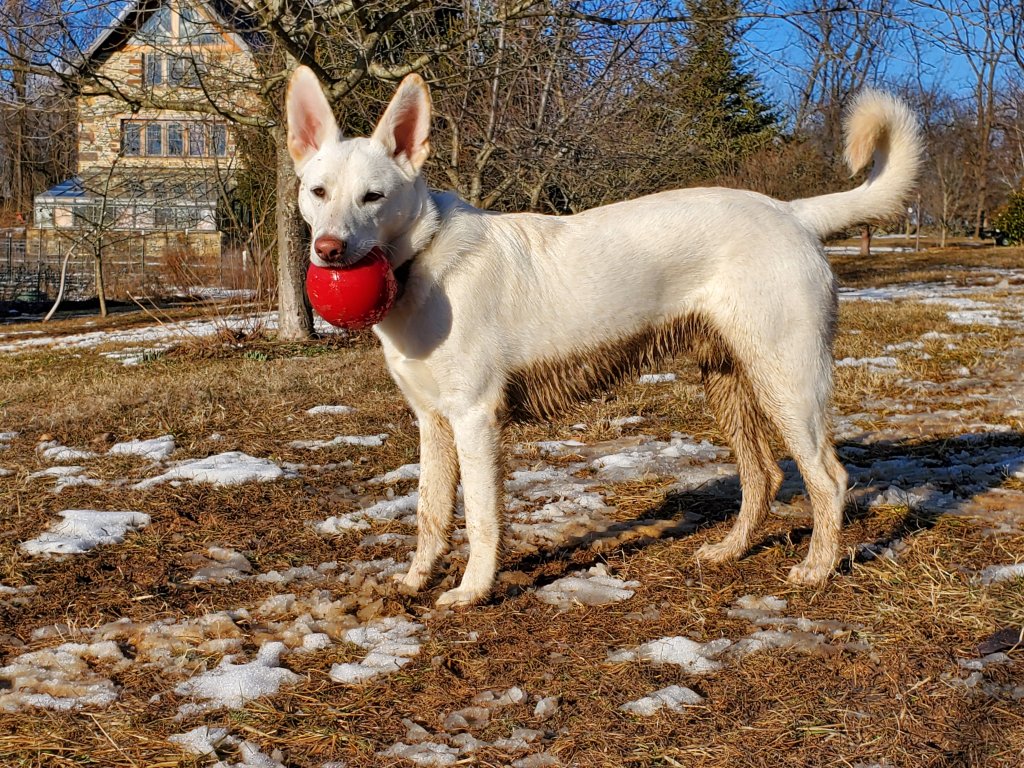 Mud is another of Opie's favorite things, and he encounters a lot of it as he runs in the snow, ice, and rain. Another thing he can't resist? The small pile of coal used to heat up the greenhouse. "Once or twice a week, Opie literally dives into the coal head first and comes out a grey-blue color all over!" Autumn says.
Luckily – for Autumn – Opie also knows how to be a good boy and sit still in the bathtub.
Free to enjoy the outdoors, worry-free
Living on a small farm allows Opie and his brothers to run off leash. But keeping track of four dogs – especially when one of them is a (fur)ball of energy – can be a challenge. Autumn says that Tractive "has made our lives much easier. Now, I don't have to drop what I am doing just to go make sure all of our dogs are where they should be! I just have to pick up my phone and I can check on them."
And amid all his zipping about and playing around, Opie has raced his way into Autumn's heart. "There is nothing better than a bond with a dog. And I feel very fortunate that Opie is innately such a smart and attentive dog," she says. "Having a dog that never leaves your side is something very special!"
Fun facts about White Shepherds
There are many different types of Shepherd mix dogs. But White Shepherds are especially striking due to their white coat, which is unusual for a German Shepherd mix.
Some people mistakenly believe White Shepherd dogs are albino – when in fact this is not the case.
Albino dogs don't have any pigmentation at all1. White German Shepherd dogs, on the other hand, are white thanks to a recessive gene2. And while albino dogs tend to suffer from impaired vision, White Shepherd dogs are likely to have perfect vision.
For more facts about White German Shepherds, check out the video below. And don't forget to outfit your dog with a Tractive GPS – for your peace of mind while they enjoy the great outdoors!
P.S. Do you have a Tractive GPS story you'd like to share? Submit your furry friend's story with the Tractive GPS here (pictures welcome!) and you might be featured on our blog.
Shop Dog Trackers