Customer Stories
Lost Whippet: How Tractive GPS Is A Lifesaver
Having a pack of fast whippets can be very challenging for every caring dog parent. Is there a way to ensue their safety? Check out this real life story on how others manage to do it!
With streamlined bodies, long, wind-splitting faces, large round eyes, and tight, cat-like paws – whippets are built for the chase. Any movement catches and holds their attention. In a split second, they are off at a full gallop – and can cover vast stretches of territory before they even recognize they've left their humans far behind. My fastest Whippet has been clocked at just over 32 miles (51 km) per hour.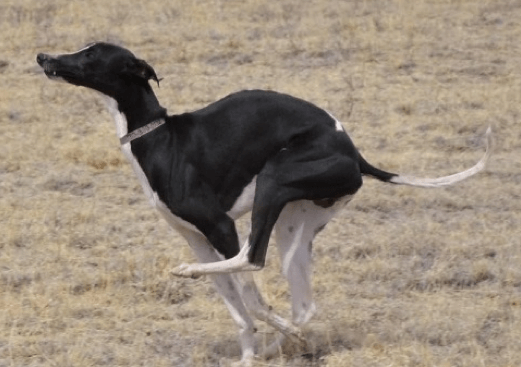 I have owned, shown, raced, and bred Whippets since 2007. My pack ranges from 10 to 15 dogs at any time, and they love nothing more than turn-out time on our property in the foothills. Usually, they run their familiar route – a loop or two around the property, covering many acres in just a few minutes – and return with tongues lolling and happy smiles on their faces.
Watching them run is pure poetry in motion. They live for the opportunity to sprint.
Not only are my dogs my hobby, they are my passion. I am a professional dog trainer, and my husband is a veterinarian. This means the dogs travel to and from work with us, run on our property and travel with us to the many events we attend. My Whippets usually travel around 30,000 miles per year!
When you own one of the fastest dog breeds around, you're always on guard against losing them. I have experienced that gut-wrenching feeling twice…
Life with whippets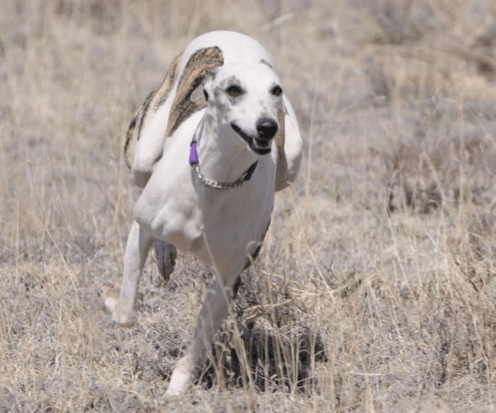 The first time was with our littlest Whippet, Polliwog. Only 10 months old, she got spooked at a hobby racing event and slipped through a fence. She was lost on the Eastern plains of Colorado in the heat of summer, 150 miles from home. Somehow, she survived hailstorms, coyotes, rattlesnakes, and other perils of the plains, and made her way back to our car, which we had parked and left open in the field she'd run from.
Polli has gone on to many more (safe!) adventures – from earning Rally-Obedience titles and being ranked USA's #2 Rally Novice whippet in 2010, to produce several wonderful litters of pups.
Our second close call came when 3 of our young males lit out after a squirrel or cat in town, during rush hour traffic. They quickly split up and disappeared. Being extremely social, they quickly realized they were out of their element, and went up to strangers for help. All three were back with us within an hour or two, but one of the boys, Fermi, had traveled 4 miles in just 15 minutes!
After that second close call, I decided we needed a GPS tracking solutions for my pack.
After using a different, popular (but unreliable) GPS system for almost 2 years and being disappointed with quality, I finally found Tractive's GPS dog trackers early in 2015. I couldn't be happier.
Some things about Tractive GPS
The units are lightweight and small enough for even my smallest Whippet, little blue Polliwog. And they are reliable – even in my remote location, where I usually can't even get my mobile phone to work! My favorite feature is being able to check the Tractive map at any time and make sure all of the dogs are exactly where they're supposed to be – whether that is at a show, at the races, at home, or with me or my husband at work.
The peace of mind I have with my Whippets wearing their GPS trackers can't be described. There is no guarantee someone won't go off on a joy run at some time or another, but knowing we can easily track and recover any errant pooches is wonderful.
---
Jennifer Hime is the owner and lead trainer of Front Range K9 Academy in Denver, Colorado and the owner of Horsetooth Whippets Kennels.  Her four-legged friends are safer since they joined the Tractive community and Jennifer has total piece of mind now.
Do you want to make use of Tractive GPS yourself? Try out the benefits of a GPS tracker for your fluffy fried and don't forget to share your story with the entire dog-loving community!
Shop Dog Trackers