Camping With Your Dog: Best Tips For A Fun Camping Experience
Camping with your dog is a wonderful way to experience the great outdoors together! Read our tips to experience the ultimate dog camping adventure.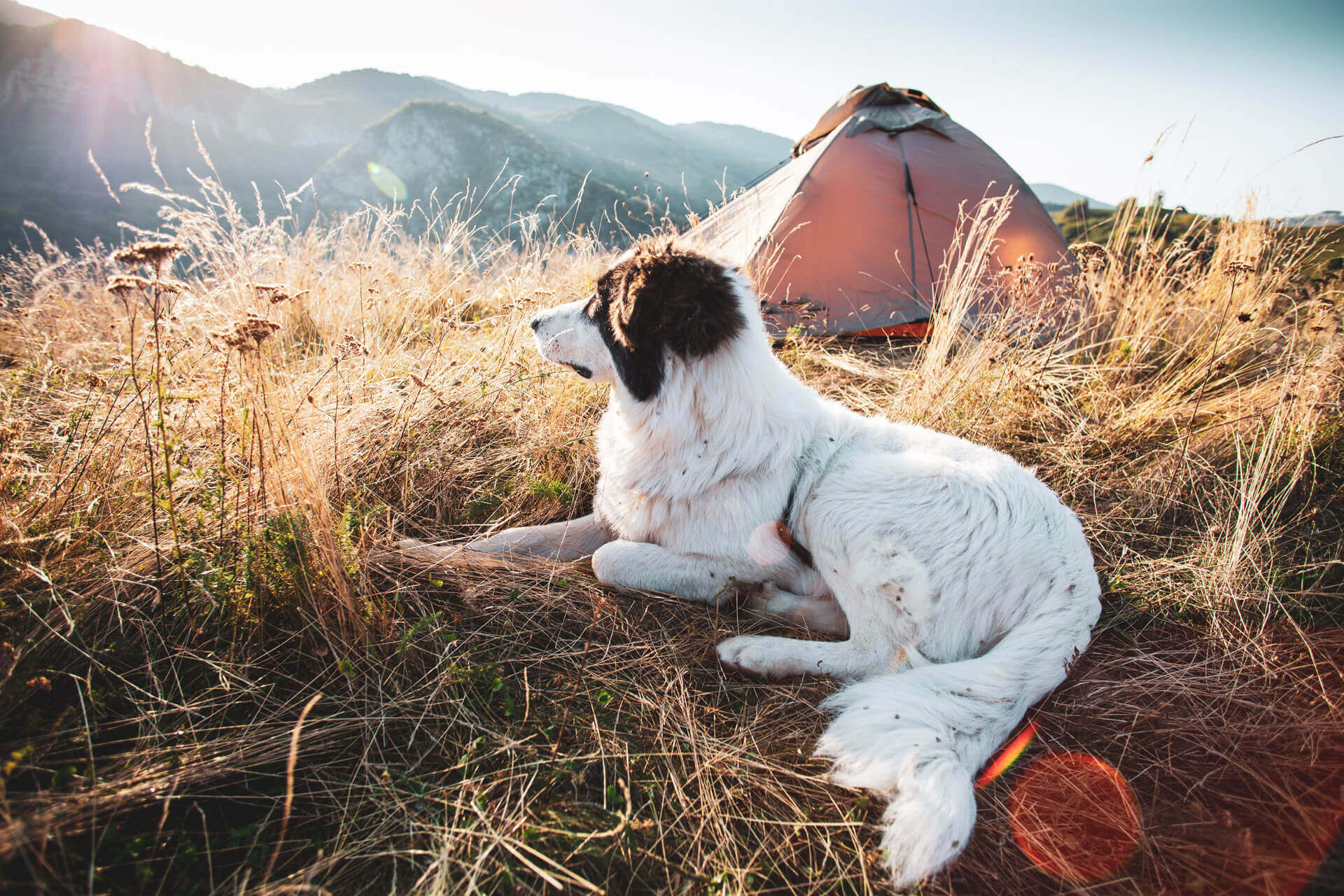 Dogs bring excitement, silliness, and sheer joy to your camping trip. Hiking with your dog through the woods, splashing in a cool mountain creek, enjoying starry nights around the campfire, and sleeping in a tent make up a true outdoor adventure for you and your furry friend. Read on to learn all the best tips and ideas to make camping with your dog memorable, safe, and fun.
Is your dog ready to go camping?
For many of us humans, camping trips take us outside of our comfort zone. The same is true for your dog. Before your pack up your pooch and your camping gear, evaluate your dog's personality to decide if camping is the right activity for them.
Expect an extreme level of excitement as your pup experiences new sights, sounds, and smells at the campground. Some key questions:
Can your pup get along with other dogs, or are they aggressive? There are sure to be other dogs at the campground.
Does your dog bark incessantly? That's a surefire way to annoy all the other campers.
Do they respond to basic commands like Come, Sit, and Stay? These skills help maintain control of your pooch in the stimulating outdoor environment.
Be honest about your dog's temperament before embarking on a camping trip with your dog. If camping isn't right for your dog, leave them at home with a trusted friend, or board them at a local kennel.
Vet appointment before your trip?
Before camping with your dog, visit the veterinarian to ensure that your pup is up to date on vaccines, especially rabies. It's possible that your dog will encounter wild animals that could spread rabies.
Heartworm is spread by mosquitoes, and unless you are camping in the wintertime, you are highly likely to encounter these pests. Talk to your vet about heartworm treatments before you go camping.
Puppies aren't fully vaccinated until they are 5-6 months old, so wait until then before taking a puppy camping.
Collar tag and microchip
Camping introduces many opportunities for your dog to dash off into unfamiliar territory. Make sure your dog is wearing ID dog tags with your current phone number. If you plan to camp off-grid where cell service is spotty, ask your veterinarian to microchip your pup. This tiny device is implanted under your dog's skin and contains all your contact information, and can be read by any veterinary office or shelter.
A GPS dog tracker from Tractive allows you to see your dog's location in real time, providing peace of mind if they escape during your camping trip. It's the ultimate safety tool when camping with your dog.
Get your dog used to sleeping outdoors
If your dog has never slept outdoors, acclimate them to snoozing outside. Take a few daytime naps together in a hammock. If your pup can ignore all the distractions and stay by your side, they are ready for a trial run.
Do a practice camping trip in your backyard
The next step is to set up your tent in the backyard and hang out together inside. Feed your dog in the tent, and place their dog bed and favorite toys inside to make it feel like home.
Once your pup is comfortable in the tent, spend the night in the tent with your pup. See how they react to the experience. Some dogs may be unable to sleep, or may bark at all the nighttime sounds. A few spritzes of calming spray inside the tent may help. By slowly acclimating your dog to the tent and offering verbal praise, your dog may learn to love camping!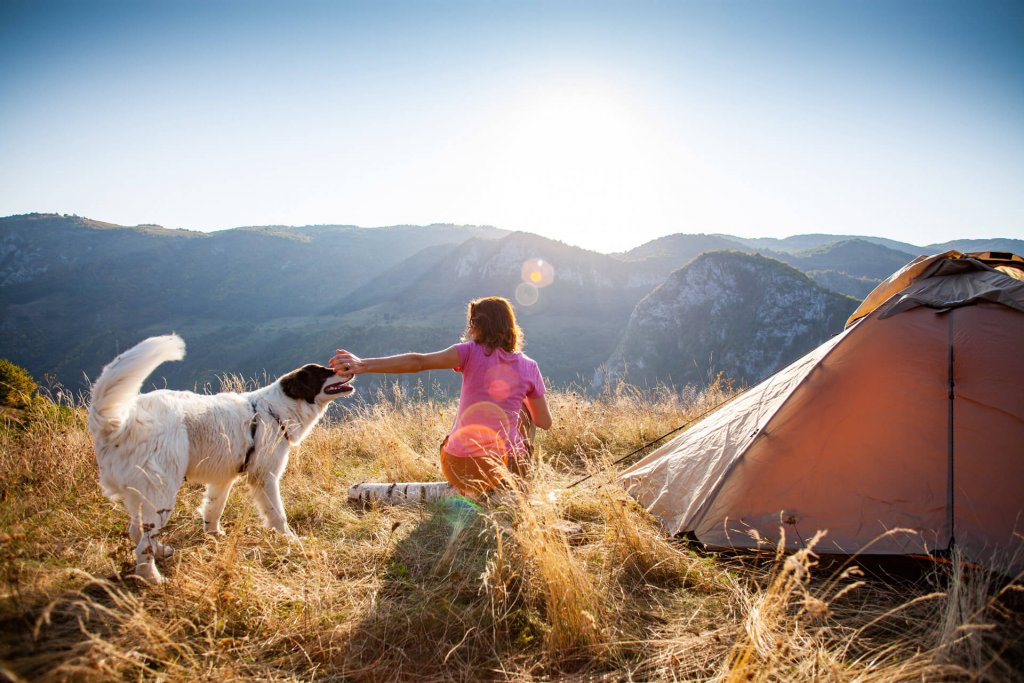 Get the lay of the land before camping with your dog
Before your camping trip, research your destination. Will you be mostly outdoors, sightseeing in town, or visiting family? If you plan to do lots of hiking, build up your dog's stamina by taking longer walks each day. If your dog is older or has health issues, plan to adjust your daily activities to accommodate them.
What type of wildlife will you see – ticks, mosquitoes, snakes, bears, or coyotes? Are there poisonous plants in the area? Learn to identify poison ivy and other environmental hazards.
Socialize with people and other dogs to prepare your pup for campground life. Remember that not everyone likes dogs (hard to believe, right?), so make sure your dog is well-behaved around people and dogs.
Pet campground regulations and guidelines
Camping has grown in popularity recently, so planning ahead for your camping adventure is essential. First, find a campground that is pet friendly. Not all campgrounds welcome dogs. Call ahead and reserve your dog friendly campsite early so you won't be disappointed.
Private campgrounds, state or provincial parks, and national forests are most likely to be dog friendly. Nearly all pet friendly camping sites require dogs to be on a dog leash at all times, and leashes can be no more than six feet long.
National parks in the United States do not allow pets in the backcountry, so you won't be able to hike with your pup, but pets are allowed in some developed areas of National parks. Many natural areas prohibit pets in order to protect sensitive areas or endangered wildlife. Always understand the rules before you go, and observe them during your visit.
Check the web for dog-friendly campgrounds. Plaskett Creek campground in California's Los Padres National Forest and the area near Big Sur are examples of popular dog-friendly camping destinations.
You may be tempted to leave your pup in the car or your RV while you enjoy a hike. But vehicles can become dangerously hot for pets, even when the windows are cracked open. Do not risk your pet's health by failing to plan your camping trip properly.
Unwritten rules
The campground's website may have a list of rules for camping with your pet. But there are unwritten rules and expectations for your dog at a campground.
Behavior
Campgrounds are often crowded and busy, especially in summer. Other campers expect you to be able to control your pup and keep them on a dog leash. No one wants their hamburgers gobbled up by your roaming pooch!
Barking
Most campgrounds have "quiet hours" from 11:00 PM to 7:00 AM. This includes keeping your dog quiet, too. If your dog is prone to barking at strange movements or sounds, work on this behavior before your camping trip.
Interacting with people
Always ask before allowing your dog to approach other people or pets in the campground.
Don't leave your dog alone
Leaving your dog tethered alone in your campsite is a no-no. Your pup will be vulnerable to wildlife in the area. Small children could wander too close. And dogs tend to get tangled up, which could result in injury.
If you tether your dog while you relax or prepare food, ensure that the dog can't reach walking paths where people are likely to pass by.
By following the etiquette for camping with dogs, you help ensure that campground managers continue to allow pets on their properties.
Camping with dogs gear – what do I need to bring?
Planning ahead means bringing all the right gear for a safe and enjoyable camping trip with your dog.
Where should my dog sleep?
Your dog should sleep in your tent, camper, or RV – wherever you are sleeping!
If you sleep in a tent, realize that dogs take up a lot of space. Consider getting a larger tent so that everyone will be comfortable. Do you want your dog to sleep next to you or in their crate? Some tents have a vestibule with no floor, which is a good spot for the crate.
Bring your dog's bed or a familiar-smelling rug to increase their comfort level. For camping in cold weather, try a dog sleeping bag. The dog sleeping bag attaches to your sleeping bag for extra snuggles and warmth.
Tie-outs, kennels and pens
You probably don't want to hold your dog's leash during your entire camping trip, so use a tie-out, crate, or pen at your campsite. After all, you'll be busy maintaining your camp, prepping meals, or possibly napping after a long hike.
Dogs often get tangled up in a tied-out line. Instead, string a line between two trees and attach the leash that can slide along the line. Place this in the shade so your dog can stay cool.
A pen or crate gives your dog a safe place to relax or sleep. When you need to visit the restroom or shower, keep your dog safely inside their crate in the tent.
Bring a good quality leash and harness for your dog
Harnesses are more comfortable than dog collars for hiking with your dog, especially when you need to control an excited pooch on chipmunk patrol. You can even get a light-up LED collar for use at night.
Most campgrounds limit leashes to six feet in length.
Pack a dog first-aid kit
Camping trips with your dog may take you far from your veterinarian's office and expose your pup to potential hazards. Bring a first-aid kit designed just for pets. Print out your dog's medical records and your vet's phone number. If your dog takes medication, bring enough for your expected stay plus a few extra days in case your return home is delayed.
Pack more dog food and water than you think you need
Camping is an active adventure, so your pup will burn more energy and need up to 50% more dog food than they normally consume. Always carry enough water for you and your pup on hikes. Collapsible dog bowls are a great way to serve dog food and give your pooch a refreshing drink on the trail and at the campsite.
Bring dog treats to reinforce good behavior, especially if this your dog's first camping trip.
Don't forget a GPS dog tracker
Want to see how active your dog is, how many calories they burn, and where they're at at all times? Then a GPS dog tracker and activity monitor is the perfect tool for you!
What do you do to entertain your dog while camping?
Camping trips provide opportunities for play, exercise, and exploration. Hiking is a perfect activity for almost any dog. Even small dogs can hike by riding in a doggie backpack!
If your campground has a pond, lake, or ocean access, take your pooch for a refreshing swim.
Some campgrounds have fenced-in dog parks where your pup can run off leash or play a game of catch.
Dog Park Etiquette: How to Follow Dog Park Rules And Make Your Visit Enjoyable
Dog safety while camping
Keeping your pooch safe is essential for a successful camping trip. Follow these expert suggestions for the ultimate dog safety gear.
Protect your dog's paws
Camping may expose your dog's paws to rough or hot surfaces (such as sand) that can irritate sensitive foot pads, so outfit your pup with dog booties. Hiking-style booties provide good traction.
Apply a flea and tick preventative to your dog
At your pre-camping veterinary visit, ask about flea and tick protection for your dog. If your dog spends a lot of time outdoors, this is probably already part of your dog's health regimen, but your vet may have additional suggestions for your camping trip.
Every evening, do a tick check of your dog. Bring a tick removal device, called a tick key, and use it to safely disengage ticks. Use a comb to remove grass barbs from your dog's fur, then give your pup a good brushing.
Locate a vet near the campsite
Before you depart, locate a veterinarian or emergency animal clinic in the area you are visiting. Hopefully you won't need it, but it's better to be prepared should an emergency arise.
Watch out for heat stroke in warm weather
During a summer camping trip, your dog could suffer from dangerous symptoms of heat stroke. Avoid strenuous activity during the hottest part of the day. Try hiking in the early morning to stay cool. Provide frequent water breaks to avoid dehydration. Pour water from your water bottle into a collapsible dog bowl.
If your pup is panting, stop and rest in a shady spot. Offer water in a collapsible dog bowl. Don't restart the hike until your pup has cooled off.
If your dog begins panting excessively, becomes lethargic, vomits, or has diarrhea, this is a sign of worsening heat stroke. Immediately wrap your dog in a wet towel to cool them off and seek veterinary care.
Camping with dogs: frequently asked questions
What do I do with my dog while camping?
For your dog, just hanging out with you is the best part of a camping trip. But if you need enriching activities during your camping trip, here are a few ideas.
Smell tour: Leash up your dog and take them on a "smell tour" of the campground. Let your dog lead the way and indulge their desire to sniff everything – trees, car tires, fence posts…you get the idea. People and meat on someone's grill are strictly off-limits.
Go on a car ride: Give your pup's paws a rest and take a short road trip. Many natural areas have scenic drives that offer sweeping views of the countryside. While you enjoy the vistas, let your dog stick their nose out the window and watch their ears flap in the breeze.
Canoe or kayak: Let your pooch perch in the bow of your watercraft as you paddle a serene lake or creek, then take a swim break! Bring old towels to dry off your pup after your boating adventure.
Do dogs get cold camping?
Depending on the breed and type of coat, dogs may need help staying warm in cold weather. Small dogs and those with short hair are more likely to need assistance. Bring booties to keep their feet warm during hikes. Offer a warm sleeping surface, such as a dog bed or rug, and a blanket if it's really cold.
Dogs And Cold Weather: How Cold Is Too Cold For Dogs?
Can dog sleep in tents?
Your tent or camper is the safest place for your dog to sleep on your camping trip. Unless you enjoy ceding the floor space to a sprawled-out dog, bring a crate for your dog to sleep in. Or, buy a larger tent for camping with your dog.
What if I am camping with multiple dogs?
Everyone loves to hang out with friends, including dogs. When you camp with multiple dogs, your pups have companionship and will help to entertain each other.
Make sure the campground does not limit the number of dogs at each campsite. It helps to have an extra person along to manage multiple dogs.
Keep track of the location of multiple dogs on your smartphone easily with the help of the Tractive GPS dog tracker.
Do I need to pack out dog poop while camping?
Responsible campers subscribe to the "Leave No Trace" philosophy when on outdoor adventures.
If you are in a full-service campground, collect dog waste in poop bags and dispose of the poop bags in the proper trash container.
If you are camping in the wilderness or nature calls while your dog is on a day hike, collect the waste in a poop bag, pack it out, and dispose of it properly when you get to a trash bin. Do not bury a poop bag – the plastic bag will not decompose. Or, use an empty plastic jar with a screw-top lid, such as a peanut butter jar, to collect and store dog waste.
If your dog goes on the trail while you are deep in the wilderness, it's OK to bury unbagged poop at least 200 feet from a trail, creek, or any water source. If your dog poops right next to the trail, scoop up the waste and bury it at the proper distance from the trail.
What to do if your pet goes missing when camping?
Nothing is worse than losing track of your pet, especially in a remote or unfamiliar area. Keep your dog leashed at all times to minimize the chance of a runoff. Make sure your tent door is completely zipped up at night. If you do lose your dog while camping follow these tips: How To Find A Lost Dog
Remember, a GPS dog tracker is the ultimate method for keeping tabs on your dog if they should accidentally escape. You'll have peace of mind, knowing your can see your dog's location in real time and find them if necessary.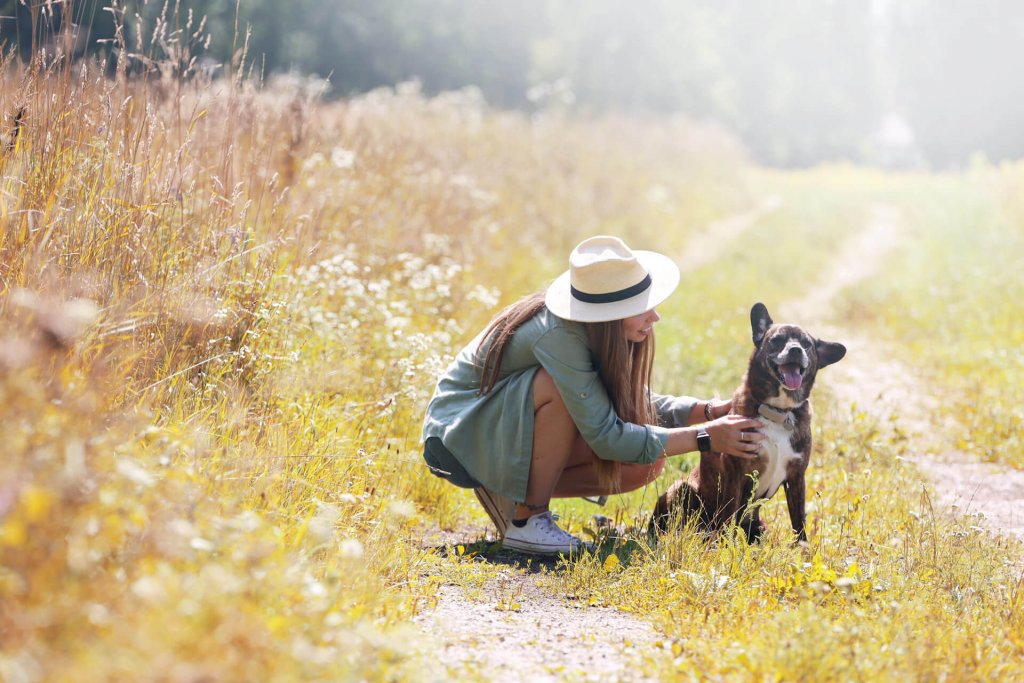 Embrace the unexpected and enjoy the experience!
Camping with your furry friend is an adventure that builds a special bond between you and your dog. There will always be surprises, but you can maximize comfort with the right camping dog gear and stay safe by preparing for your camping trip well in advance. Happy trails!