Good to know
Top 4 dog friendly winter activities
When temperatures drop  and winter weather moves in, it's easy to turn into a couch...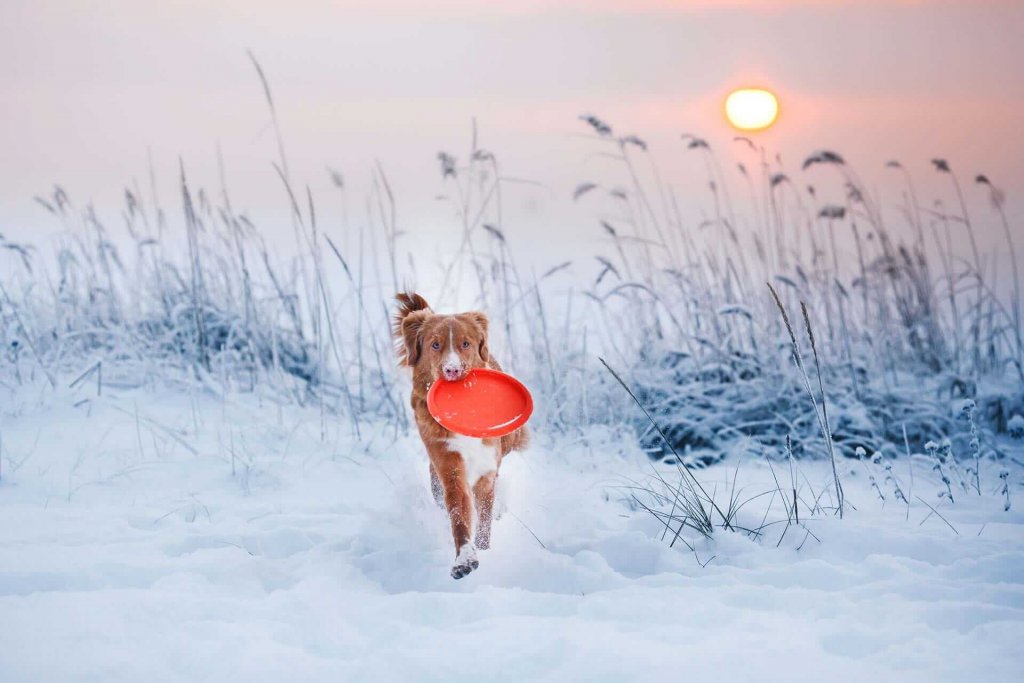 When temperatures drop  and winter weather moves in, it's easy to turn into a couch potato. Lying down in front of the fireplace seems much more tempting than going outside when the temperatures start falling below zero – and your dog's favorite chew toy is buried under ten inches of snow anyway. But for many dogs, there is nothing better than waking up to a fresh coating of new snow, waiting to be explored. And there are lots of great things to do in the snow. So, why not bundle up and get outside into the fresh air? You might actually enjoy it! And your dog will love it too. Here are some great ideas for dog friendly winter activities that you and your dog can do together:
1. Skijoring
If you love to ski and your dog loves to run, skijoring may be the perfect winter activity for both of you! All that is required is you, your dog, and a pair of skis. Skijoring is cross-country skiing with a little help from your furry friend — you're on the skis, and your dog runs out in front of you with a long line that connects you to his harness. It may sound difficult but the pulling part actually comes naturally to many dogs. You might be surprised how much fun it is. But be aware that you dog knows the commands for turning and stopping.
2. Snowball fight
Most dogs love fetch and will love chasing either you or the snowball. Form snowballs from soft snow (don't pack them too hard), then gently toss them at the dog. Try tossing tighter packed snowballs in the air for the dog to jump at and try to catch. It's quick, easy and a good workout for both of you! Even small dogs will enjoy this outdoor activity.
If you love to ski & your dog loves to run, skijoring is the perfect activity for both of you!
3. Hiking and snowshoeing
Some of the most popular winter activities for people include hiking and snowshoeing. If you love being outside in the snow, there's no reason why your pup can't come with you. Dogs love new spaces and smells, so take them along the next time you go for a hike or go snowshoeing (there are many pet-designated trails).  A winter adventure is a great way to spend time with your best friend plus, it's a bonding experience that will get you both in shape. Just make sure you bring plenty of water for both of you as you'll probably work up a sweat.
4. Practice nose work
A lot of activities can actually be practiced year-round, even in cold conditions! One of them is nose work, which provides great physical and mental stimulation for dogs who love to sniff. This activity challenges your dog to use his nose to locate a certain scent. You can start by trying a few times indoors, but wintry weather is the perfect opportunity to get your dog to step up her game, as wind and snow can affect scent flow and make the activity more challenging.
Prepping your pet for snowy weather
Not all dog breeds can handle winter and snow like a St. Bernard. If you're unsure about your dog's fitness level, you should ask your vet for advice.
Make sure your dog is adequately protected from the elements and stays warm. If you have a short haired or small dog it might be a good idea to buy him a coat or sweater to help him to stay warm while playing in the snow. Also, don't stay out for too long if the temperature is bitter cold.
Take care of the paws! Exposure to winter's dry, cold air, chilly rain and snow can cause chapped paws and itchy  skin. Keep nails cut short and the fur between the toes trimmed. Different kinds of dog booties are also available for paw-protection.
Always bring doggie bags, foldable water bowls and treats. Just like you, your dog needs a little fuel during the day to keep the energy level up. If you're going on a long walk, a first aid kit and extra supplies in case of unforeseen incidents are a good idea.
Dog friendly winter activities with Tractive GPS
Putting a tracker on your dog's collar is a great way to ensure that should anything go wrong and your four-legged friend gets lost in the snow, there's a way to find him and get him home. A Tractive GPS tracker is a great investment for cross-country skiing and snowshoeing in an unknown area. Some dogs are rather adventure-seeking and you never know if your pup suddenly escapes to explore the area. The Tractive GPS Pet tracker helps you locate your four-legged hiking partner anytime, anywhere – even in a winter wonderland.
---
 Do you have pictures of your dog in the snow? Why not share them with us?
More interesting Articles