Good to know
4th of July dog firework fears? Keep your dog safe with these tips!
4th of July is a pretty stressful day for pets, since they don't associate noises and fireworks with celebration, but are rather terrified by them. What can you do to avoid your dog running away? These tips will get you a worry-free 4th of July celebration!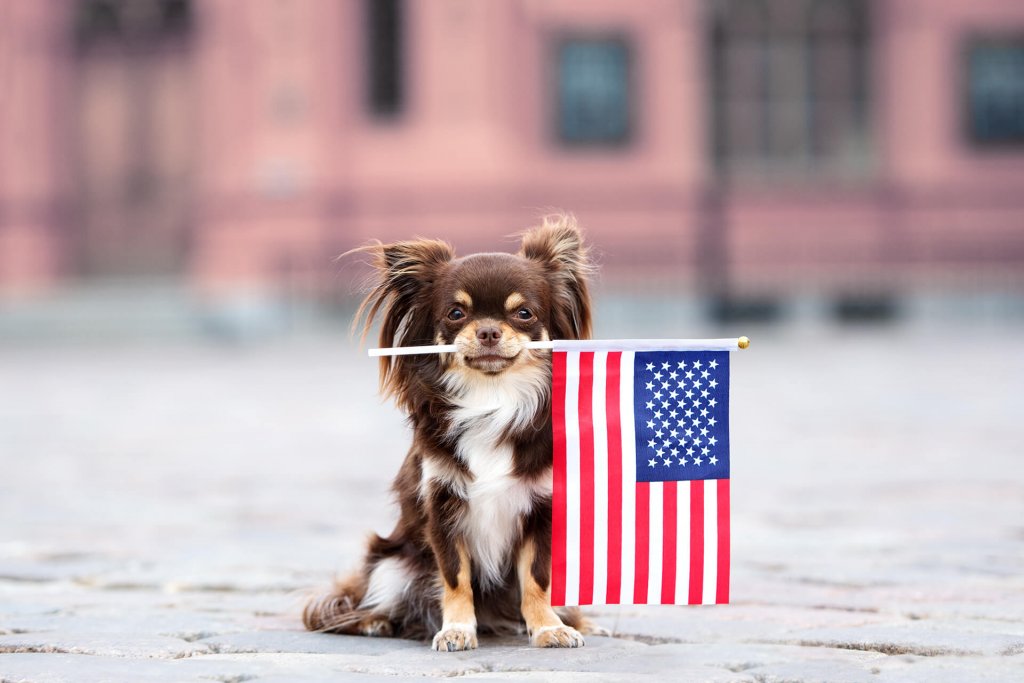 It's the 4th of July and time for big beautiful fireworks. Unlike us, most dogs are not used to these unexpected loud noises.  Therefore, the 4th of July can be a particularly stressful holiday for dogs. Are you a loving dog parent? Then help your dog stay calm during this day and avoid your worst nightmare – him running away. Here's a few tips on how to keep your dog safe and avoid 4th of July dog firework (and other) fears!
Safety tips for the 4th of July
Everybody loves a nice celebration, but the events associated with the 4th of July may terrify your dog. Since the day is getting closer, keep these tips in mind:
Make sure that your dog gets a lot of exercise earlier in the day. If your dog is tired from the exercise there is a chance that he can relax more easily during the fireworks.
Keep your dog inside during fireworks – preferably with human companionship.
Make sure that your dear pup has a safe zone. Provide a safe place inside for your dog to retreat. It doesn't really matter where, as long as your dog feels good and safe. And in general, make the house cozy.
Did you know? Tractive GPS for dogs has a cool Virtual Fence feature, specially created to help you know where your dog is at all times. Just decide on a predetermined safe area for your pup and you're all set! Should your dog leave the Virtual Fence, you will immediately get a notification on your smartphone and are able to act with no delay! Want to discover more benefits of Tractive GPS for dogs?
Always have enough toys for your dog to play with. If he has something fun to do, the fireworks might be less scary. Keep your pet amused and distracted.
Sound therapy. Use familiar, comfortable sounds to drown out the noise of the fireworks. However, be careful not to play these sounds too loudly, as they can become bothersome themselves.
Be sure to leave sufficient water and food for your pet. If your dog has access to water, it will calm him down. And, if you provide food in regular portions, your dog might feel that it's a normal day. For dogs, food can be quite a distraction.
Make sure you always have an eye on your pet. If possible, stay with your pup during the fireworks.
Last but definitely not least, prepare yourself! Stay calm and relaxed. Sometimes, in our desire to ease our pet's pain, we actually transfer some of our anxiety and upset to the pet. If you've prepared properly in advance, there is no need to feel upset and worried.
Keep track of your pet on the 4th of July.
How Tractive GPS helps you prepare for this special day
Scary noises from storms or days like the 4th of July can turn the bravest dogs into scared puppies.
Many pets even run away on the 4th of July because of their firework fears.
On this particular day you should, therefore, take extra steps to ensure the safety of your pup.
Keep an eye on your dog during the fireworks and make sure that you know where he is all the time.
Try to stay with your furry friend on this particular day.
If you really have to leave your fluffy friend alone for a little while, make sure you keep an eye on him: Get your your dog a Tractive GPS Tracker in case of he runs away and gets lost. The GPS tracker is a simple, small device attached to the dog's collar, that communicates with a Tractive app on your smartphone. It helps you to locate your dog, anytime and anywhere, directly on your smartphone.
Use the cool features of Tractive GPS: If your dog suddenly disappears during the fireworks, you can use the Tractive LIVE-Tracking feature and follow every step of your beloved pet in real-time. That will save you a lot of trouble searching for your dog as you'll be quickly reunited with your beloved 4-legged friend again.
So you're all equipped! Should you be the owner of a 4th of July runaway, a Tractive GPS Tracker will give you peace of mind and keep your furry best friend safe all the time. Now you can relax and enjoy a great 4th of July celebration with your dog!
Happy 4th of July!
---
Like what you've read? Share it with your dog-loving friends and keep your dogs safe on 4th of July!