Good to know
5 Easy Dog Grooming Tips You Can Do At Home: The Ultimate Guide For Dog Parents
Want to groom your dog without a million vet visits? Here are some easy dog grooming tips you can do at home - with just a few products and a ton of fun!
Is a well-groomed dog a happy dog? We definitely think so. And if you're like dog parents around the world, you might've found yourself Googling how to groom your buddy's fur, teeth, and nails – without having to visit the groomers and vet a billion times.
So here are a couple of easy dog grooming tips that you can get started with at home. All you need are just a few products and a ton of fun. Let's grab our brushes and shampoo and get grooming!
Getting started with grooming your dog at home
Regular grooming is an essential part of your dog's overall health and wellbeing. It firstly ensures your buddy looks their best – and can also prevent a whole bunch of health issues. (Like a matted coat, flea infections, and teeth trouble, to name a few.) If you're experiencing problems like these, it makes sense to invest in a professional dog grooming service or your local vet.
Grooming your dog at home, on the other hand, is both a cost-effective and rewarding alternative. If your dog has anxiety being at the groomers (like young kids do sometimes at the hairdressers), they'll respond way more positively to the extra time they get to spend with you. Plus it's a way to deepen your bond with your dog and strengthen their trust and sense of connection with you. Some grooming tips, like nail trimming and dental care, make sense to begin early on – so your dog gets used to them as a familiar, happy experience.

So we've outlined a couple of basic steps to keeping your dog well-groomed – head, shoulders, knees, and toes. Let's dive right in.
Start with the supplies
With the right tools and products, your dog grooming experience can get a lot easier – and way more fun. So before you get started, here are a couple of must-haves:

A grooming brush or comb that fits for your dog's coat type
Dog-friendly shampoo and conditioner
Towels or a pet-friendly hairdryer
Nail clippers or a grinder
A vet-approved ear cleaner
Dog-friendly toothbrush and toothpaste (or a dental kit that contains both)
We've shared examples of vet-approved products for each of these, as well as where they might work best – so you can pick what works best for your dog. Let's start with the easiest step of them all: your dog's coat.
Brush your dog's coat regularly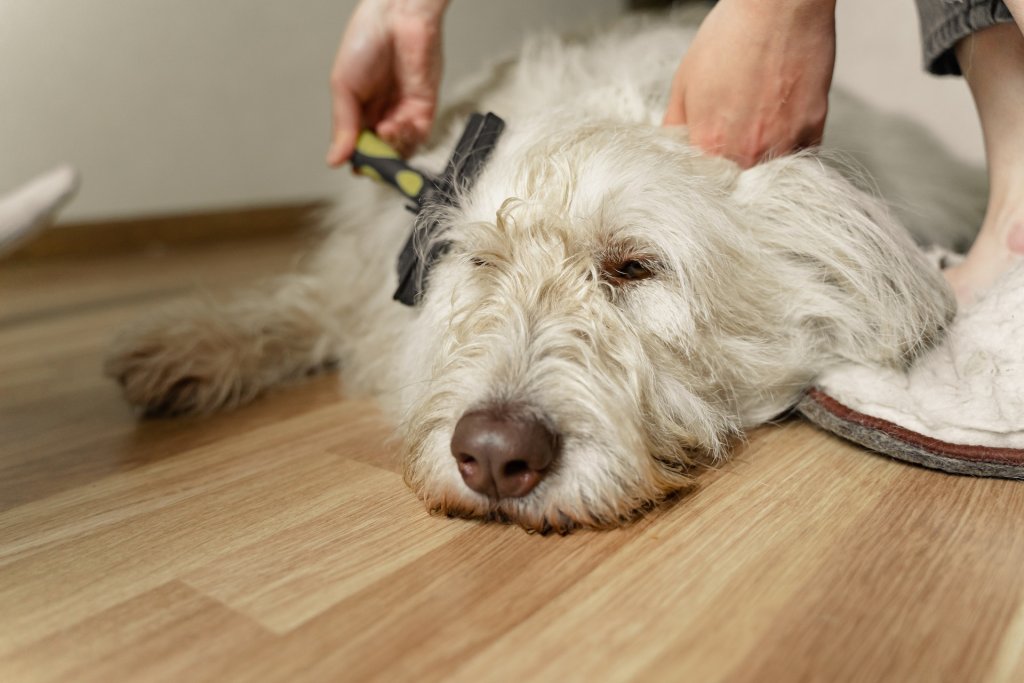 Regular brushing helps keep your dog's coat healthy and prevents mats, tangles, and those pesky flea infections it might pick up from rolling around outdoors. Brushing can also help reduce shedding by getting rid of any dead hair. So here are a few tips to stay on top of your brushing sessions:
Start with a soft brush or comb to get rid of any loose hair or anything else stuck to your dog's fur.
Use gentle, downward strokes to prevent discomfort or skin irritation.
Gradually move to a brush that's better suited for your dog's coat type.
How often should you brush your dog's coat? In general, experts recommend doing so every two days. And the type of brush you use can also depend on your dog's breed and coat type.
Vet-approved dog brushes
| | |
| --- | --- |
| Brush type | Works best for |
| Burt's Bees Puppy Double-Sided Brush | Puppies |
| Hartz Groomer's Best Combo Dog Brush | Dogs with long and/or matted hair |
| Thunderpaws Professional De-Shedding Tool and Pet Grooming Brush | Dogs with short hair (like Rottweilers) |
| Oster ShedMonster De-Shedding tool | Dogs that shed often |
| Pet Republique Self-Cleaning Slicker Brush | Dogs with curly hair (like Poodles) |
| JW Pet Self-Cleaning Slicker Brush | Dogs that shed undercoats (like Huskies) |
| Frisco Deshedding Dog Brush | Dogs with double coats (like German Shepherds) |
Get regular with bathtime 
Whether your dog dreads bathtime or can't get enough of it – they need regular baths. These keep your dog's coat clean, fresh, and free of dirt and parasites. So here are a couple of tips to stay on top of bathtime:
First, brush your dog's coat to remove any tangles or mats. This can also help them feel calmer and more secure, in case they're not the biggest fans of bathtime.
Use lukewarm water and run your dog through it thoroughly. Make sure to avoid their ears and eyes.
Use a dog-friendly product that fits your dog's skin and coat. Gently massage it into your dog's coat and give a little extra love to their belly and paws. (Where they tend to get dirtiest.)
Rinse your dog thoroughly to make sure there isn't any shampoo residue remaining.
Use a towel or a pet-friendly hair dryer (like the Shelandy Pet Dryer) at low heat. Avoid using a regular hair dryer like you would for your own hair – the heat tends to be too high for dogs and might burn their skin.
Vet-approved dog hair care products
| | |
| --- | --- |
| Hair care product type | Works best for |
| TropiClean PerfectFur Short Double Coat Shampoo For Dogs | Dogs with short and double coats |
| WAHL Dry Skin Itch & Relief Pet Shampoo For Dogs | Dogs with chronic skin issues |
| Pro Pet Works 5 in 1 Oatmeal Dog Shampoo | Dogs with sensitive, easily irritated-skin |
Most of these products tend to be hypoallergenic as well, which means your dog will be less likely to have an allergic reaction to them. However, do keep an eye out for whether it's suitable for your dog's age. Some products might only work best for puppies 8-12 weeks or older.
When looking for a hair care product for your dog, also keep an eye out for harmful chemicals like sulfates, parabens, artificial dyes and fragrances, and formaldehyde. Many of these can irritate your dog's skin and eyes and might even damage their internal organs.
Get nippy with your dog's nail care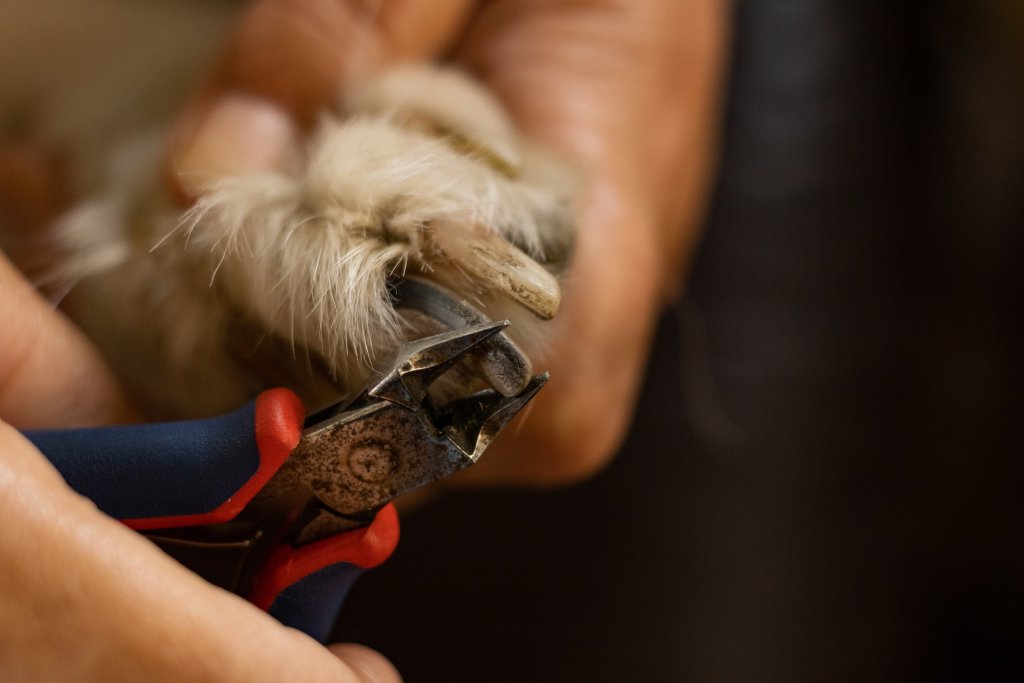 You might be nervous about getting out the dog clippers – but we can assure you, it's definitely a grooming step you can take at home. Regular nail trimming can help keep your dog safe from discomfort or mobility issues when they're older.
In fact, we even recommend getting started with trimming your dog's nails from a young age to make it a familiar, positive experience. So make sure to:
Trim your dog's nails gradually – avoid cutting to the quick because that's a sensitive area containing blood vessels. Rather, stick to a sensible cutting range and focus on the front paws which tend to overgrow quickly.

In case you want to see this in action, check out our post on how to trim dog nails. It provides a bunch of illustrations so you can see the process step by step.

Get in touch with a professional groomer or your local vet if you're unsure or want to see how a pro does it the first time.
Vet-approved dog nail clippers
| | |
| --- | --- |
| Nail clipper type | Works best for |
| JBONEST Dog Nail Clippers and Grinders Set | Dogs of all sizes |
| BOSHEL Dog Nail Clippers and Trimmer Professional Set | Medium to large dogs |
| Zen Clipper Dog Nail Trimmer | Small dogs |
In general, stainless steel clippers that have sturdy and sharp blades can help you trim your dog's nails comfortably and painlessly. 
Dual-blade clippers work best for bigger dogs with harder to cut nails.
Guillotine-style clippers are easy to use for smaller and medium-sized dogs.
We'd also recommend avoiding using your regular nail clippers for your dog. Not only are they built for human hands over claws, they're also more likely to damage your dog's nails and cause them pain.
Keep an eye out for your dog's ears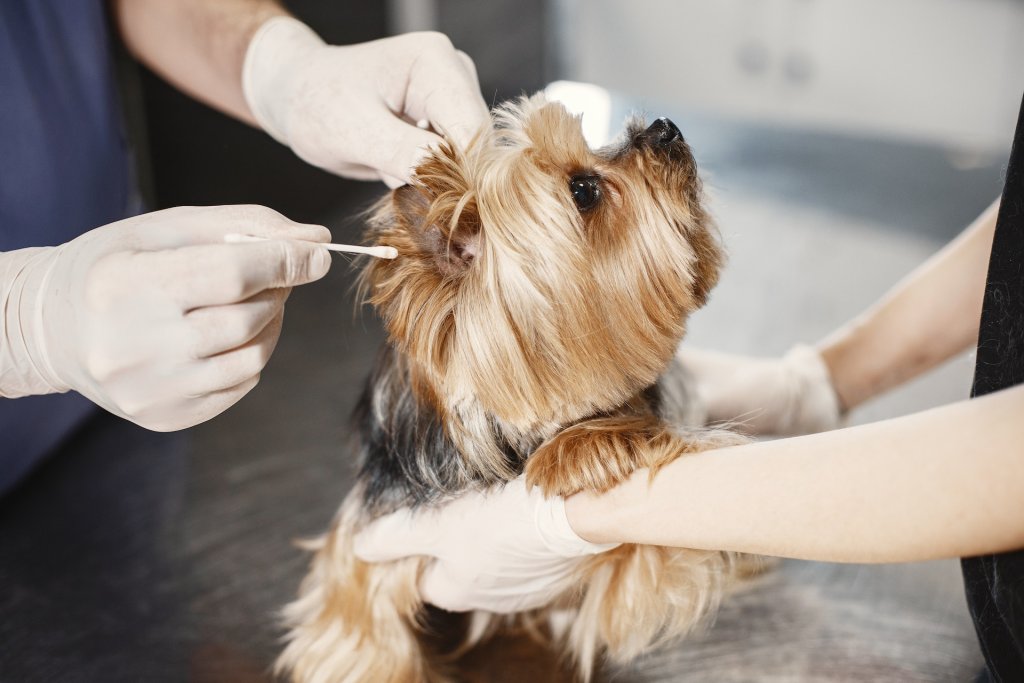 Even your dog's ears need a little extra love when it comes to keeping them well-groomed – it helps prevent infections and discomfort. Dogs with long, droopy ears (like Dachshunds) tend to be more vulnerable to ear infections and parasites like ticks and mites.

So here's how you can get started, step by step:
Use a dog-friendly ear cleaner which can help manage itchy, sensitive skin.
Holding up your dog's ear flap, apply a few drops of the ear cleaner into their ear canal.
Massage the base of your dog's ears to get rid of any earwax or dirt.
Come prepared for head shaking – your dog will want to shake out their head and ears to help remove any extra ear cleaner or debris.
Use a soft cotton ball or clean cloth to wipe away any remaining dirt from your dog's ears.
Vet-approved dog ear cleaners
| | |
| --- | --- |
| Ear cleaner type | Works best for |
| Virbac Epi-Otic Advanced Ear Cleaner For Dogs | Dogs with chronic ear and skin infections |
| Pet MD Dog Ear Cleaner Wipes | Dogs with itchy, sensitive ears |
| Vet's Preferred Dog Ear Wash Solution | Dogs of all ages (from puppies onward) |
When looking for the right ear cleaner for your dog, keep an eye out for antimicrobial ingredients like lactic acid and salicylic acid. These can help prevent yeast or bacterial infections. Similarly, hydrocortisone can help get rid of itchiness. However, make sure to avoid ear cleaners with essential oils (like tea tree oils), as some dogs might be allergic to them.
We'd also recommend avoiding using a cotton-tip applicator (like a Q-tip) for cleaning out your dog's ears. You can use one to gently clean out their inner ear flaps, but avoid sticking it in too deep as you might accidentally hurt their eardrum or ear canal. As always, make sure to get in touch with your local vet in case you need any extra support or guidance.
Dig around your dog's teeth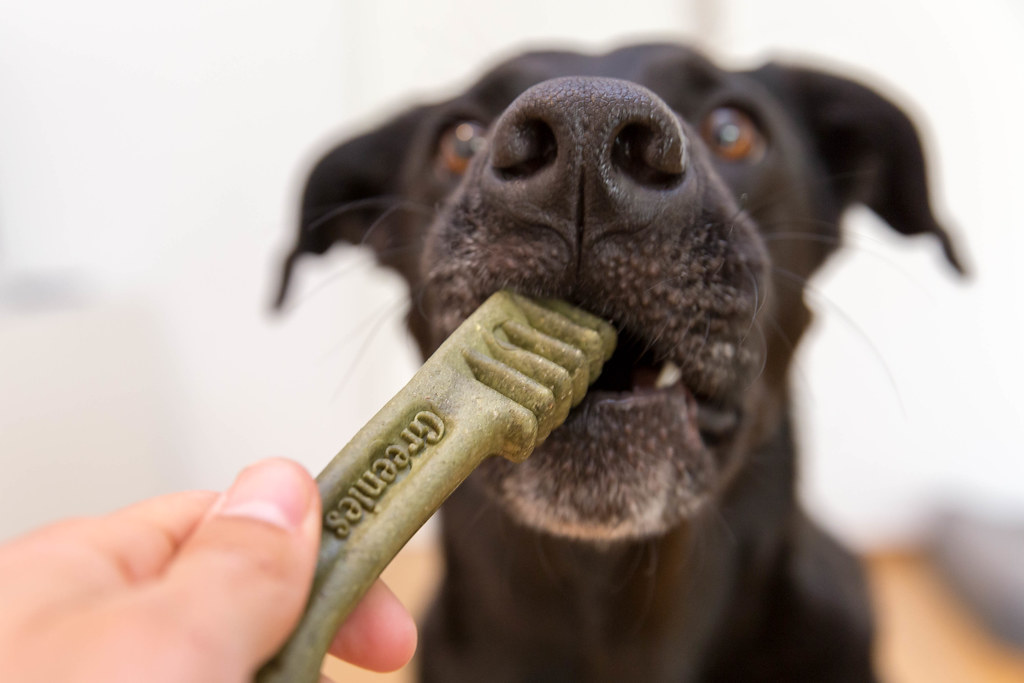 Finally, your dog's smile is essential for their overall health. Neglecting their dental care can lead to pain, infection, and difficulties chewing and eating in the long run. Like nail trimming, we'd recommend introducing short teeth brushing sessions to your dog from a young age. So they get used to it – and gradually increase their duration over time.
Here are some tips for staying on top of your dog's pearly whites:
Use a toothbrush and toothpaste designed for dogs. Make sure to avoid using your regular toothpaste, as it can be harmful to your dog if they swallow it.
Lift your dog's lip and brush their teeth in a circular motion. Make sure to focus on the gum line.
The best vet-approved dog toothpaste is the Vets Preferred Enzymatic Toothpaste For Dogs. It comes with natural, safe ingredients to fight tooth decay. It also comes with a special peanut-butter flavor, which makes it a hit with more fussy dogs. In general, we'd recommend keeping an eye out for enzymatic toothpastes for your dog, as these come with antibacterial properties. You could also consider a combo pack like the Virbac CET Oral Hygiene Kit. This includes both dual-brush head toothbrush and poultry-flavored enzymatic toothpaste.
Vet-approved dog dental care products
For toothbrushes, on the other hand, you might need to consider factors like your dog's size. Here are a couple of recommendations:
| | |
| --- | --- |
| Dog toothbrush types | Works best for |
| Vetoquinol Enzadent Dual-Ended Toothbrush Kit | Dogs of all sizes |
| Woobamboo Soft Dog Toothbrush | Medium to large-sized dogs |
| Arm & Hammer Spectrum 360 Degree Dog Toothbrush for Small Dogs | Smaller dogs |
| Nylabone Advanced Oral Care Puppy Dental Kit | Puppies |
Tips for grooming your dog at home…when they hate it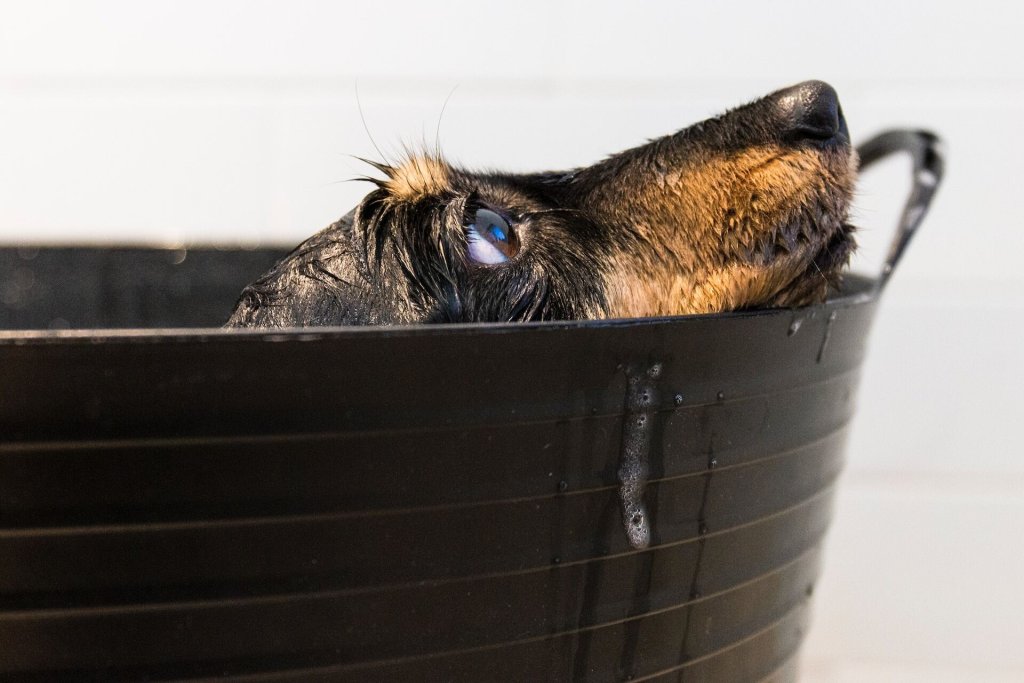 Some dogs might get anxious or even aggressive during the grooming process – just refusing to sit still. Which can make it difficult to run a brush through their fur or clean their ears. So here are a couple of steps you could take to make your dog grooming experience easier and more fun for you both:
Start slow
Introduce your dog to one grooming step at a time. Too many, and you'll most likely overwhelm them – making them feel anxious and overstimulated. So start with short grooming sessions and gradually increase their length with time.
Figure out your dog's likes & dislikes during grooming
For example, they might love getting their teeth cleaned, but run away the minute you say "Bathtime!" You could figure out a more fun way to get them to enjoy a hated grooming step – like, say, having baths out in your lawn or with plenty of treats at hand.
Reinforce your dog's "good" behaviors
Dogs learn pretty quickly that they're more likely to get your attention when they behave a certain way. So make sure you aren't just giving them attention when they're up to mischief. Offer treats and praise when they sit still and let themselves be brushed or taken care of. It'll help them learn to associate grooming with attention and affection from you.
If you're looking for a fun, practical training method, consider clicker training for your dog. It's an especially effective method for reinforcing "good" behaviors – and a heap load of fun for both you and your buddy.
Leave some jobs to the pros
Some grooming steps might just be easier if you find a professional pet grooming service in your area. Your dog will definitely respond well to the extra pampering.
5 easy, home-friendly tips to a happier, well-groomed dog
Grooming your dog at home doesn't need to be complicated – with a bit of planning and prep, you can make it a rewarding, beneficial experience for both you and your buddy. So with these tips and a bit of shopping, you're on your way to helping your dog both look and feel their best.
As always, remember to stay in touch with your local vet and a nearby professional grooming service if you encounter any difficulties. Happy grooming!
Shop Dog Trackers