Good to know
How to Hike with a Cat: Top 7 Tips for Hiking with Your Cat Safely
Hiking with cats is becoming increasingly common. But what do you need for a safe and successful hike with your cat? Learn how to hike with a cat in this post!
Visit your neighborhood park and you'll spot dozens of dogs happily trotting beside their humans. But exploring the great outdoors with a cat is increasingly popular. With a little preparation, you and your adventure cat can walk, hike, or even backpack together. Sound like fun? Let's find out how to hike with a cat so you can hit the trail with your favorite feline companion.
Is your cat an Adventure Cat?
Some cats are confident, curious, and revel in novel experiences. Others prefer to stay in their comfort zone and shy away from anything new. You know your cat best, so consider your cat's personality before embarking on a hiking adventure.
If you're wondering which type of cat is the best cat for hiking, there is no right answer. With proper training, basic adventure cat gear, gradual introduction to new experiences, and careful attention to your cat's behavior, almost any cat can be an adventure cat.
Is hiking good for your cat?
Experiencing the sights, sounds, and smells of the great outdoors is mentally stimulating for cats. Cats have exceptionally acute senses, so taking cats to an outdoor environment provides healthy enrichment1.
The exercise gained though walking and hiking helps keep your cat in top physical shape and prevents feline obesity.
Indoor cats can learn to enjoy hikes, but they may need extra time or training to adjust to the stimulation of being outdoors. Just be patient as your cat learns this new activity and you'll both benefit.
Kittens may adapt more easily to new experiences like leash and collar training, harness training, and adventure hiking, but even older felines can enjoy exploring the outdoors.
Choose the right adventure cat hiking gear
Though your cat might prefer to roam freely outside, a leash and harness are important tools for safe cat hiking adventures. A leash and harness will keep your cat close while allowing your cat to set the pace for your hike. Cat backpacks are another fun, safe, and easy way to get your kitty outdoors. A GPS cat tracker helps you ensure you will never lose your cat on a mountain hike or outing together.
Cat harness and leash
Cats are experts at wriggling out of collars, so a harness with wide padded straps is a better option. The harness will provide a secure attachment for a leash. Many cats dislike harnesses and leashes at first, but you can overcome this by harness training and leash training your cat.
Start by having your cat wear the harness during a normal day at home. After a few days, attach the leash and practice walking together indoors. Give your cat lots of praise and belly rubs when the harness is on. That will make wearing the harness a positive experience that your cat will look forward to.
Cat backpack
If your cat doesn't get the hang of leash training, or if you prefer trekking for more miles than your cat cares to walk, you can still enjoy cat hiking adventures together. A cat backpack allows your cat to be cozily nestled against your back while enjoying the view from a safe space. A cat backpack is also a great way for those little paws to get some rest on a long hike.
Some cat parents prefer a front-facing pack so they can interact with their cat while hiking. In either case, choose a pack that's large enough for your feline friend to lie down. Because, who doesn't enjoy a quick catnap during a hike?
Always keep your cat harnessed and leashed while in the cat backpack, and keep the leash clipped to the backpack or held securely in your hand. You want to avoid having your cat leap from the backpack if you encounter a dog or wildlife on the trail.
GPS cat tracker
Attach ID tags to your cat's harness before you hike with your cat, and include your phone number on the tags. Also, make sure your cat has been microchipped before you set off on the trail. Finally, invest in a GPS cat tracker for true peace of mind. With Tractive GPS you can see your cat's precise location on a phone app if an escape occurs during your cat hiking adventure.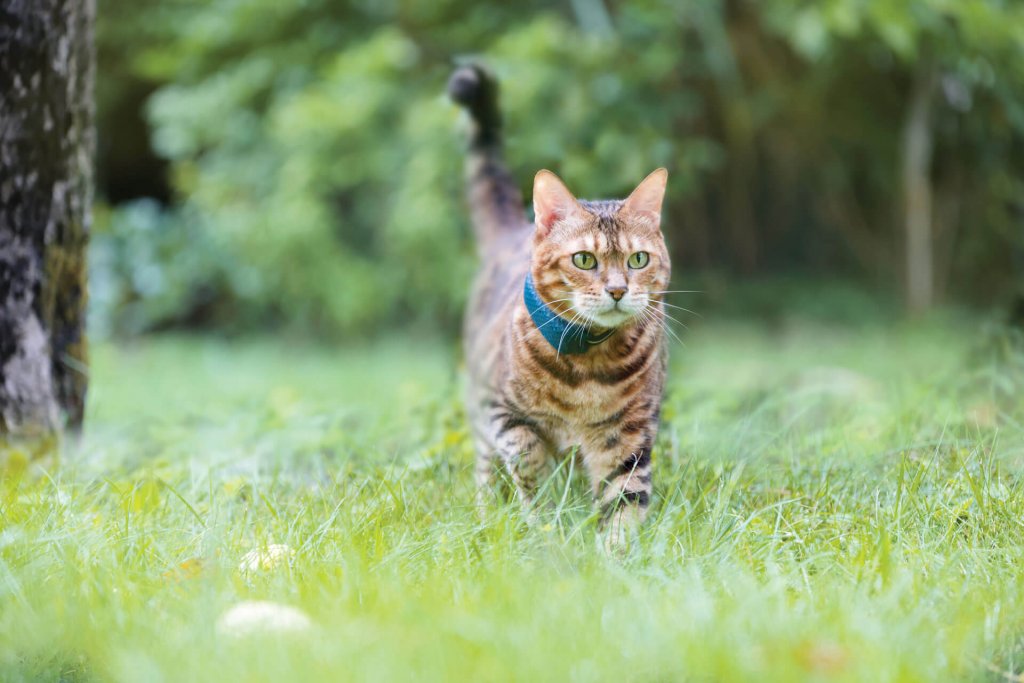 Discover Tractive GPS Cat Trackers
Make sure your cat's vaccinations are up to date
Going outdoors exposes your cat to greater risk. You may have put off certain feline vaccines in the past because your cat was an indoor-only cat.
💉 To prepare your cat for hiking, visit your veterinarian to discuss having your cat vaccinated for rabies and feline leukemia. Be sure all heartworm preventatives are up to date, as well as flea and tick medications. These are extra important if you plan to make hiking with your cat a regular activity.
Start your hiking adventure at home
Once your cat is comfortable wearing a harness and leash or riding in a backpack, try walking with your cat in your yard or a quiet park. Respect your cat's limitations, and watch your cat's behavior closely. Don't force a skittish cat to remain outside for too long – it will only make your cat wary of the outdoors and set back your training efforts. Offer treats and praise. By making each open-air experience a positive one, you enhance your cat's quality of life and build a bond of trust.
Choose a peaceful trail
Once you are ready to venture beyond your yard, choose a quiet park or trail for your adventure cat's first hike. Check first to see if the park welcomes pets – some nature preserves don't allow pets because they contain sensitive nesting areas or rare species.
Not all trails are right for hiking with your cat. Busy trails with lots of human traffic may be too tough to navigate with a leashed cat. Parks that allow dogs to run off-leash can set the stage for unpleasant interactions.
Hike early in the morning or late in the evening if needed to avoid crowds and allow your cat to get accustomed to the new location.
Travel safely in the car with your cat
Getting your cat to a favorite hiking spot might require a car trip. If your cat is stressed by riding in the car, this can create a potential barrier to your adventures. To overcome your cat's aversion to car rides, start by taking short car trips close to home. Make the ride a positive experience by offering treats, soothing words, or engaging in special playtime after the car ride. Gradually increase the length of the car ride until your cat is comfortable in a vehicle.
Whatever your cat's opinion of riding in the car, it's best to keep your cat harnessed and leashed in a travel crate while you drive. This keeps your cat from crawling underfoot or onto the dashboard while you drive. Once you arrive at your destination, the leash and harness allow you to safely transfer your cat into and out of the travel crate without worrying about a sudden dash across a busy parking lot. Leash training and harness training make these everyday activities safe and easy.
Take your cat for a hike!
Don't expect your feline companion to hike for miles on your first adventure. Your cat might walk slowly, sniff the flowers, climb on logs, or suddenly lie down on the trail. It's all part of the experience for an adventure cat.
A narrow path, rather than an open field, can help your cat learn to move forward in one direction rather than meander aimlessly. Or, if your cat loves to play, bring a human friend, have them drag a stick in front of your cat, and watch the chase begin!
Your first hike might be a short one, but you can gradually increase the length of your treks. Your hiking cat will soon be able to walk on the leash or ride in the backpack for longer distances.
With time, you may work your way up to overnight backpacking or camping trips with your adventure cat. A multi-day wilderness adventure can be fun and exciting for both of you. Many cats enjoy riding on the top of a hiking backpack to take in the view. Always keep kitty leashed during your adventure.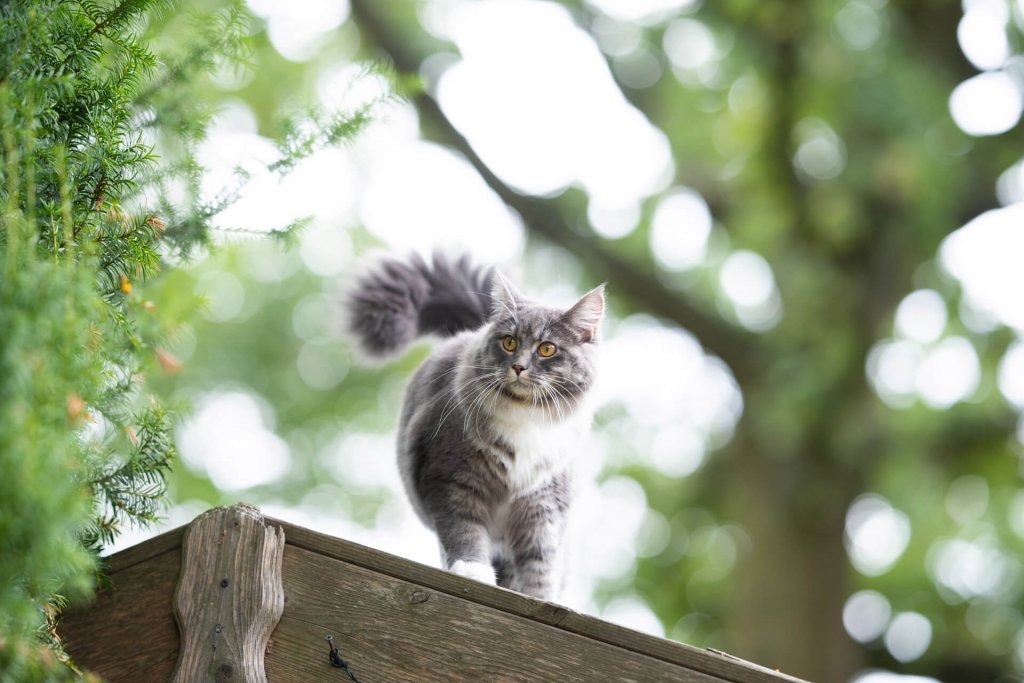 Remember to bring all the essentials to ensure safety and comfort during your cat backpacking or camping trip. Even a true adventure cat appreciates small luxuries like a fluffy bed after a long day on the trail.
Embrace the seven principles of Leave No Trace when you hike with your cat. Be prepared to take any trash back home with you for proper disposal, including cat waste. It's the right thing to do, and will help to make future hikes with your cat more pleasant for all.
Put your cat's well-being first when hiking
Being aware and prepared will make hiking with your cat safe and fun. The weather can make or break your cat hiking adventure. Always check the forecast before heading out. Even the most daring adventure cat does not tolerate extreme heat or stormy skies.
💦 Bring along water and snacks for both of you. Watch for signs of dehydration in your cat. Plan to take breaks on your hike to allow kitty to rest or explore a small area. Keep your cat harnessed and leashed during these breaks to avoid an impulsive pursuit of a squirrel or worse, watching helplessly while your cat climbs onto a tree branch that's too high for you to reach!
🐍 Creatures large and small can put a damper on your cat's hiking adventure. Depending on where you hike, be aware of predators like mountain lions, coyotes, and hawks. Dogs, even those on a leash, may want to interact with your feline friend. Be prepared to pick up your cat or tuck them into a backpack to keep them safe and lower the stress level for everyone.
🕷️ Be sure to check your cat for ticks when you get home. And have a good brush handy to remove stubborn burrs and seeds that may attach to your cat's fur.
🌿 If your cat rubs up against poison ivy, it's not likely to create a problem for your cat. A cat's fur keeps the plant's itch-causing oils away from the skin. But these oils could rub off on you when you pick up your cat, resulting in an unpleasant, itchy rash. Learn how to identify poison ivy and other noxious plants before you hit the trail.
🩹 It's a good idea to pack a basic pet first aid kit when hiking with your cat. And add the local emergency veterinary clinic's phone number into your contact list.
Track all your adventures together
While hiking with your cat, don't forget to track and record your kitty's adventures with a GPS cat tracker. Simply attach the tracker to your cat's harness and make sure it's turned on while hiking. Their movements will be recorded and you can view your cat's the trip in real time or later using the GPS location history feature. Worried about your cat running away? Luckily, missing pets are a thing of the past thanks to real-time GPS tracking.
Not to mention, active vs rest minutes and calories burned will also be recorded in the app. You can even set a daily activity goal for your feline friend. While you're enjoying your hike, take some photos to memorialize this special time with your furry best friend!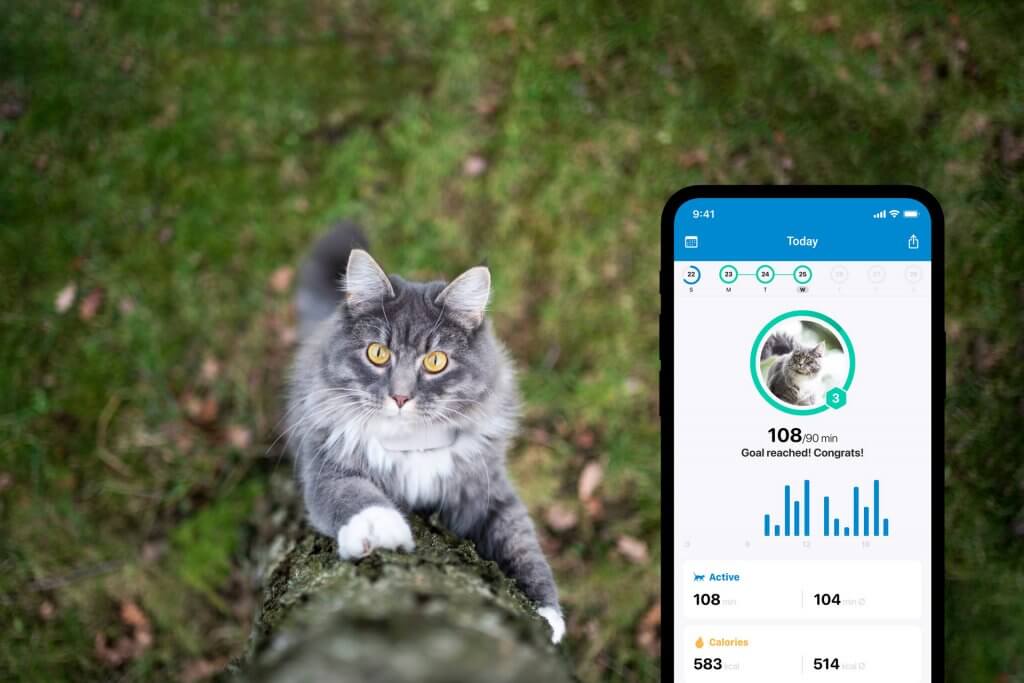 GPS & Activity Tracker for Cats
Relax and enjoy hiking with your cat
If it seems like a lot of preparation is needed to go hiking with your adventure cat, keep in mind that your goal is to create special memories with your feline friend. Being well-prepared and having the right hiking gear can make your cat hiking adventure more enjoyable and stress-free.
The benefits of hiking with your cat include increased exercise for your cat (and you!). Your cat will be immersed in a lush sensory world, with new sights, sounds, and scents to explore. Leash training and harness training will help you and your feline friend easily navigate everyday tasks, such as hopping in the car or strolling to the neighborhood park. Best of all, you and your adventure cat will create a unique bond as you navigate these new experiences together.
And if your cat hikes at a slower pace than you are accustomed to, relax and appreciate the scenery and beauty all around you. hat's good for you and for your cat!
Discover the story of one adventure cat and her wild hikes in the video below!
---
Want more helpful information like this? Then follow us on Facebook or Instagram, or sign up for the Tractive newsletter.
Shop Cat Trackers