How To Find The Perfect Dog Jackets For Winter
How can you tell if a dog jacket is the right one for your furry friend? This always depends on your dog's size, breed, behavior and...gender! Discover what's your dog's best fitting jacket now that it's getting cold!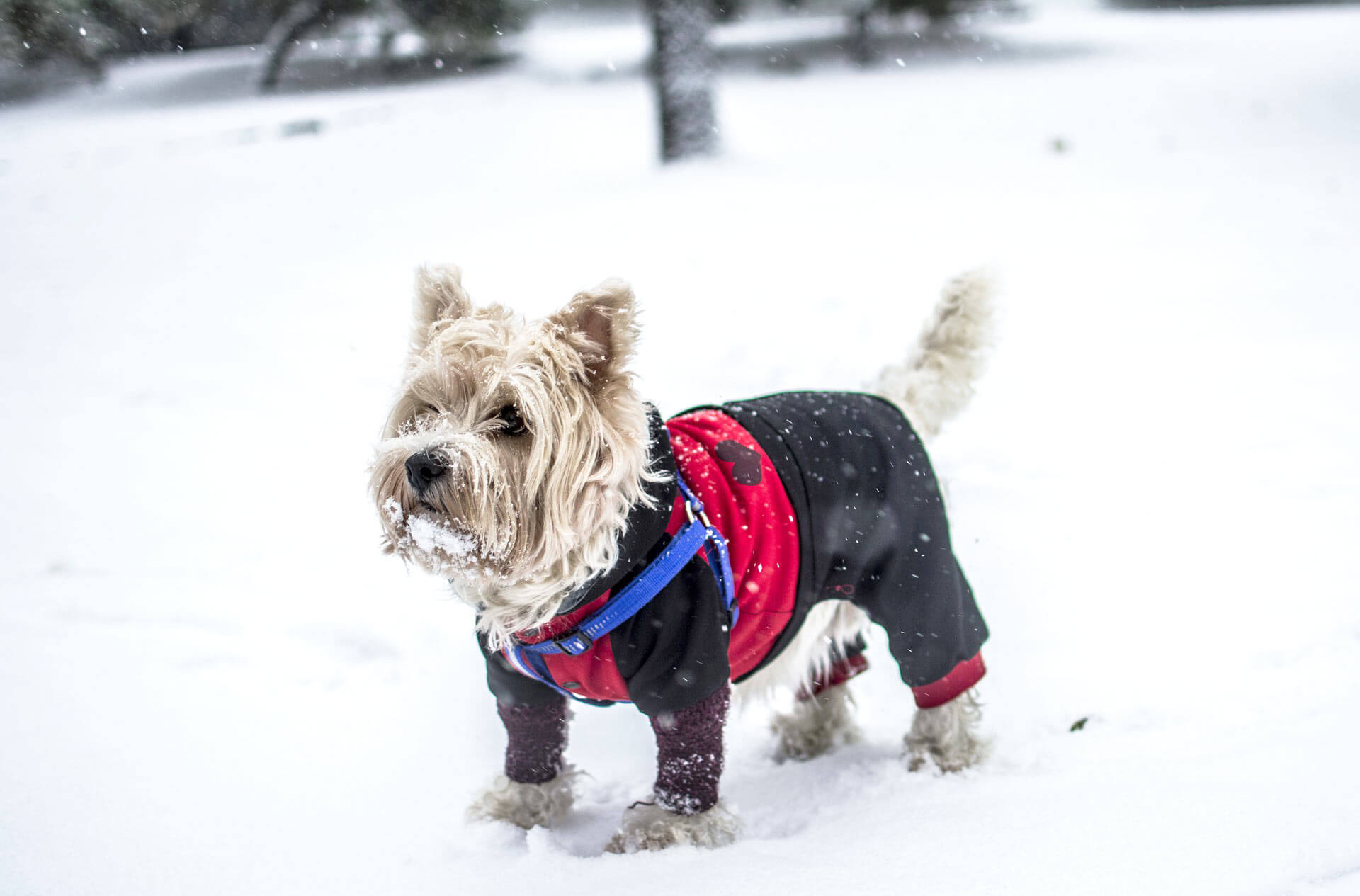 The magical winter time is here. While some dogs are very excited to go outside for a walk in the snow, others are rather hesitant due to the cold temperatures. And some temperatures are just too cold for dogs. For some dogs, a dog jacket for winter is essential. Here are some tips on what to look for in a perfect dog jacket for winter for your dog, so that both of you can still enjoy those nice walks together.
Dog jackets for winter: who really needs them
Maybe you're asking yourself whether your dog really needs a jacket for winter. If this is the case, the well-being of your dog is the most important criteria to take into consideration. While some dogs are genetically equipped for facing lower temperatures, by having their own external layering system, others are not that lucky.
Most noteworthy, smaller breeds, thin dogs, and short-haired dogs are the most likely pups in need of some extra insulation. Dogs come in various shapes, which can really make a difference when considering the necessity of a dog jacket for winter. We can distinguish between double-coated versus single-coated and long versus short-haired dogs. Here are 7 dog breeds which are good candidates for wearing a dog jacket for winter:
Chihuahua
Greyhound
Small terriers
Whippets
Mini Pinschers
Yorkies
Papillon
How to keep your dog safe
When you plan some dog-friendly winter activities with your furry friend, keeping him safe is a priority. Many dogs really like to play outside in the snow and discover the new sensation, so be aware of the danger of running away. You can easily keep your dog safe and healthy this winter by tracking him wherever he might want to play. The Tractive GPS Trackers will give you extra peace of mind and keep your walks during the cold season safe. With the right gear, your little four-legged friend will enjoy winter as much as you do!
Benefits of wearing a dog jacket for winter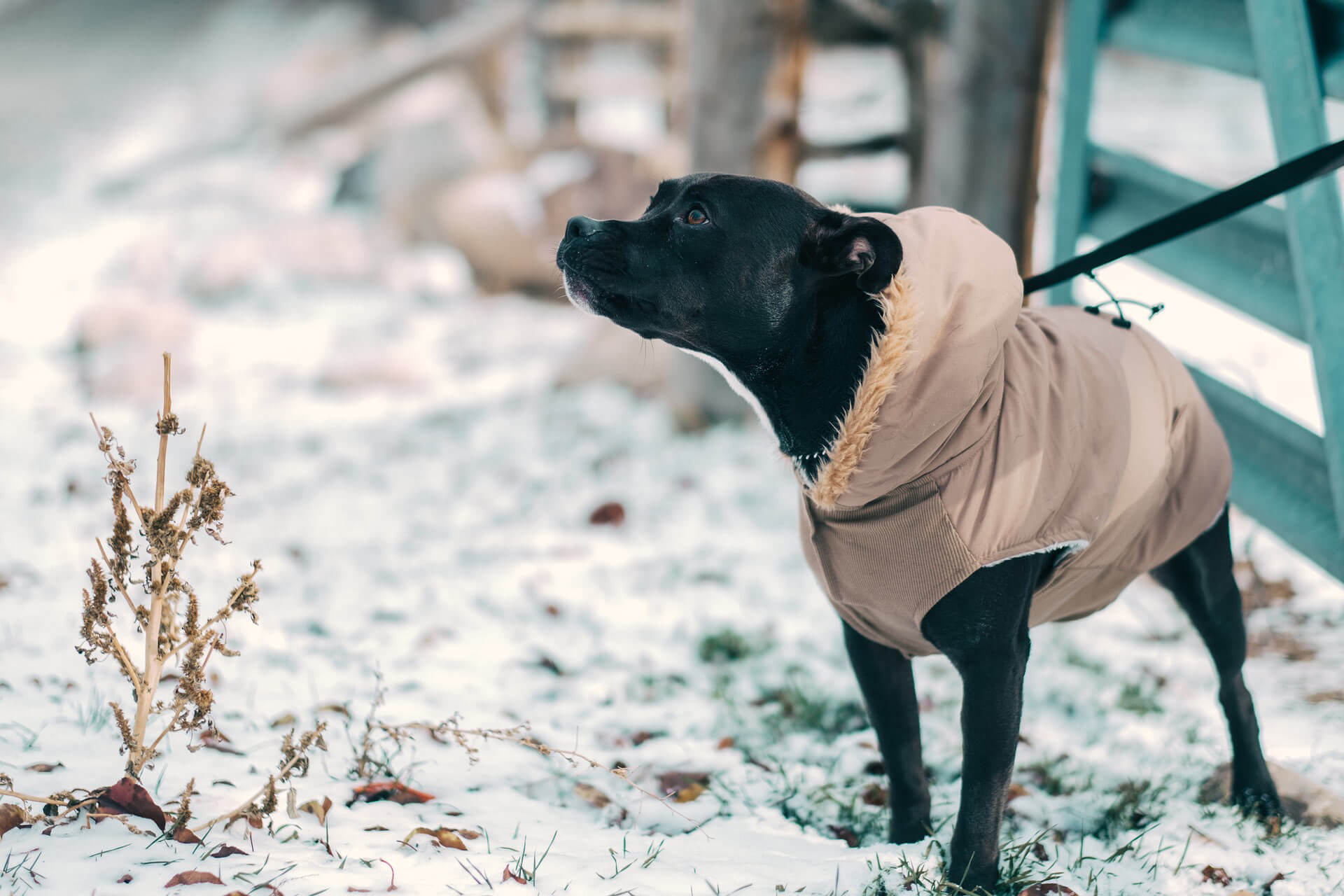 Dog jackets for winter are in many cases a necessity. Apart from protecting your dog from lower temperatures or harsh weather, they also prevent senior dogs or dogs with a weaker immune system from getting sick. In addition, if you're living in an area with very low temperatures and are spending a lot of time outdoors, a winter coat for your dog can make a huge difference to his sense of well-being. Also, don't forget that some dogs love to play outside in the snow. Often, long-haired dogs get snowballs stuck in their fur and removing them afterward can be a painful process, but this can be easily prevented by wearing a dog jacket for winter. 
Dog jackets for winter: how to choose the best for your dog
Dog jackets for winter come in an overwhelming variety of shapes and styles because dogs also do. Ideally, dog coats are not about making a fashion statement. The idea behind them is to help your dog feel more comfortable in the snow and better adjust to low temperatures or fierce weather conditions.
This is what you need to consider when you're looking for the perfect winter coat for your beloved dog:
Function over style. Search for a coat with wide enough leg openings, so it is easy for your dog to run, jump, play and do his business with no restrictions. The coat should cover the dog's stomach (except with a male dog) and end at the base of the tail.
Waterproof. This feature is very important for your active pup, in case he really likes to splash or play in the rain/snow.
Washable. Don't forget, dogs are like children. No matter how they play, they always get dirty. Therefore, make sure that the dog jacket for winter is also an easy care item.
Comfortable. When trying to choose the best insulating material for your dog, think about how comfortable it will stay, even after washing it several times, since some materials can get itchy. A good solution might be a combination of washable wool and cotton or acrylic.
Visible. Consider a dog jacket for winter with reflective stripes, in order to keep your dog safe and ensure a good visibility. This will come in handy in areas where there is heavy traffic, or during walks at night.
Warm. The most important feature of a dog jacket for winter is not the fact that it is appealing to the human eye. The focus should lie on keeping your furry friend warm on the coldest of days, so look for multi-layered coats with plenty of insulation.
---
Did you like what you've read? Share it with a friend!