Good to know
Snow-Loving Dogs: 10 Dog Breeds That Love Snow
Winter is here and it's time to bring out the doggy boots, and cold-weather gear to make those chilly walks more comfortable for your dog. But some breeds aren't feeling uncomfortable in the snowy weather. To them, it's the most wonderful time of the year.
Some dogs were just born for winter – and will love having adventures in the cold temperatures with you. But of course, not all dogs are made for snow. Sometimes it's just too cold for dogs, especially the small breeds. However, there are some snow loving dogs that you can count on for your winter activities this year. Do you already have one? These are 10 dog breeds that love snow; get to know them!
Plus: Discover the world's best waterproof GPS tracker for dogs.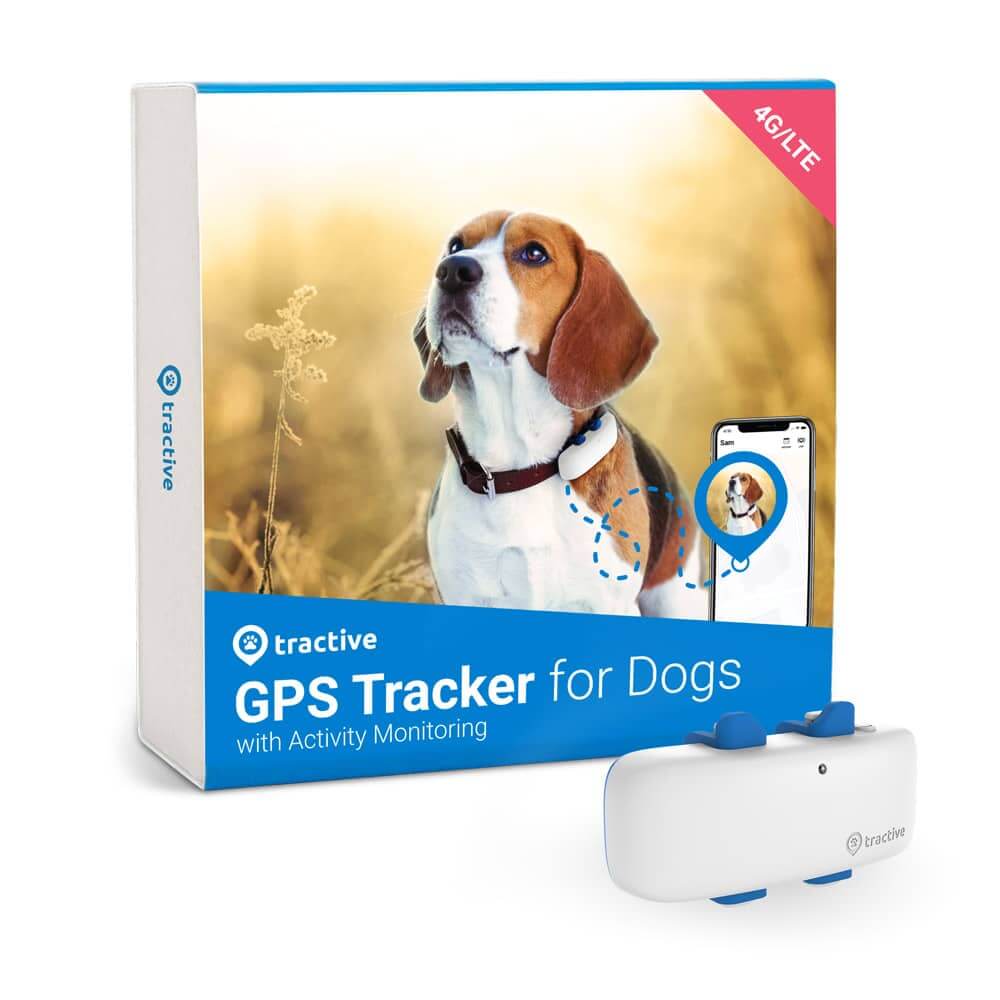 Always know where your dog is
Follow every step in real-time with unlimited range. Get alerts if they wander too far. Keep them happy & healthy with Wellness Monitoring. And let others – like walkers or sitters – keep an eye on your dog too.
Your lonely snow days are over if you have one of these furry, snow-loving dogs by your side:
Alaskan Malamute
Alaskan Malamutes come from Alaska, where the temperature in the winter months can drop as far down as -30°F (-35°C). With such frigid temperatures, it's no wonder Alaskan Malamutes are no strangers to snow. This old and large Arctic sled dog breed have traditionally been using for transporting freight. Their thick, course coat helps keep them warm so they make great winter companions.
Bernese Mountain Dog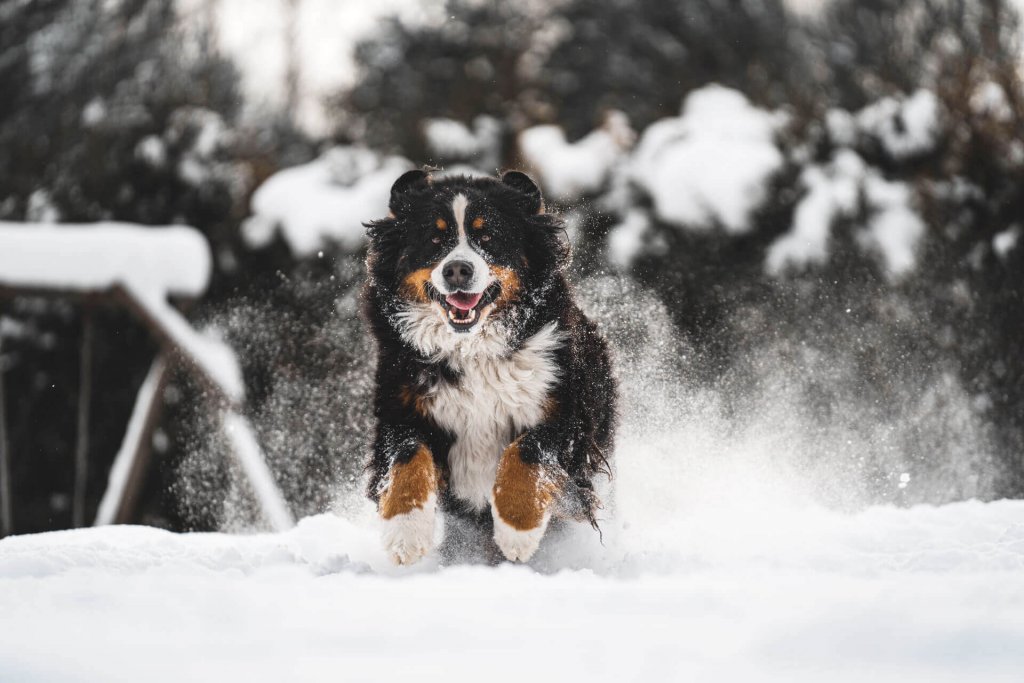 The Bernese Mountain Dog is another great snow loving dog breed. Hailing from Switzerland, this gentle breed was bred for drafting – hauling loads for their humans with a cart attached behind them. So in addition to doing quite well in harsh winter conditions, they make great outdoor dogs in general.
Labrador Retriever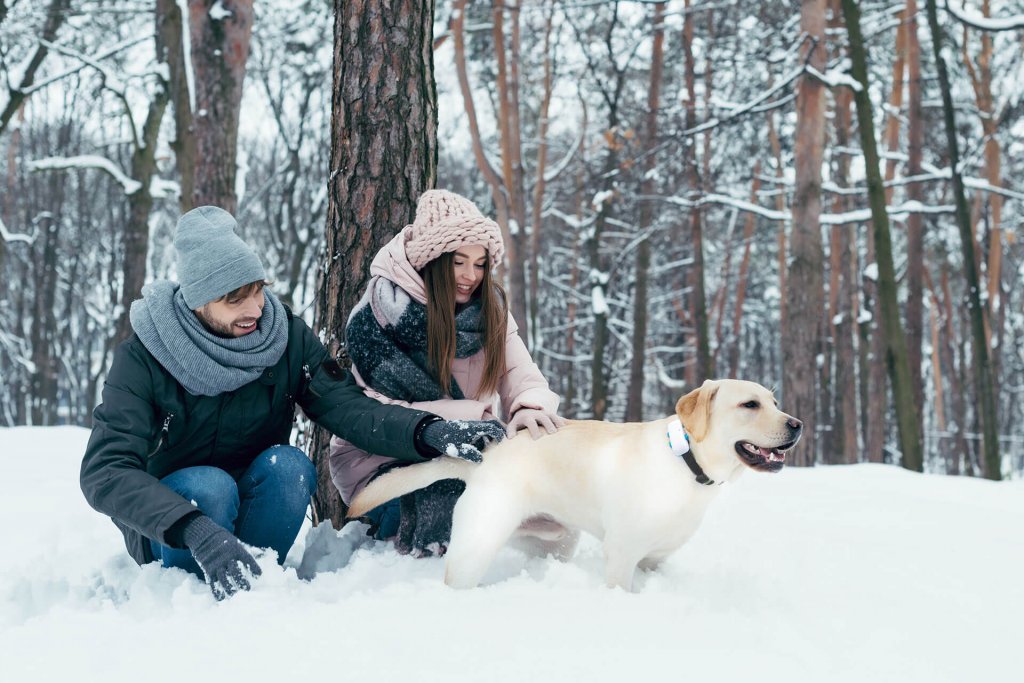 Labs are a popular dog breed that also make great snow-loving companions; just take a look at the lab in the video below, who can't get enough of sliding down a snowy hill. While their thick double coat makes them perfect for outdoor winter adventures, they should (like all dogs) be protected from extreme cold temperatures. But this playful breed seems to be born for the fluffing around in the snow!
Siberian Husky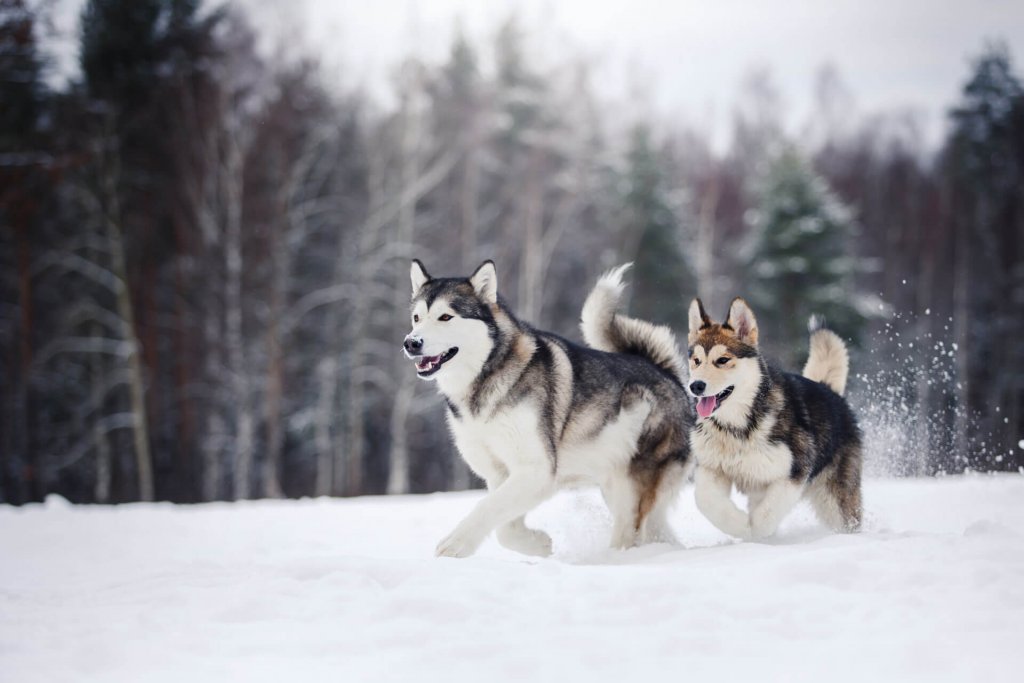 The Siberian Husky is a popular snow dog that, as the name suggests, comes from the frosty, cold climates of Siberia in Northeast Asia. With their thick coat of fur, they are ready for winter activities and were traditionally bred to be working sled dogs. Safe to say, these dogs have had time to get used to the snow, making them the perfect snow loving dog breed! Here's one who even enjoys making snow angels:
Greater Swiss Mountain Dog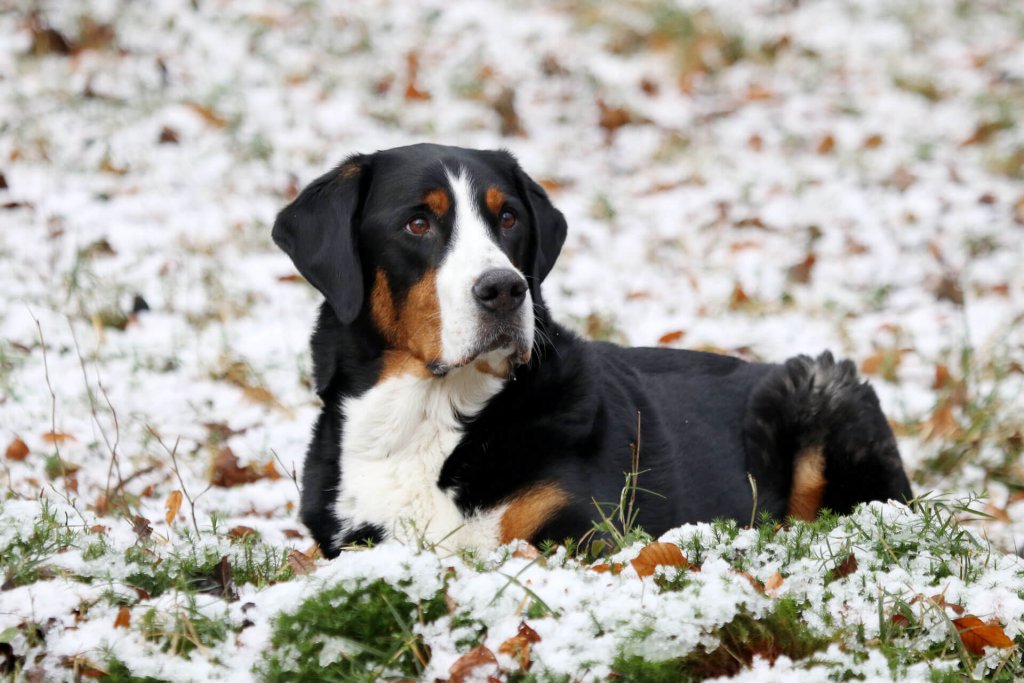 The Great Swiss Mountain Dog is a gentle yet powerful breed, also used traditionally for drafting. These dogs can easily acclimate to the snow and will be happy to join you on a dog-friendly winter hike or any of these other activities for snow dogs.
Leonberger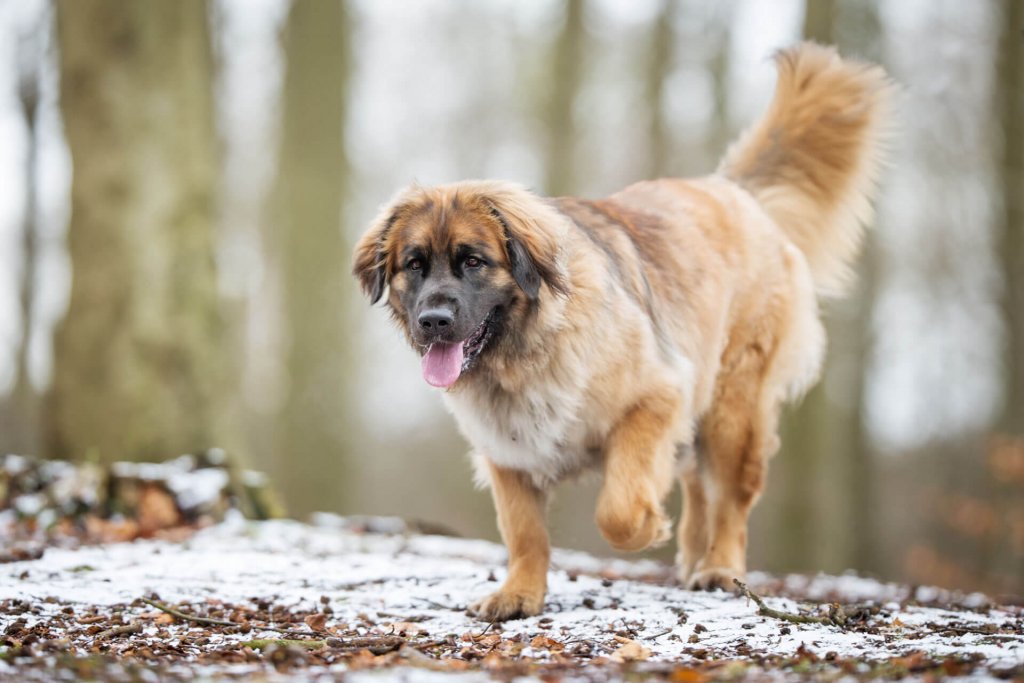 Next is the Leonberger, a German-bred dog breed which is a mix of Saint Bernard and Newfoundland. This gentle giant loves snow and can withstand the cold temperatures of mountainous regions. Very sociable, they want lots of attention and may get bored easily if they're not kept busy. They're a perfect dog to bring with you on your next sledding or skijoring adventure. Better yet; they make great family dogs as they get along well with kids and show lots of patience.
Newfoundland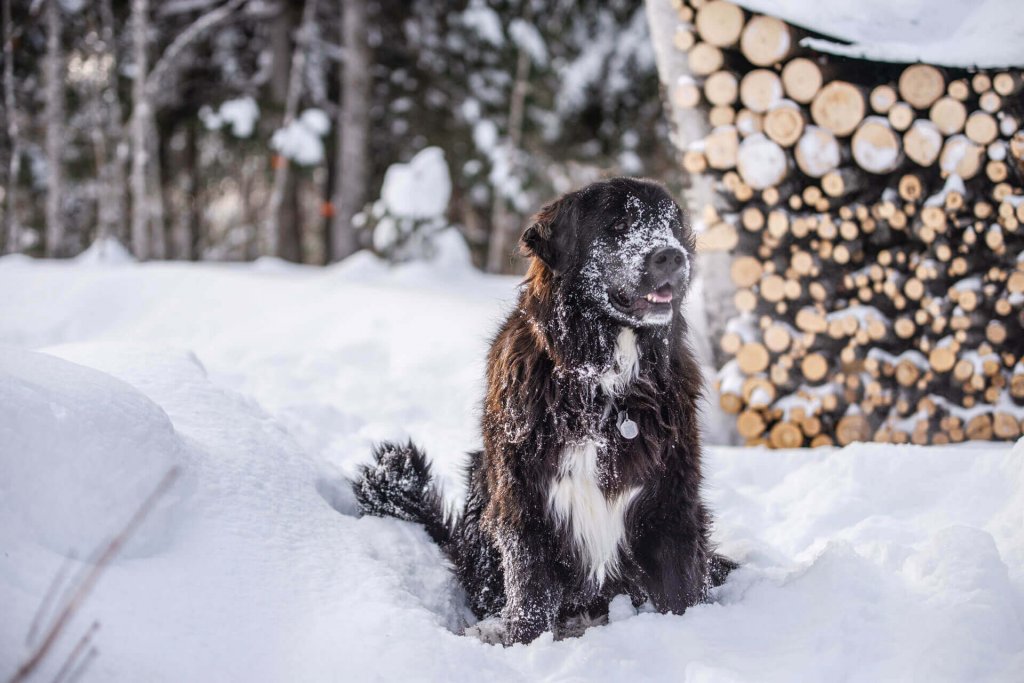 The Newfoundland is a low energy, calm and strong breed from Canada. They've been bred to work in icy waters and even help perform rescue missions today. Their double coat and physical size and strength make the perfect snow dogs that will enjoy being outdoors in winter with you without much trouble.
St. Bernard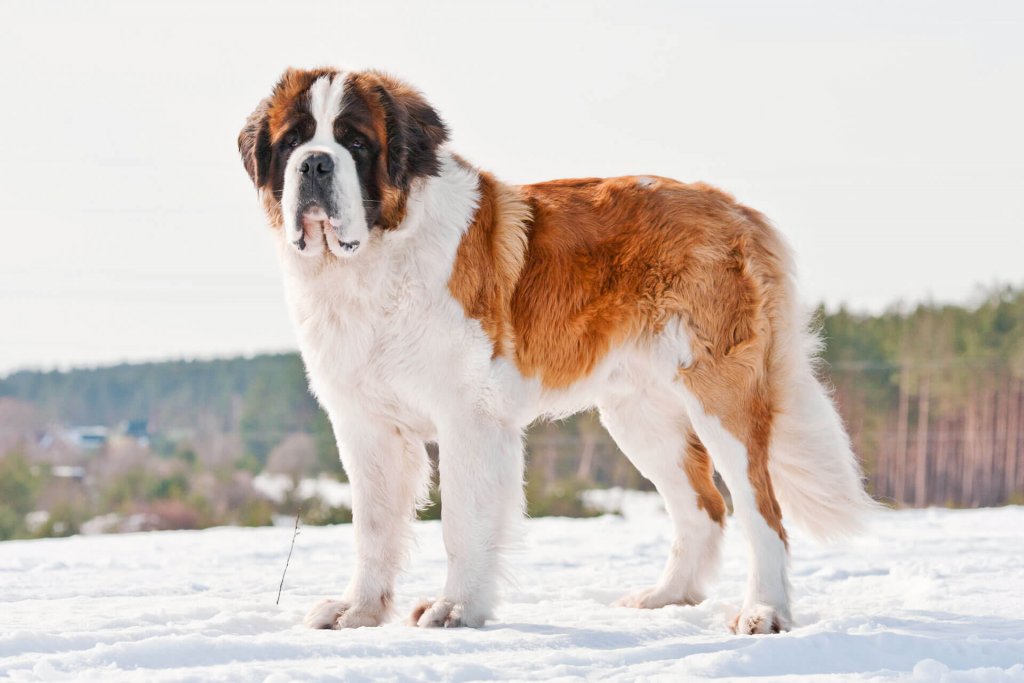 The big, lovable St. Bernard dog is the next on our list of snow loving dog breeds. They've been used as sled and freight dogs and have even been trained to help rescue people lost in snow. Their great sense of smell makes them well suited to do so. Nicknamed the saviors of the Alps, St. Bernards are named after the St. Bernard pass, a region in the Alps between Switzerland and Italy. For hundreds of years, these smart dogs have been saving humans in the snow – so why not bring one on your next winter adventure?
Tibetan Terrier
Tibetan Terriers are uniquely suited to the now; they have 'snowshoe feet' – large, round, flat paws perfect for traveling across snow-capped mountains. It makes sense – these dogs come from the mountainous region of Tibet where they were used to herd sheep and retrieve items from the mountainside. Their warm coat can cause them to get overheated easily, so they won't be up for a long run or too much activity in hot temperatures. This snow loving dog is better suited for the cold.
Old English Sheepdog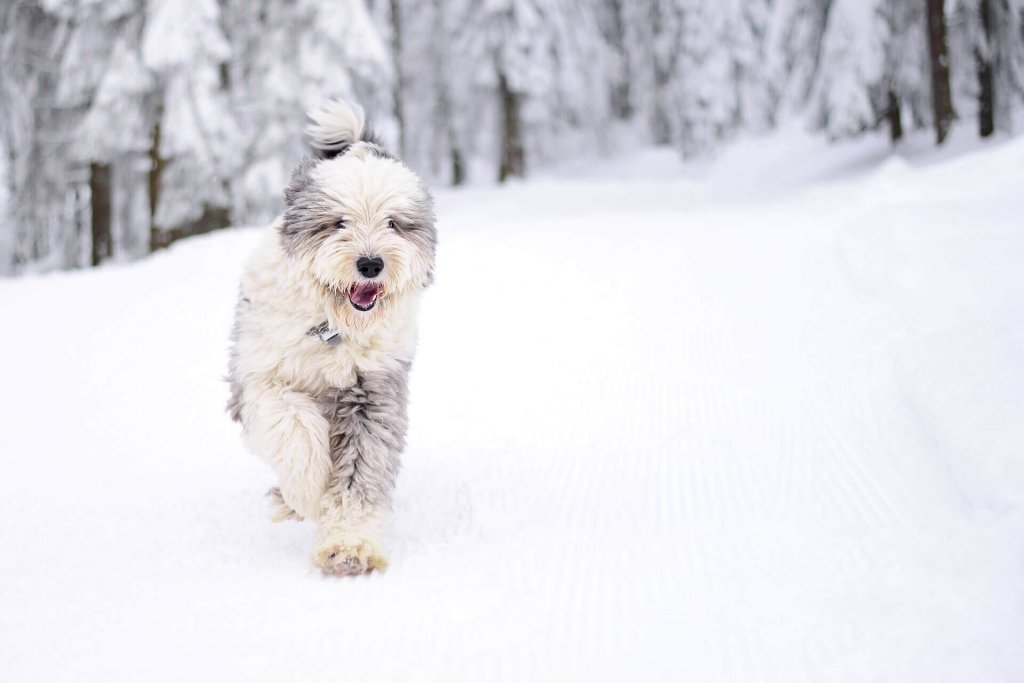 Last on our list is the Old English Sheepdog. These dogs come from southwest England and were used to drive cattle and sheep to market. With an insulating and waterproof double coat, these furry friends are protected in cold, wet winter conditions. Yet be prepared to spend a few hours each week grooming your dog's heavy coat if you have this breed. Make the most of it and get out and play in the snow with this winter dog!
---
So, those were 10 dogs that love snow! Do you have a winter-loving dog breed? What's your favorite way to enjoy the cold weather together?
P.S. No matter how much your dog loves the snow, winter can be a tough time for a dog's paws. Exposure to winter's dry, cold air, chilly rain and snow can cause chapped paws and itchy skin. Learn how to protect your dog's paws from winter and snow by following these basic paw protection tips! And don't forget to take your GPS dog tracker with you on all your winter adventures.
Shop Dog Trackers