Dog Wedding: How To Make Your Dog A Part Of Your Special Day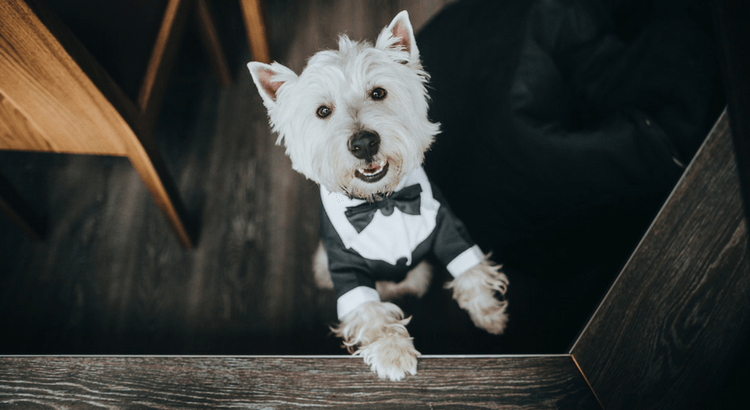 The wedding. This unique day counts for many of us to one of the most beautiful days in our life and we want to celebrate this special day with our dearest ones. Stop! Have you forgotten someone? Yes, your beloved dog! Don't leave your four-legged sweetheart alone at home on this special day. Include your dog on your wedding day. Not just as a simple wedding accessory, but their presence should symbolize their status as 'a member of the family'. One of the best ways to include your pet is during the ceremony. Not sure what I mean?
As ring bearer, of course! Using your dog on your wedding as ring bearer is a wonderful way to include your dear pet in the wedding. The ring bearer has one of the most important jobs of the ceremony as they are required to present the wedding rings to the bride and groom. Ring bearers are often children or maybe good friends. But why not use the family pet? It will give the ceremony an extra loving touch and your guests will definitely go "ohhh" as your furry friend brings the wedding rings down the aisle. However, it will take time and effort to get your dog ready for the big day. You wouldn't want laughter to overshadow this special moment at your wedding day, now would you?
Consider your dog's personality
Before giving your pet a starring role at your wedding, think about whether this will be an enjoyable experience for him (and for you). Is your dog obedient and well behaved? Will your he/she feel comfortable around your guests? Your pup might be calm at home, but not in the middle of 100 guests. There's no guarantee that your pet will behave exactly how you want him to on the day of the wedding. Even the most outgoing and friendly pet can be overwhelmed by a crowd of wedding guests, loud noises, music or wedding stress. If your dog doesn't feel comfortable as ring bearer on your wedding, then let him sit in the front row next to your family instead. With a cute colourful bow tie your pup will definitely be a real eye-catcher anyway. But most importantly, don't force him to do anything he doesn't want to do.
Confirm that pets are allowed in the ceremony facility
With everything else on your to-do list, it's easy to forget this simple, yet important, step. Be sure that pets are allowed in the ceremony facilities. Imagine showing up on your wedding day, with your four–legged friend all prepared, and being told that animals are not allowed on the property. If your venue are happy to accommodate your pet, make sure there is always a bowl of water and treats available and an easy exit if your four-legged guest starts barking.
Book a pet sitter for your wedding
Most brides feel pretty stressed on the day of their wedding. Are you one of them? Then it's a good idea to hire a pet sitter to be responsible for bringing your pet to the ceremony, taking him home afterwards, bringing water, and watching him during the wedding. Exactly on this day, it's important that you allow yourself time to relax and not worry about your pet. In situations just like these, a Tractive GPS Dog Tracker can save your day. With Tractive GPS you can follow the activities of your dog anytime, directly on your smartphone. You are able to follow his walks with the pet sitter and therefore enjoy this special day worry-free.
The ring bearer box
How should your dog bring the rings to you? We recommend a sweet decorated box or basket with the rings inside. However, make sure the rings are kept safe by tying them to the collar. If your dog is well-trained he might be able to bring the basket in his teeth. In the video below you can see how.

Isn't that adorable? This requires a lot of training, though.
Your dog's wedding outfit
Of course, your dog needs a suitable outfit for the wedding day, but keep it simple. Your sweetheart will not like being forced into a suit or a dress. Keep the accessories simple to avoid any pitfalls. A coloured chest harness fitting the colours of your decoration, a flower or little bow tie attached to the collar is a fun way to dress up your pet, and still looks super cute. Just be creative! But be aware that none of the accessories can be swallowed and that none of the deco flowers are poisonous.
Wedding photo with your dog
You can also include your pup in your wedding photos. Clarify the photo shooting with your photographer beforehand. Tell him that you're planning to include your dog in the wedding photos, as this will allow your photographer to prepare any fun photography ideas involving your pet. Then he might has the chance to capture your furry friend in action, like when he kisses you during a shot. And, it will also allow for him to prepare for any other details – like unpredictable pet behaviour, etc.
When your dog can't be a part of your dream wedding
A wedding with dog isn't a must! If your furry friend is too shy or afraid, then leave him at home and hire a trustworthy pet sitter so that you can relax and enjoy your wedding day. Provide the sitter with detailed information about your furry friend, for example allergies, preferences and habits. If you still somehow want your pup to be part of your special day, you can always choose to decorate your wedding cake with a small picture of your dog. That could look quite cute on the cake.
Most importantly for a wedding with dog
Whether you celebrate your wedding with dog or without, the well-being of your dog is the highest priority. Be sure that your dog is comfortable in any situation.
---
When is your special day? How do you celebrate your wedding day? With or without your pet? Have you ever experienced a weeding with a dog? Do you want to share your story? Then write us a comment in the comment field below. Thank you!