Good to know
Why Do Dogs Sleep So Much? 10 Factors Affecting Your Dog's Sleep
Dog sleep is important. But sometimes, our pals sleep too much (and sometimes not enough). Find out if your dog's sleeping pattern is normal - and when you should be worried - in this post.
Your dog's sleeping habits might be a mystery to you. For example, why does your dog sleep in funny positions? Why do they insist on sharing the bed with you? How can they go from zero to nap in seconds anywhere, any time? How much do dogs sleep anyway… and why do dogs sleep so much? We're here to answer all your questions – and take a look at how age, breed, exercise, health and other factors can play a role in how much sleep your dog gets. Plus, find out what you need to watch out for when it comes to changes in sleeping patterns – and how to keep track of your dog's sleep with Tractive GPS.
Why do dogs sleep so much?
Like us humans, dogs need a good night's sleep to function, re-energize and stay healthy. Without enough sleep, your dog is more likely to get sick. Or get into a "bad mood", become disoriented or even aggressive. Imagine how you are after 4 hours of sleep and no coffee and you get the picture.
Making sure your dog gets enough sleep is key to their health and well-being. In addition to helping them recover from the day's activity, sleep:
helps puppies grow into strong, healthy adult dogs
makes it easier for dogs to learn and remember
keeps our buddies' immune systems strong
In a nutshell, the reason why dogs sleep so much is because it's good for them. And the good news is, you can find out how your dog rests with Tractive GPS. You'll be able to spot patterns, see how much quality sleep they get, and detect potential issues early.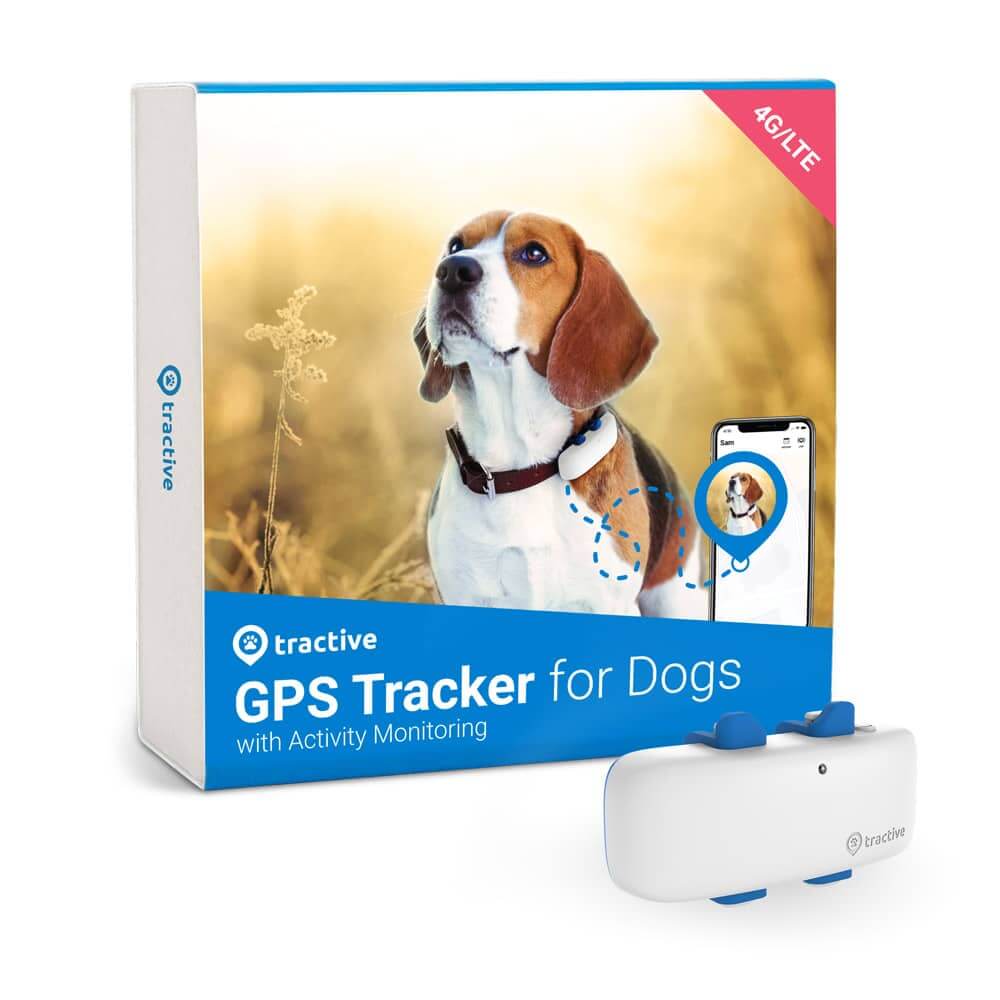 Keep your dog happy and healthy
Spot sleep patterns. Monitor activity. Detect potential issues early. Follow your buddy's every step.
How much do dogs sleep by age?
Most adult humans need, on average, about 8 hours of sleep each night1. For babies, children and teens, the number is even higher. But how much sleep do dogs need? It's important to know how much sleep your dog needs to make sure they're getting the right amount to stay healthy and happy.
On average, dogs sleep about 12 -14 hours in a 24 hour period2. But puppies and senior dogs sleep even more – they can reach 18 hours a day of zzz time.
If that sounds like a lot to you, keep in mind that cats sleep even more than dogs – up to 20 hours a day!
Also important to keep in mind? 75% of dog sleep happens at night, with the remaining 25% broken up into day naps.
So next time you see your buddy snoozing and think they're being a bit lazy, remember: Your dog just needs more sleep than you do. The best thing you can do is invest in a cozy sleeping spot of their own where they can enjoy peace and quiet.
Since age is one of the most important factors, let's next look at how our buddies' sleep needs change as they get older.
How much sleep do puppies need?
About 18 to 20 hours each day. Puppy sleep – that is, sleep for dogs under 1 year-old – is crucial for development, and sleep deprivation has been shown to negatively impact a puppy's health3. So make sure your growing pup gets enough rest!
How much sleep do adult dogs need?
Adult dogs between 1-6 years-old generally need less sleep than when they were puppies. Most adult dogs will be content and well-rested with anywhere from 8-14 hours of sleep a day. Of course other factors, such as exercise and health, play a role in how much sleep an individual dog needs.
Why do older dogs sleep so much?
Similar to puppies, older or senior dogs need more sleep than adult dogs. Senior dogs sleep about 18-20 hours a day. So as your dog grows older, it's normal for them to start needing more sleep – especially between the ages of 5 and 10 years old. It's nothing to be worried about. They just have less energy than they did when they were younger.
Dog Age
Sleep Requirement
Puppies
(0-12 months)
18-20 hours
Adult Dogs
(1-6 years)
8-14 hours
Senior Dogs
(6+ years)
18-20 hours
Dog sleep requirements by breed
Another important factor is the breed (and size) of your dog. Many dog parents don't know this, but the size of the breed affects how much sleep they need. For example:
Small dog breeds need approximately 14-16 hours of sleep each day.
Medium dog breeds need only 10-14 hours of sleep per day.
Large dog breeds, on the other hand, need up to 18 hours of solid rest per day.
Breeds also prioritize sleep differently. For example, if your dog breed was bred for performing important tasks, they might be less sleep-oriented.
As you can see, there are many things to consider when it comes to how much your dog should sleep each day. There is no one-size fits all answer.
Other factors that affect dog sleep
Besides age, breed and size, here are a few other things to watch out for.
Exercise
A dog's activity level also affects how much sleep they'll need. Dogs who are very active during the day often fall asleep easily – and enjoy their well-deserved rest. On the other hand, dogs who don't get enough exercise are more likely to be restless and sleepless at night.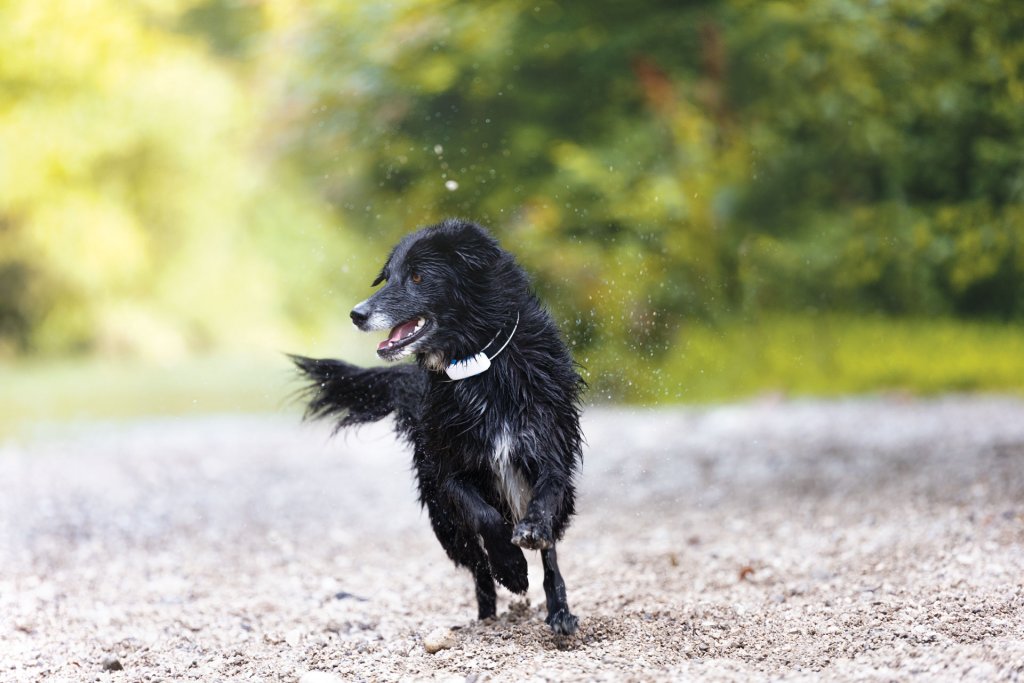 You can make sure your dog gets enough exercise by monitoring their activity and rest levels using an activity tracker for dogs. The device also doubles as a GPS tracker, so you can follow your dog's every step, no matter where your adventures take you.
Health issues
A dog's health condition(s) will also affect how much they sleep. For example, sick or overweight dogs tend to sleep more than healthy dogs. If your dog seems to be sleeping more than usual, one of the following conditions could be the underlying issue:
Hypothyroidism
Diabetes
Anemia
Parvovirus
Distemper
Kennel cough
Leptospirosis
Kidney, liver, or heart disease
Poisoning
Likewise, there are some illnesses that may disrupt your dog's sleep. If your pup sleeps less than usual or wakes up frequently, they may be struggling with sleep apnea or bladder issues.
⚠️ If you see big changes in your dog's usual sleep or activity – and spot potential signs of illness in dogs – it might be worth talking to your vet. A Tractive GPS dog tracker can help you learn their patterns and know when something is off.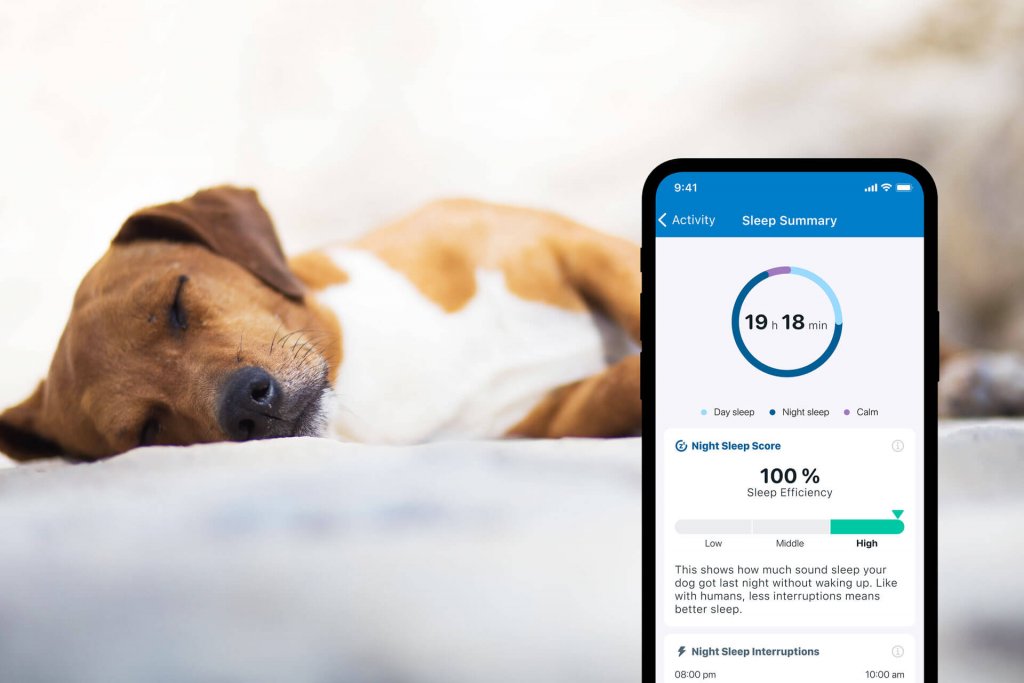 Discover Tractive GPS sleep tracking
Changes in routine and surroundings
If your dog is not sleeping well, it could be because of recent changes on the home front. For example, if you welcomed a new two-legged or four-legged family member, or moved somewhere new, it could be that your dog is having a tough time adjusting.
Noise can also cause fear and anxiety in dogs, which can affect their sleep. Parties or fireworks, in other words, are not ideal for well-rested dogs.
Another thing to consider is your dog's routines. For example, did their favorite dog walker change jobs recently? Or did you have to move them to new nap spot? Any changes to your dog's routine can affect how much (or little) they sleep.
We totally get it if you have a lot going on in your life at the moment – for example, if you're moving with a bunch of toddlers – and feel like you're always behind schedule. But trust us, finding a bit of time to find your dog a nap nook can do their health wonders.
Temperature
You know how unfun sleeping on a sticky summer night can be? Your buddy does too. Dogs can get restless during hot evenings, but might find it just as hard to sleep if it's too chilly. So set the AC accordingly.
When it's hot out, your dog may spend more of their time sleeping. Or, you know, just lounging around. Hot, muggy weather can make dogs tired and make them want to siesta. As long as your dog keeps a normal body temperature, a little summer lazing should be no cause for alarm. Especially if you know how to help your dog stay cool in summer.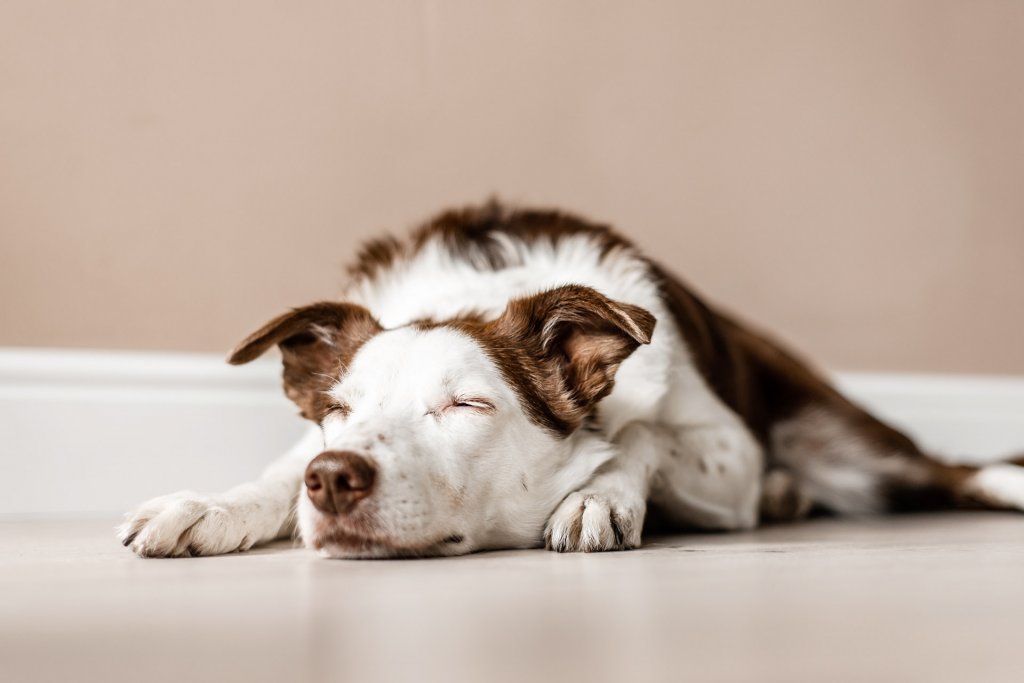 REM
As in "Rapid Eye Movement", not the band. In REM sleep, which usually happens about 90 minutes after we fall asleep, our eyes move quickly and our brain is more active. It's during this time that we have our most intense dreams. REM sleep is important for brain development, emotional processing, and processing what we picked up during the day.
Dogs are more "flexible sleepers" than humans, and can generally fall asleep anywhere and any time. Which also means they're easier to wake up. That's why experts think dogs need more shut-eye in order to catch up on missed REM sleep.
Boredom and depression
If a dog is not getting enough healthy physical and mental stimulation during the day, they may sleep more as a result. Likewise, a dog who is depressed may sleep more than normal. Pay attention to your dog's sleep levels as well as to their overall state of well-being, and provide support for your dog. That might mean scheduling more playdates at the dog park, taking another walk each day, or adding more cuddles into your daily routine. If they're like most dogs, your pup will be happy to spend more time with you.
Dog diet
You've probably noticed you sleep better or worse depending on what you've had to eat that day, and the same goes for your dog's sleep too. Calories are the main energy source of a dog's energy, and a low-nutrient diet might lead to them feeling lazy, sluggish and sleepy.
Talk to your vet to find out what to feed your dog to help them get the best sleep. They might even help you find out what kinds of food sensitivities or intolerances your dog might have.
Discover: Which vegetables are safe for dogs?
Sleep disorders in dogs
Just like us, dogs can experience sleep disorders. A dog with a sleep disorder may wake up frequently during the night or appear to be in distress when they should be sleeping. Sleep deprivation in dogs can cause them to be more tired and disoriented during the day. Lack of sleep in dogs can even lead to aggression and behavioral problems, or a weakened immune system. Below are the four most common types of sleep disorders in dogs:
Canine narcolepsy (suddenly falling asleep)
Insomnia (not being able to fall asleep)
Sleep apnea (snoring and breathing issues)
REM behavior disorder
Conclusion on dog sleep
As we learned above, sleep is just as essential for dogs as it is for people. Sleep helps with brain development, storing memories, learning, emotional processing and maintaining a strong immune system. Our canine friends sleep more than us, about 12-14 hours a day on average. Out of all dogs, puppies and senior dogs need the most sleep, upwards of 20 hours a day. A lot of factors can come into play, such as age, breed, exercise, boredom and even temperature. Too much or too little sleep may be a sign of illness, and that it's time to talk to the vet. By monitoring your sleep with a GPS dog tracker, you can spot changes to their sleeping pattern and detect health issues early on.
For more on the topic, check out these articles:
---
Did you like this post? Share it with a friend!
Shop Dog Trackers