Health
Running with Dogs: Best Practices You Need to Know
As a runner, it's much easier to get going when you have a running partner, and even better when they're your four-legged, loyal canine companion. Discover the best practices for running with dogs, below!
Running with your dog is a great way to bond with your furry friend, improve your overall health and wellbeing, and get in shape. It can help you make sure that your dog gets their daily dose of physical activity too. So before you go running with dogs, consider the following tips that will make your dog jog a success for both you and your furry pal!
While you're here, you might also enjoy these articles:
Before you put on your sneakers and reach for the leash, consider these things (and train your dog to run with you):
Is your dog fit for running?
Not so fast – Before you start running with your dog, you need to find out if your dog's age, health, and breed make them actually suitable for running. Certain dogs won't be able to run at all, whereas other dog breeds are born for running. Check out the running dog guide for more information on what makes a dog suited to running or not. And of course, consult your vet if you are unsure about your dog's physical abilities before starting any new exercise routine with your dog.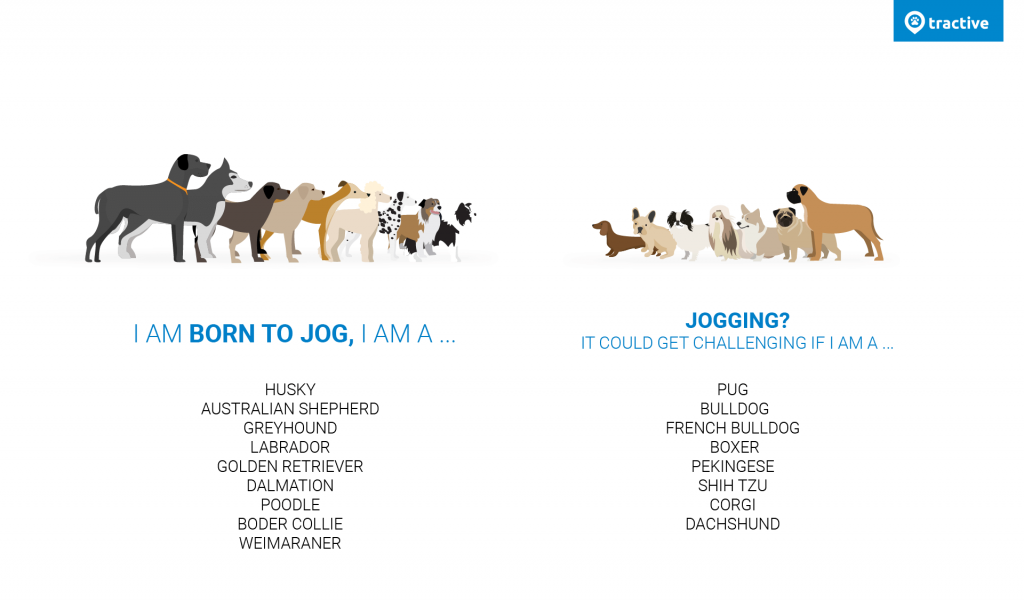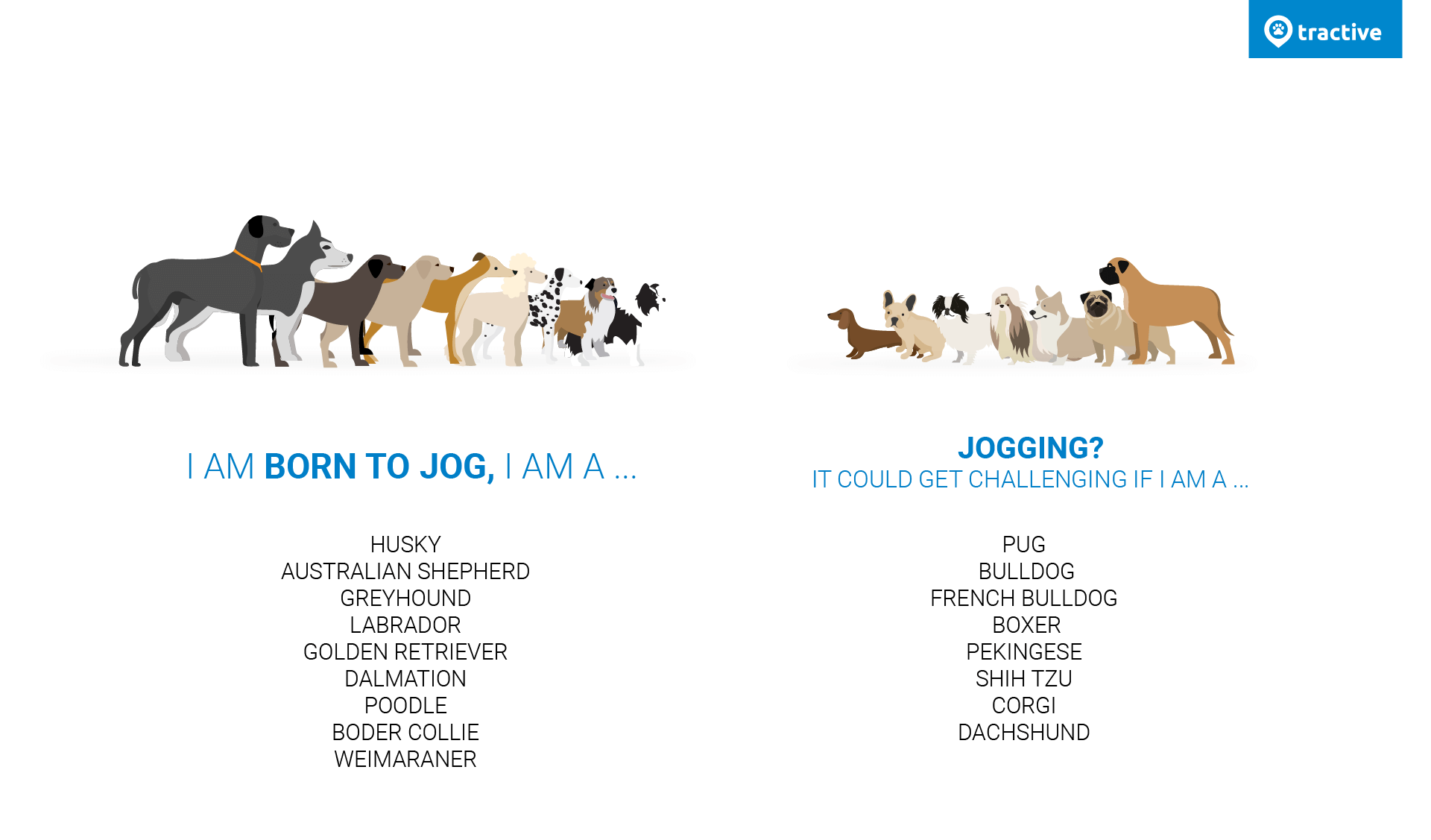 Dogs with short muzzles like Pugs or Bulldogs are not well suited to running long distances, as they are more prone to breathing difficulties. Additionally, wait until your dog is at least one and a half years old to run with them – running can be dangerous for puppies, whose bones are still growing1. Lastly, always consider your dog's personality, temperament, and physical health before running with your dog.
Master loose-leash walking first...
Safety first: As any dog parent knows, training is an essential part of raising and caring for a beloved furry friend. So before your dog can safely run with you, they'll need to have mastered walking on the leash first. Because it can be dangerous when your dog pulls on the leash – and even more so when you're both running at full speed!
Later, when you're actually running with dogs, you'll need to make sure that your canine companion is trained to run beside you – not in front of you, or all over the place. Otherwise, you could get hurt by tripping on or getting tangled in the leash.
And basic commands.
If your dog misbehaves on walks, then they probably aren't ready to run. Teach your dog some basic commands that you can use when you run. "Leave it" is a helpful command, as your dog will learn to ignore or walk away from tempting items on the route (like trash or sticks). Teaching your dog to "Sit" and "Stay" is also very important, especially at traffic crossing.
For a safe and smooth run, your dog should also know how to follow basic commands.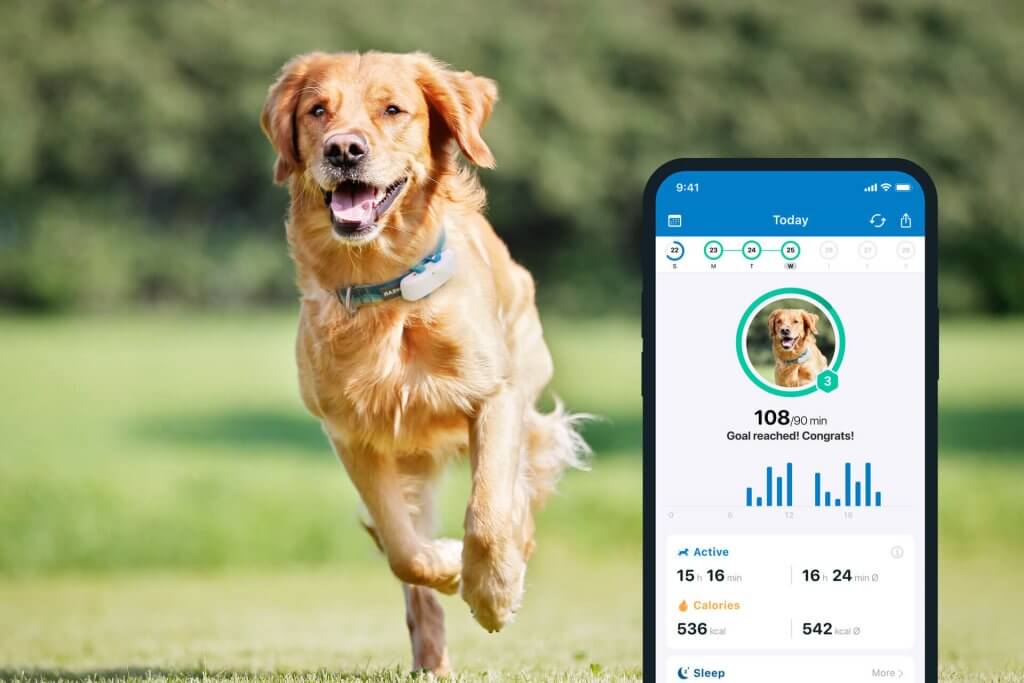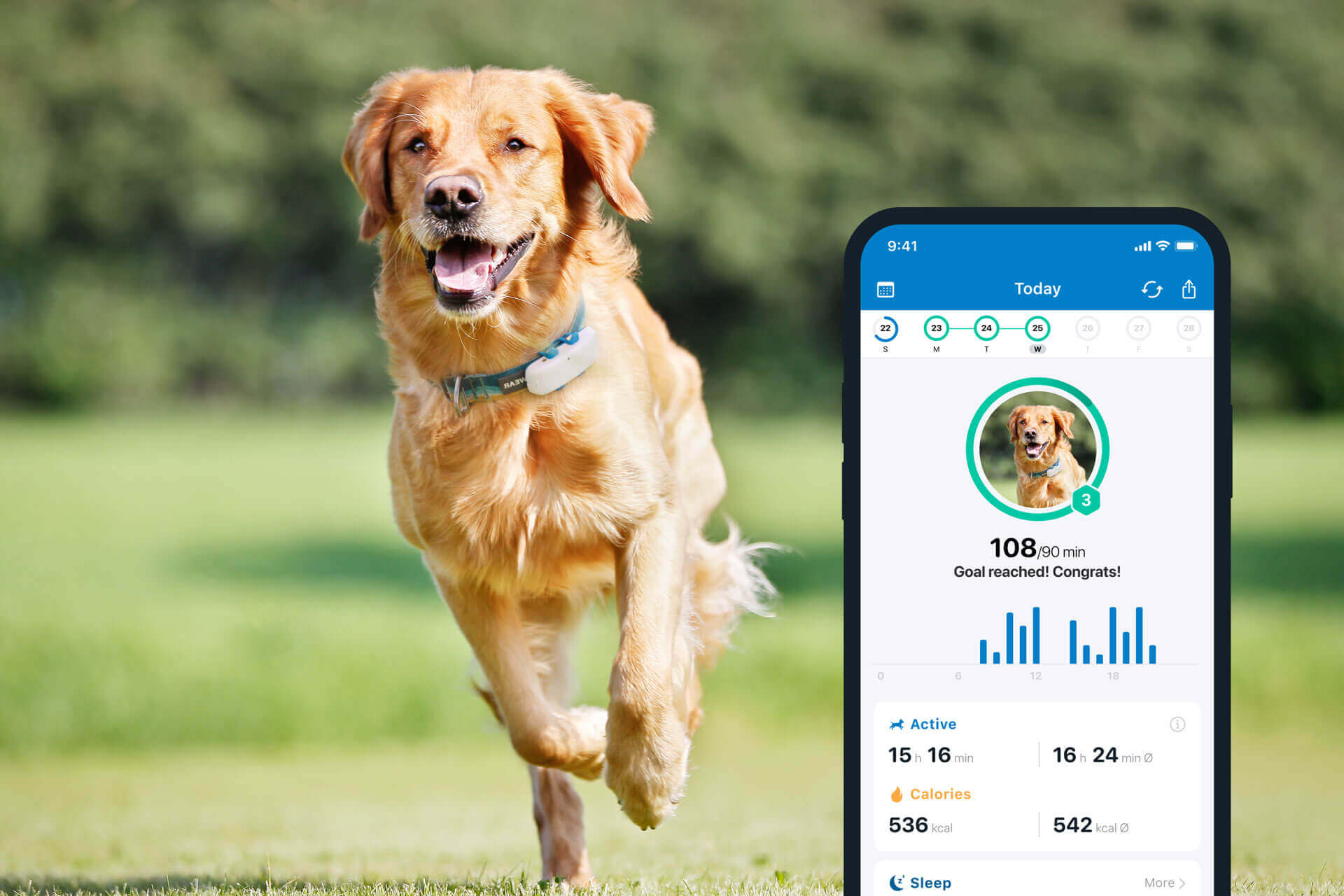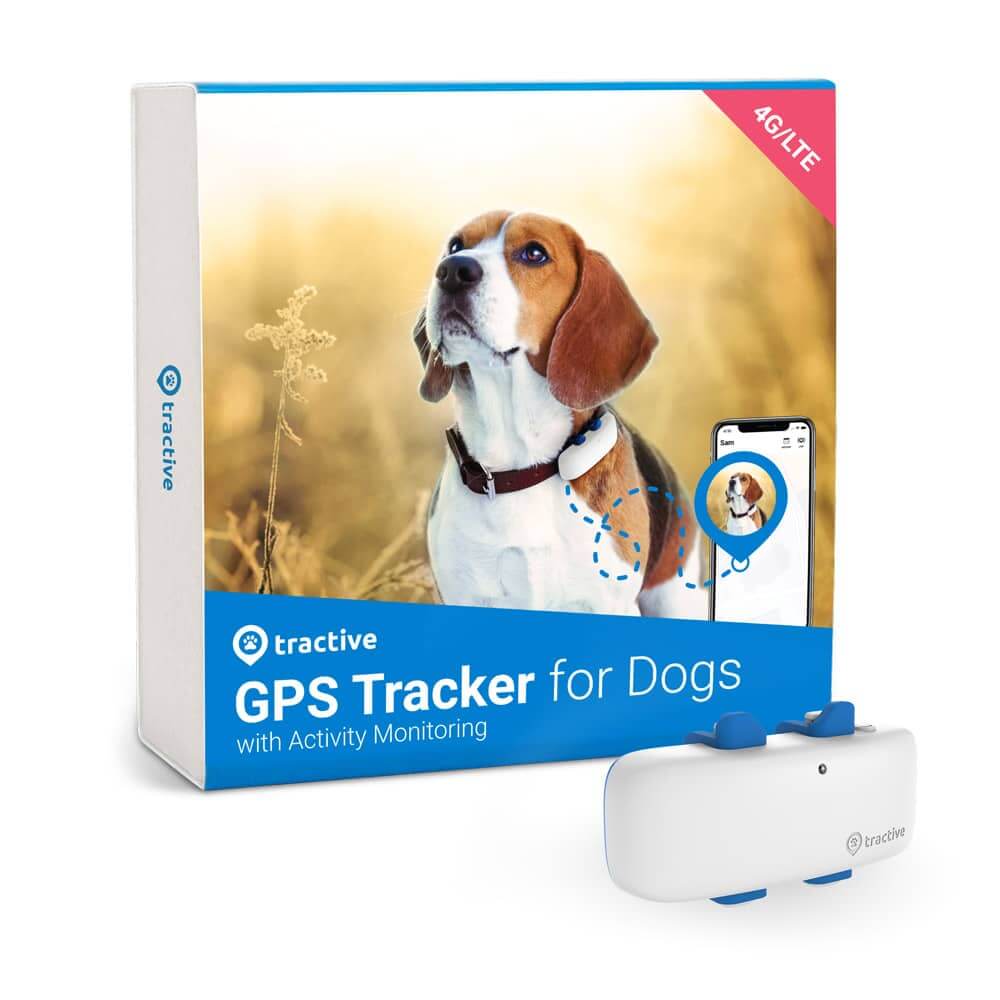 Stay on top of your dog's wellness
See how they're doing at a glance with Wellness Score. Set goals. Compare with dogs like yours. Monitor sleep. Detect issues and keep them healthy.
Speed things up with a cue.
Once your dog is walking on the line like a good boy or girl, you can slowly start to increase the pace you're going together. Here it can be helpful to use a cue, to let your dog know you're picking up the pace. For example, if you say, "Come on, let's go" to tell your dog it's time for a walk, you might try a different cue such as "Run buddy!" to signal it's time to run. Another cue can be taught to help your dog learn when it's time to slow down. Use the same phrases consistently for best results.
Train for endurance.
If you've mastered the previous steps, now it's time to start building endurance in your dog. As runners, we need to build strength and endurance over time; your furry friend is no different. Too much too soon increases your dog's risk of injury, just as it does for you.
Start out by incorporating small stints of running into your daily walks with your dog. Slowly, gradually, increase the time spent running on each succeeding walk. Your canine fitness companion will be in shape in no time.
Get your dog running gear.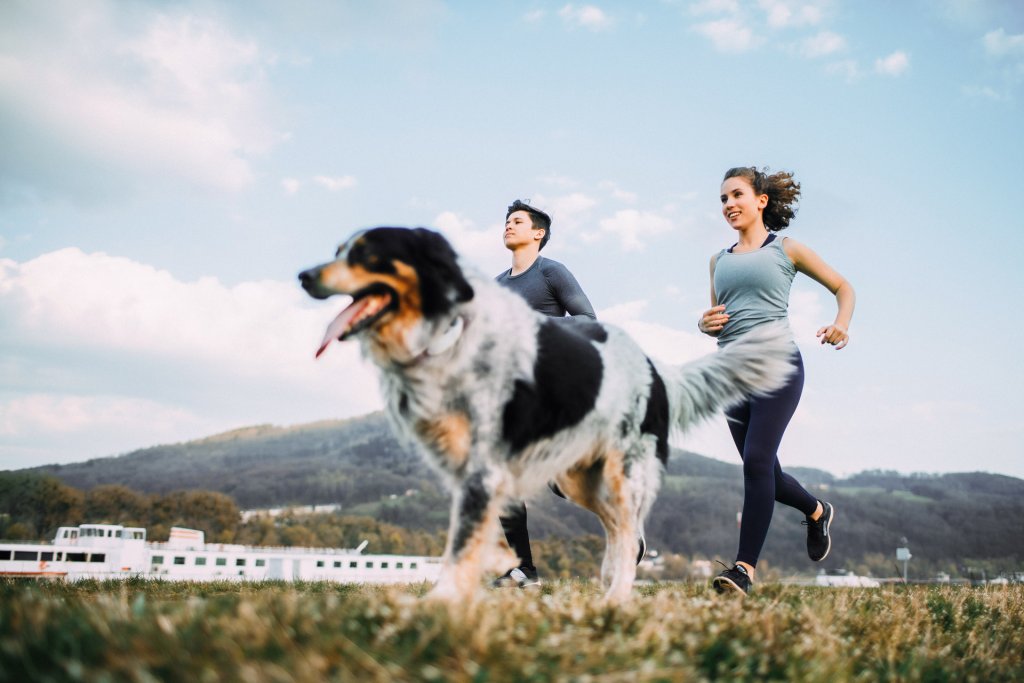 The perfect dog jog or run is not complete without the right equipment – for you and your furry friend. In addition to your personal running gear, here are somethings to take with you for your furry friend:
Dog microchip: make sure your furry friend has one before running together.
Collar or harness: make sure your dog is wearing their collar or harness – so you can attach their ID tags, leash, and tracker/activity monitor to it.
ID collar tags with your phone number clearly legible.
Dog running leash: use a hands-free dog running leash to ensure your dog stays by your side and out of harm's way.
Running belt or backpack: to keep your poo-bags, cell phone, keys, and water.
GPS tracker and activity monitor: track your dog's run, and track them if they run away! With the Tractive GPS Dog Tracker, you can find your lost dog in real time and be spared from the nightmare of losing your furry friend.
Paw ointment: to protect your dog's feet from the elements.
A dog jacket: in case of very cold weather.
Collapsible water bowl: so your dog never has to go thirsty.
Pay attention to your dog.
As you're running you'll need to consider not only your own needs and condition, but that of your dog(s) too! So pay attention to your dog's behavior and act accordingly. While running, your dog might get thirsty, need a potty break, get tired, injured, or sore. Taking short water breaks throughout your run will give you an opportunity to check in with your dog and make sure they're still doing okay. And of course, stop if your dog shows any signs of distress or illness.
Consider the weather.
Dogs endure hot and cold weather differently. It goes without saying that you shouldn't jog with your dog when it's too hot, because the last thing you want is for your dog to experience a heat stroke!
Dogs have fewer sweat glands than us and can't shake off the heat like we do. Try to jog early in the morning or late in the evening, when the temperatures drop and the sun isn't at its highest point. The best advice is to test your dog's jogging endurance during different temperatures.
Your pup can't tell you when he's thirsty, so make a few water-breaks during the run until you have an idea of how much water your he needs.
Be especially generous with water in the warm months, because dogs overheat more easily than humans – because of all that fur and the fact that they don't sweat. In cold weather, you may need to consider using a dog jacket or dog shoes.
Choose a dog (paw) friendly running route.
The great thing about running is that you can do it almost anywhere. But some places are better for your dog to run than others. Streets and sidewalks with hard surface can be tough on your dog's body. Grass is softer and can be much easier on a dog's joints than pavement (but beware of uneven surfaces and holes).
If you're running in the heat of summer keep in mind that the pavement gets warm in the sun and can harm your pet's paws. If the ground is too hot for you to touch comfortably with the palm of your hand, then it's too hot for your dog to run on. Also, if you are running in winter, through snow and ice, avoid streets with salt and chemicals as these can be very toxic to dogs.
Always clean up after your dog.
Be nice to your fellow runners and clean up after your dog! There is nothing worse than stepping in a mess that you have to clean off after your run. Poop bags may not fit your running equipment, but bring a bag or two and pick up your pet's mess – it really is the courteous thing to do! Keeping the environment clean really makes running more enjoyable for everyone.
Safety tips first, but then ready, set, go!
Now that you've read these tips, you're ready to try out running with your dog. Many dog lovers feel that dogs can be, by far, the best running partners. That's because dogs which are suited to running are often eager and motivated to run with you; they love the ritual of it and get used to it very quickly. Your dog will never complain about the weather, and will motivate you to run on a daily basis. Their enthusiasm is often contagious! So we hope you enjoy running with your dog and cherish each moment that your four-legged family member is by your side!
For more tips from a running pro, check out this video:
---
Do you have an inspiring story, or cute photos of your dog running with the Tractive GPS that you'd like to share? Submit your pawsome pet story here or share your pics with Tractive on Facebook for a chance to be featured on our blog or social media pages!
Shop Dog Trackers