Humans@Tractive
How our team sports activities keep us fit and motivated
Having a healthy lifestyle can be challenging nowadays. Tractive supports its team to stay fit and motivated!
We, at Tractive, strongly believe in the importance of being positive and having a healthy lifestyle. One ingredient that characterizes our great company culture is our friendly office atmosphere which shows that we love to have fun together – also after work. This is where our team events come into the game. And when we say 'game', we really mean one. Let us show you how our sports activities make us fit and motivated in line with the motto:
If you're not having fun, you're doing it wrong!
Sports empower our team
We believe that every physical activity makes us stronger. This is also why we chose to try out Muay Thai. It is a group workout with roots from traditional Thai martial arts. It incorporates kicking and punching; elbows and knees. Therefore it's also very useful as a self-defense training. The dynamic moves empower you and make you feel strong! Team spirit is very important here and at the end of the training, we felt like a real army squad!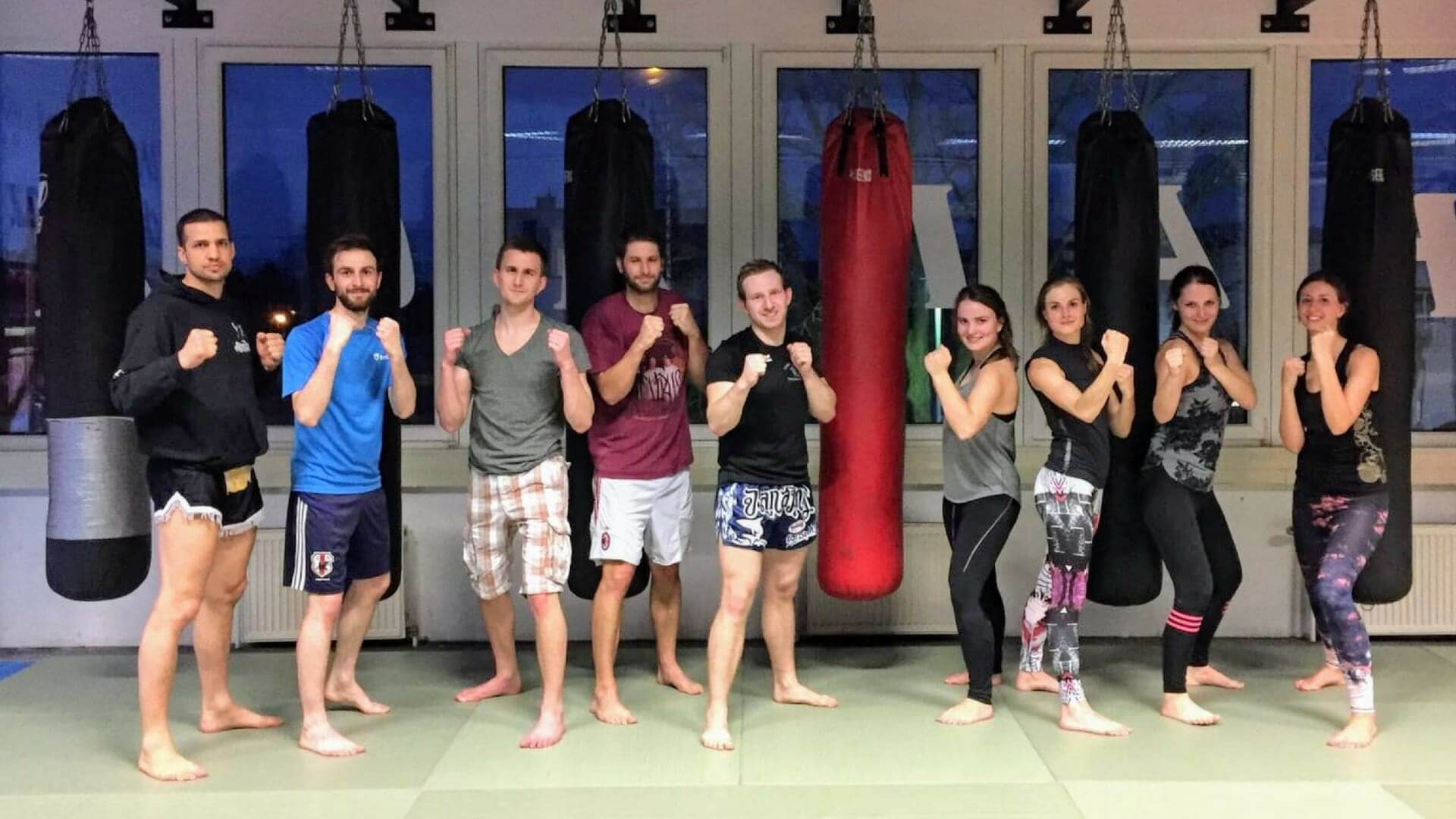 Sports strengthen our team spirit and make us push our boundaries further
One of Tractive's most popular activities is Slunning (Slow Running). It is a very special version of jogging invented by our team. Originally designed for ambitious amateur runners at the very beginning of their running careers, this term is nowadays used for runs at an average pace of 7:00 min/km and above. One major factor in Slunning that is also seen as its trademark, is the complete absence of any kind of competition. The most important thing in Slunning is to have fun together with friends while enjoying a light workout in the fresh air. The main rules of Slunning are:
Chase your goal – not the others

Control yourself

Avoid competition
This team spirit leads our team to proudly participate in regular marathons or smaller races under the Tractive banner. Everyone is always invited to participate and together we achieve more every time: should it be a team or individual race, you'll never find two Tractive co-workers far away from the other.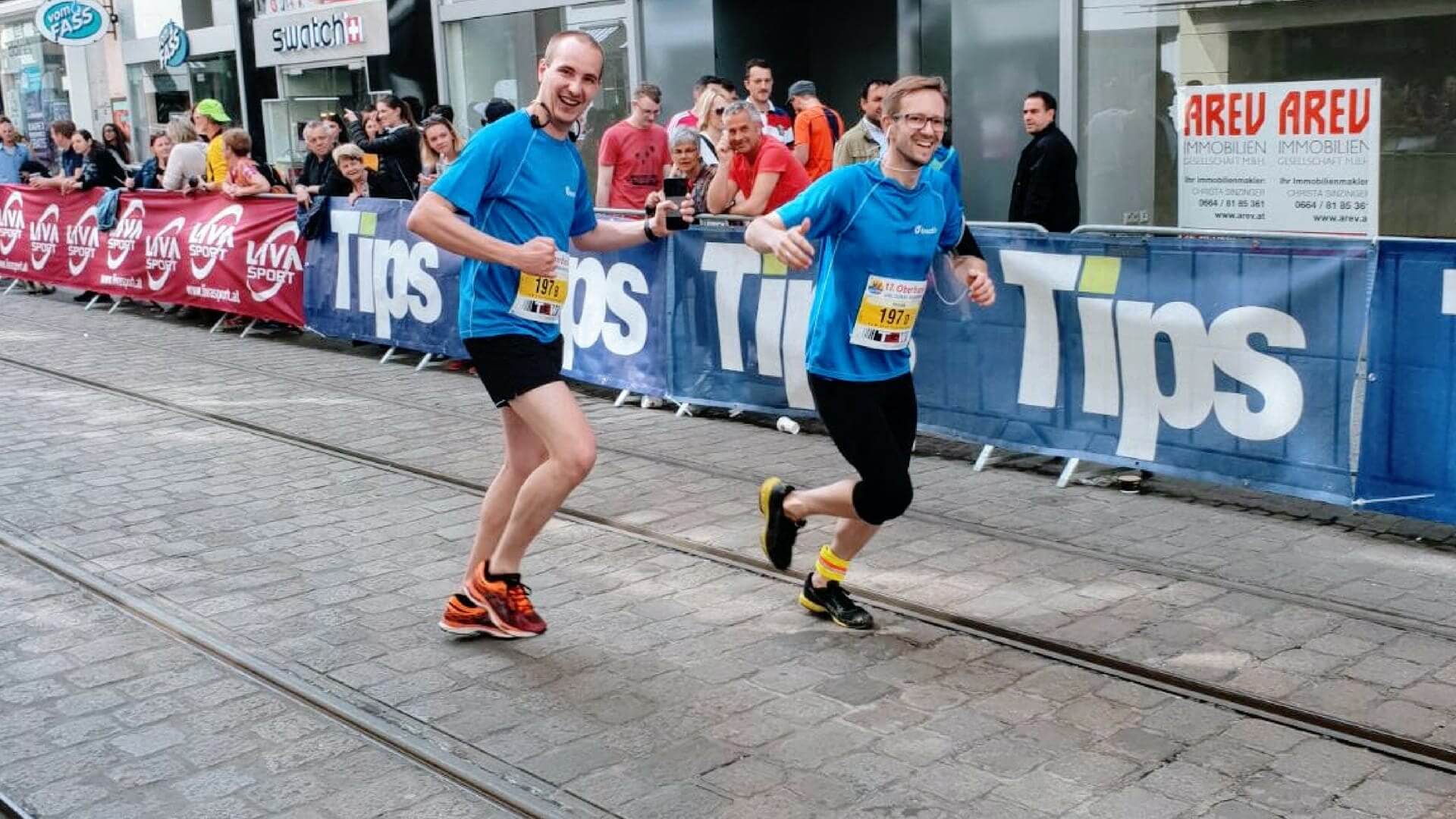 When we talk about team sports, there's nothing more outstanding than our team spirit. People working together on the same goal, building up strategies, being innovative and brainy, all for the sake of… having fun! Whatever the team-sport, it will always be a good occasion to speak with new colleagues, get to know each other differently and bond on the field laughing.
"Playing hockey with colleagues was amazingly fun, even for beginners! Seeing your colleagues slip and slide all over the place is really hilarious!" 
(Marlene, Head of Human Resources)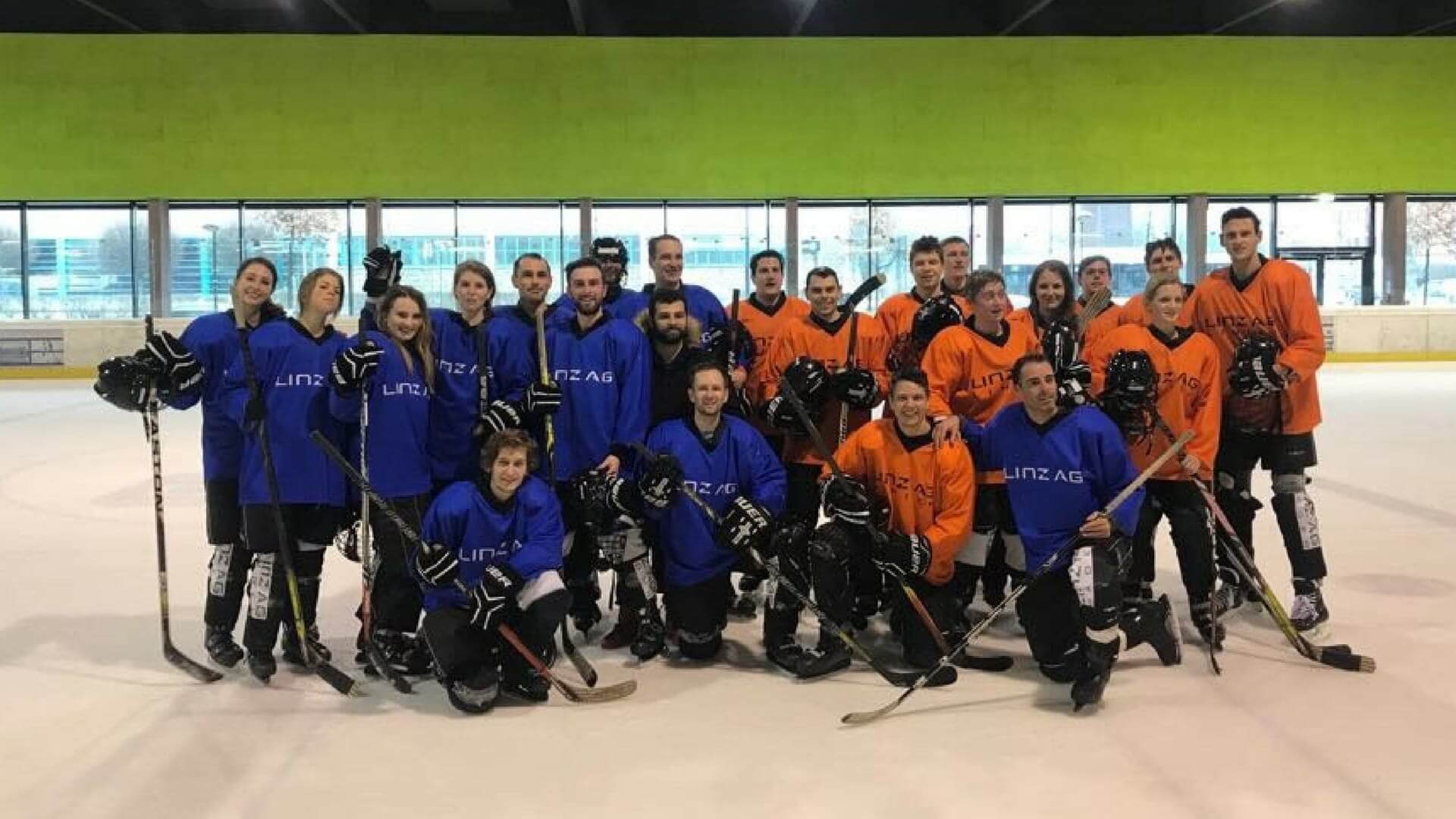 Sports help us stay innovative
Speaking of an innovative spirit: Tractive is proud to be one of the first companies in Austria to try out this new sports trend at one of our team events. Jumping with the low-impact Kangoo Jumps Rebound Shoes feels pretty similar to the feeling of jumping for joy. It makes you forget all your worries, feel happy and like a child again. At least for the first 15 minutes. Then, you soon realize that jumping itself is a high-intensity cardio workout, very effective in helping you burn all your extra calories for that week! Thinking of staying fit? – this is definitely one fun way to do it!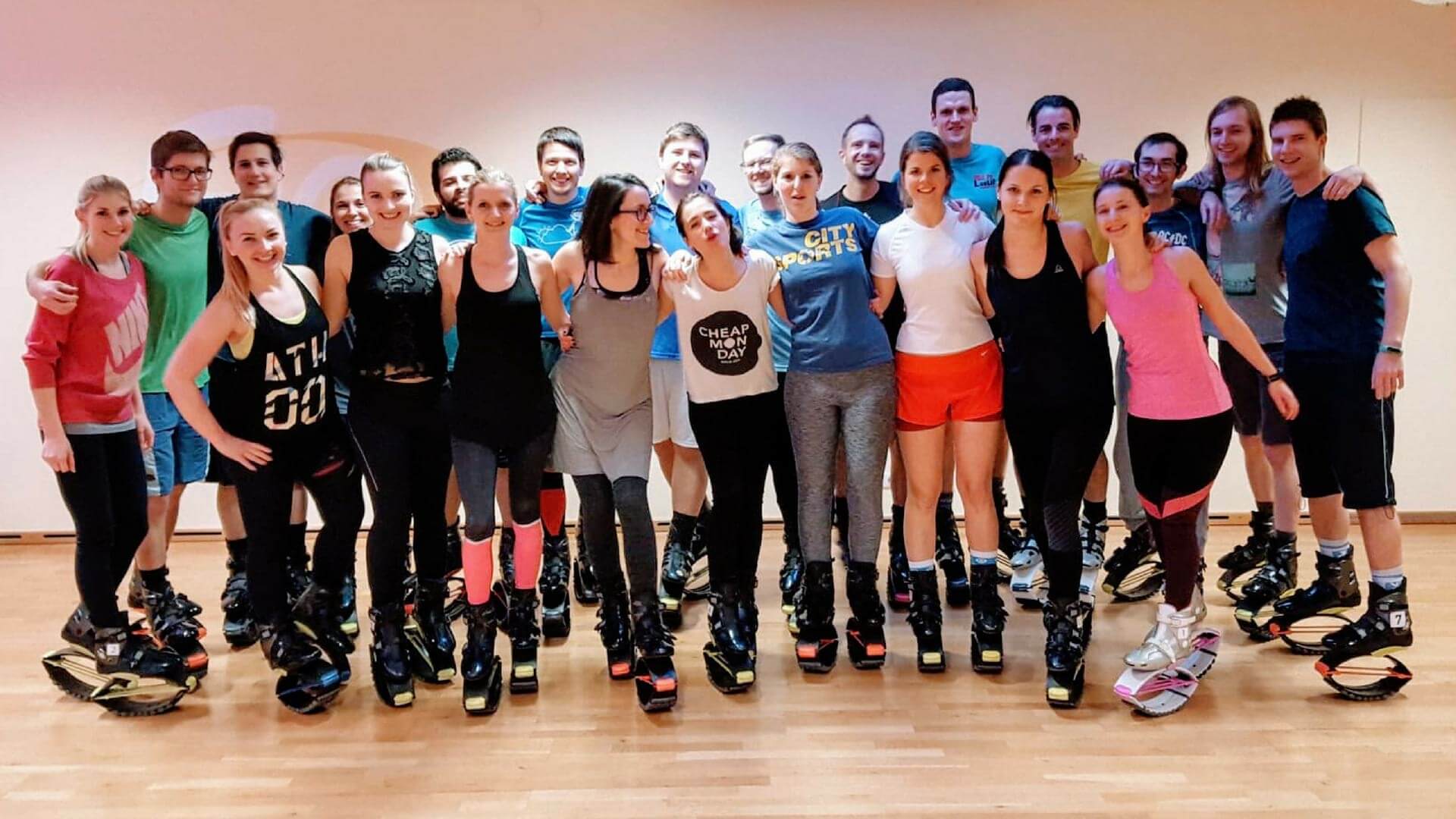 Sports keep us team players
The first rule in all sports is to play fair and to welcome a challenge. One fun way of doing this is by trying swing golf – a super casual local version of golf, which uses approximately the same size field as golf, but with large spongy golf balls. Swing golf offers the best opportunity to channel your inner silliness and skill at the same time. We laugh, we sweat and we cry (out of joy).
Sports improve concentration level and focus
Exercising is great to clear your mind and take a break from your daily routine. But Kart racing is even better for this and who doesn't love a good race? Go-karting is in general pretty amazing, it helps to keep your mind sharp while you enjoy the high speeds. And it's even cooler when you get to race Harold Primat (retired Le Man's racer).
Sports encourage us to try something different
Our team events are the perfect occasions to try different sports and find the right ones for our teammates. At Tractive, we got to enjoy a wide variety of activities, including:
Wakeboarding – sliding on water

Snowshoe hiking – snowshoes with high heels give extra grip

Yoga – embracing our inner downward dog

Lasertag – being precise and accurate does not only pay off at work

Dodgeball – fighting for the team, it challenges your reaction time and speed
Sports-obsessed or not, going-out and having fun is a great part of the Tractive experience. We believe that team sporting events not only enrich our work-life balance but also provide us with numerous benefits. Among those, is the development of a wide range of skills, such as teamwork, problem-solving and communication. It is commonly known that sports enrich the personal quality portfolio of people: increasing their capacity to commit to goals, adding to a higher level of self-discipline, sense of fair play and courage.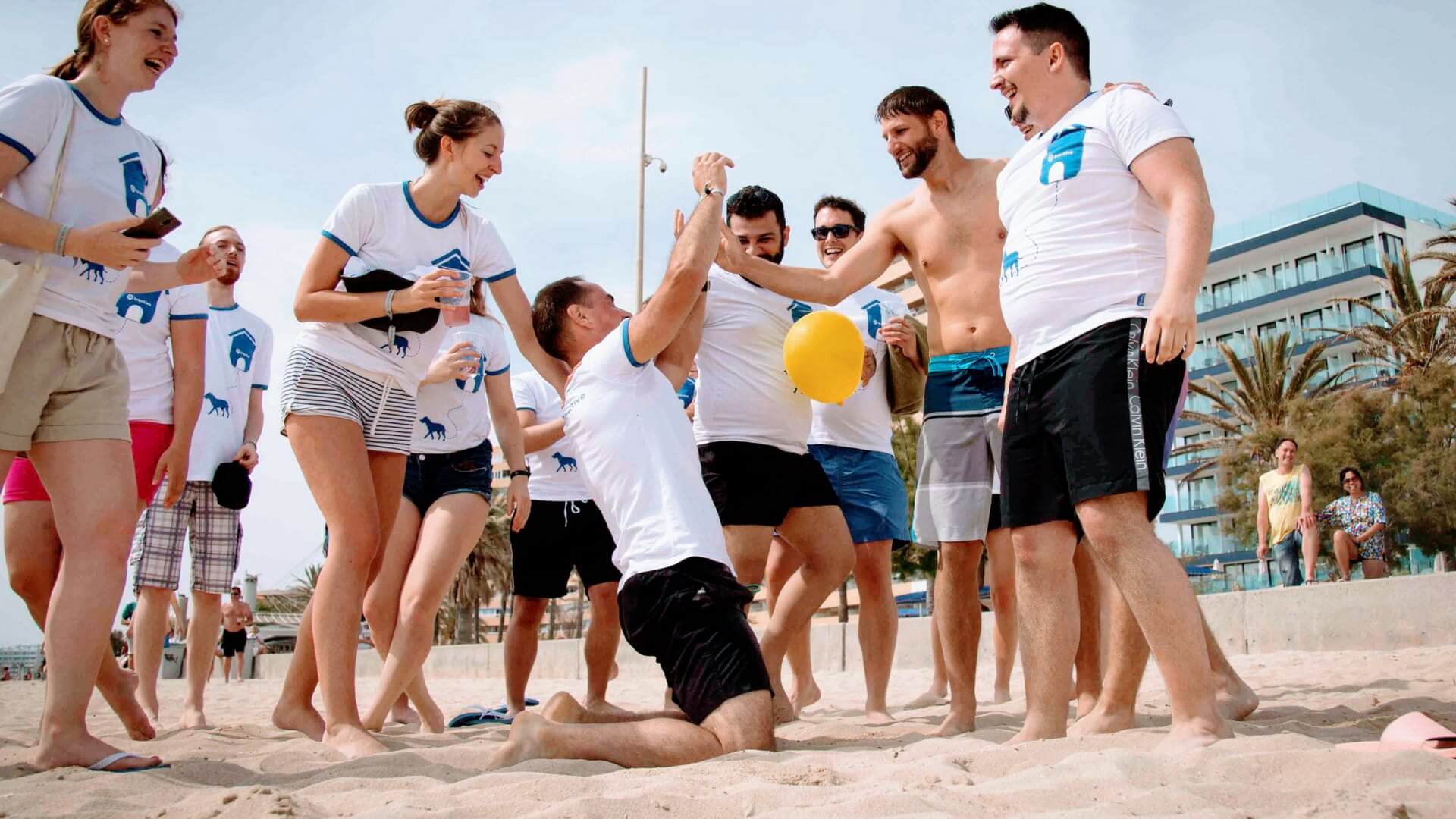 You think that's a lot of team sports activities? Oh well, we haven't really told you everything yet. Do you want to try out a new one with us?
---
Wait no more, we are looking forward to meeting you!
Get Tractive GPS