What To Expect At Your Tractive Onboarding
Whether you're joining the Tractive team or just want to learn more about the Tractive onboarding experience before applying, we are thrilled to have you here!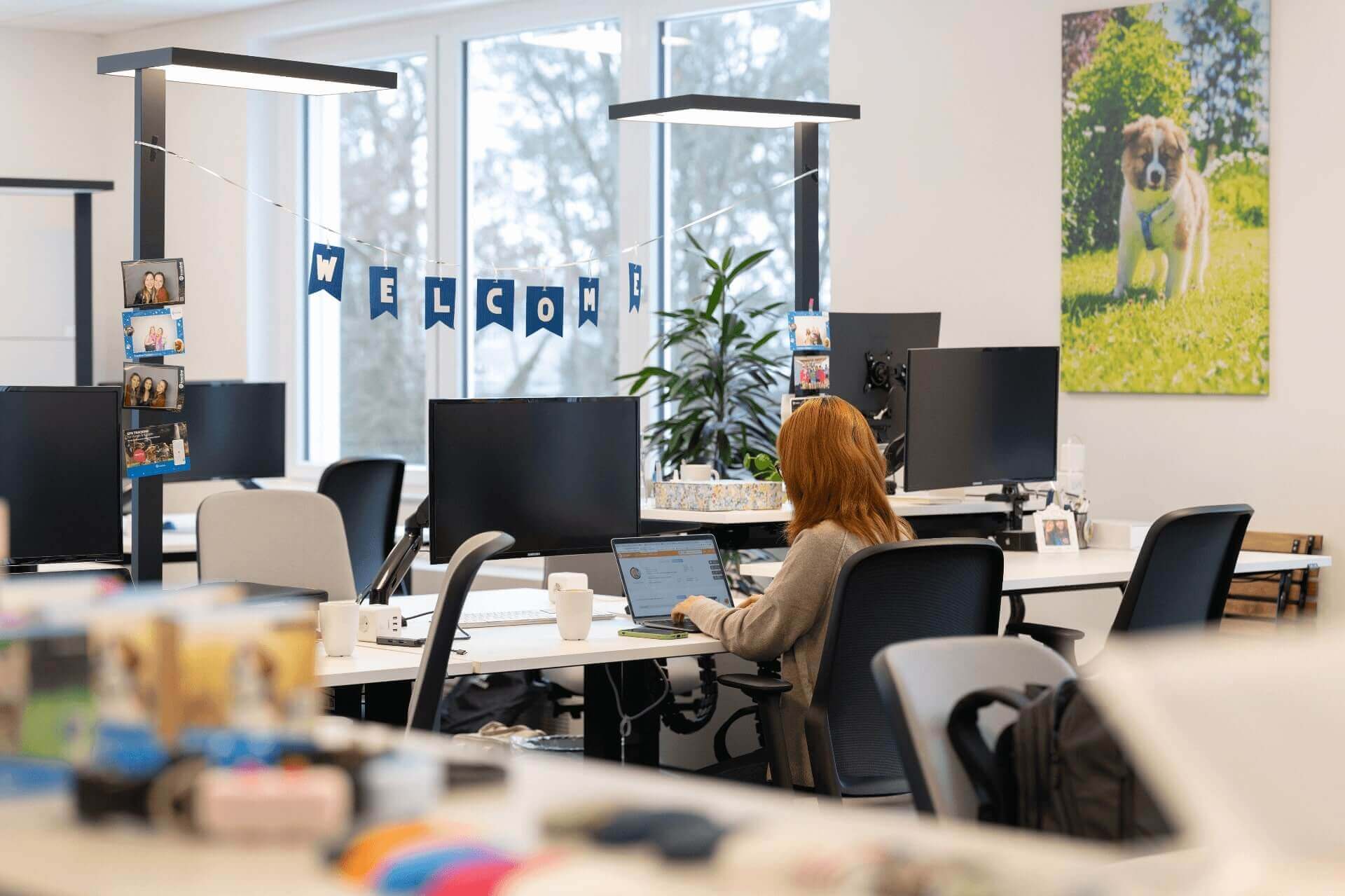 We know starting a new position can be a little overwhelming, so we want to give you a sneak peek of what you can expect during Tractive's onboarding process. We promise, it's nothing to worry about – in fact, we think you'll have a pretty good time!
Our step-by-step onboarding process will help you get to know your team and new role at a comfortable pace.
Pre Onboarding
Some of the onboarding will begin way before your very first day!
When it comes to your tech setup, we want you to have the freedom to choose what works best for you. You'll be given the option to choose between a Windows or Mac operating system, and can even choose an external keyboard based on your language preference. We believe that using technology you're familiar and comfortable with is crucial in making you feel at ease in a new work environment.
For those who are relocating to our Tractive Campus in Linz, Austria, you'll be happy to know that our HR team has got your back. With over 40 nationalities on our team, we understand how daunting it can be to move to a new country. Relocation with Tractive means you are never alone. Our HR team will be there to guide you through the process and answer any questions you may have along the way.
We want to make sure you feel supported even before you start working with us.
Orientation
Once you've arrived to start your new position, it's time to begin your orientation. During your orientation we'll help you set up your IT accounts and give you an overview of the processes, tools, and technologies that we use in daily communication and collaboration with other teams. One of the best parts of orientation is that you will not be alone – you will go through the entire orientation process together with other new team members just like you.
First things first, you'll need a Tractive photo ID. We like to keep things secure around here, so we'll snap a quick photo of you and get you all set up with your very own ID badge. You'll need it to get into the building and parking garage, so don't forget to wear it every day!
Now that you have your Tractive ID, it's time to begin your orientation together with other new team members. This is where we will hand over your new IT equipment and help set up all of your accounts. Don't worry, a member of our HR team will be there to guide you through the process and get you all set up with your email, login credentials, and any other tools you'll need to get started. Once you are all set up we'll give you a quick rundown of our tech infrastructure.
Next up, it's time for an office tour! We'll show you around the campus, introduce you to different departments, and make sure you know where everything is. We've got a pretty cool office space, so we think you'll enjoy the tour.
Finally, we will introduce you to your new team and give you the chance to get to know your new teammates. That's it for your orientation!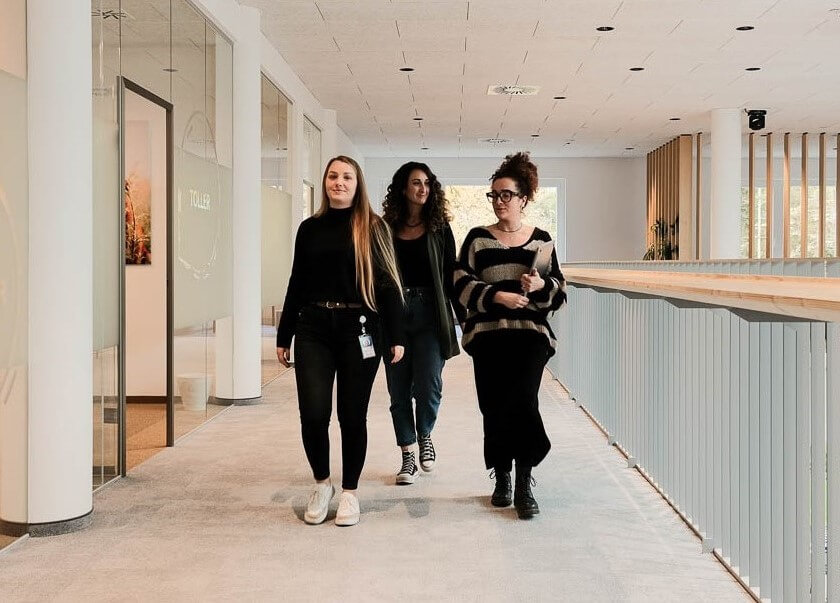 Don't stress out if your first day feels like a lot to handle! We know there's a ton of new information coming your way, but don't worry too much about it – you're not expected to learn it all on day one. And if you ever feel stuck or need a refresher, we've got a super helpful Tractive Wiki. It's a treasure trove of information about our internal processes and procedures, and even has a special Welcome page for new team members like you.
Alignment
We want you to feel like you're part of the team from day one, and alignment is a crucial part of making that happen. During your alignment you'll get to know us better and learn more about our amazing culture, values, product, strategy, and where you fit into it all. It's a chance for you to get a feel for what makes Tractive such a special place to work.
Alignment begins with your team handover. This is where you'll learn more about your role and how it fits into your team's goals. You'll also get to know the different tools and processes your team uses to reach those goals.
Within your first weeks, we'll invite you to a Welcome to the Team Lunch, where you'll have the opportunity to hear from one of our founders about our Tractive story, our beliefs, and values. You'll also learn about our key business areas and have plenty of time to ask questions. We believe that this is a great way for new team members to get a feel for what we stand for and how we operate.
In your first month, we'll invite you to participate in a Customer Happiness Day. This is a fantastic opportunity to see first-hand how we put pet parents first. You'll see real cases and how our Customer Happiness Managers handle them, giving you a deeper understanding of our customer first approach.
Another exciting opportunity for you will be the User Experience Testing, where you'll get to dive deeper into our product. As a new team member, you'll receive a new Tractive tracker with a free subscription plan. Your feedback and insights into our product and the activation process helps us continue to improve and innovate.
Finally, you will learn about our company-wide OKRs (Objectives and Key Results), which align our growing team with our goals and vision. With OKRs, every team member is actively working towards team objectives to help us achieve our goals and overall vision.
Building Relationships
Your onboarding is not just about learning the ropes – it's also about having fun and building relationships. We recognize that building strong relationships with team members is key to collaboration and part of how we live our core values. That's why we make sure to give you plenty of opportunity to connect with your new Tractive team.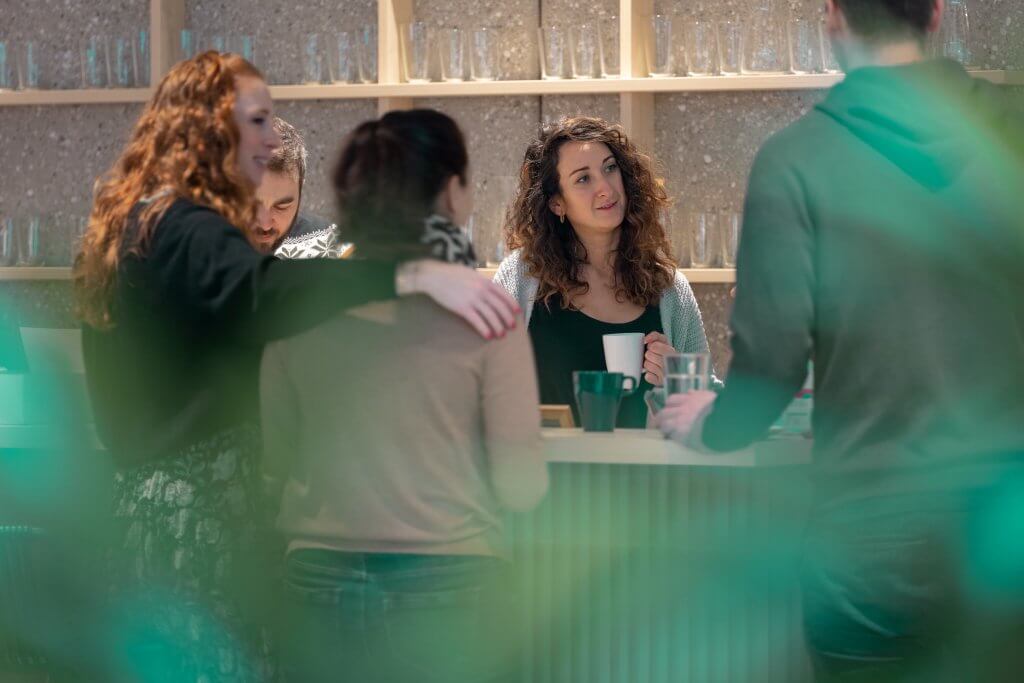 Starting from your very first day you will be partnered with a Tractive Buddy. This is someone who has been with us for a while and knows the ins and outs. Your Buddy is there to show you the ropes, introduce you to new team members, and provide guidance as you integrate into the Tractive culture. Buddies are partnered for the first three months but many of the relationships last much longer.
The Mystery Coffee Break is a fun and relaxed way for new and existing team members to get to know each other and learn more about different departments and positions. We randomly pair two team members for an in person or virtual coffee break, providing a great opportunity to connect with someone from across all departments. This is an excellent way for new team members to connect and integrate into our culture.
Working is all about communication and collaboration, that's why we believe building strong relationships makes it easier to reach out to a teammate in the future!
Feedback
One of the most important elements to your onboarding experience is our feedback culture. We encourage you to share your thoughts, ideas, and feedback with us as often as possible. We want to hear what you think about your work, your team, and your overall experience at Tractive.
Feedback culture has allowed us to continuously evaluate what we do, make small changes, and create a big impact.
We know that you want to grow, learn, and succeed in your new role, and we want to support you every step of the way. That's why you'll have regular 1:1 feedback sessions with your team lead. This is where you are able to touch base, share your progress, and discuss any issues or challenges you might be facing. You'll also have a bi-annual Performance Talk, where you will have the opportunity to see how you're performing in your new role, which is a great way to identify your strengths and improvement areas. But that's not all! You'll also have the opportunity to participate in an annual 360° Feedback with your team lead and peers. This is your chance to let us know how we can continue to support your development.
In addition to 1:1 feedback sessions with your team lead, we will invite you to give your feedback anonymously through our annual Engagement Survey. We take these surveys very seriously and use them to identify areas where we can improve and enhance our employee experience.
Lastly, you will be invited to join our #appreciation SLACK channel. At Tractive, we love to celebrate successes, give kudos, and appreciate our team. This is also a great way to practice our feedback culture.
That's it! The Tractive on-boarding experience in a nutshell. We hope this gives you an idea of what you could expect and gets you excited to join our team. We can't wait to see what you'll accomplish with us!
Ready to join our Tractive team?