15 Outdoor Dog Fence Ideas
Need to keep your dog safe and sound in your backyard or house? Want to prevent them from running away, or simply from digging in the garden? These 15 dog fence ideas can help keep your furry friend in place, and give you peace of mind.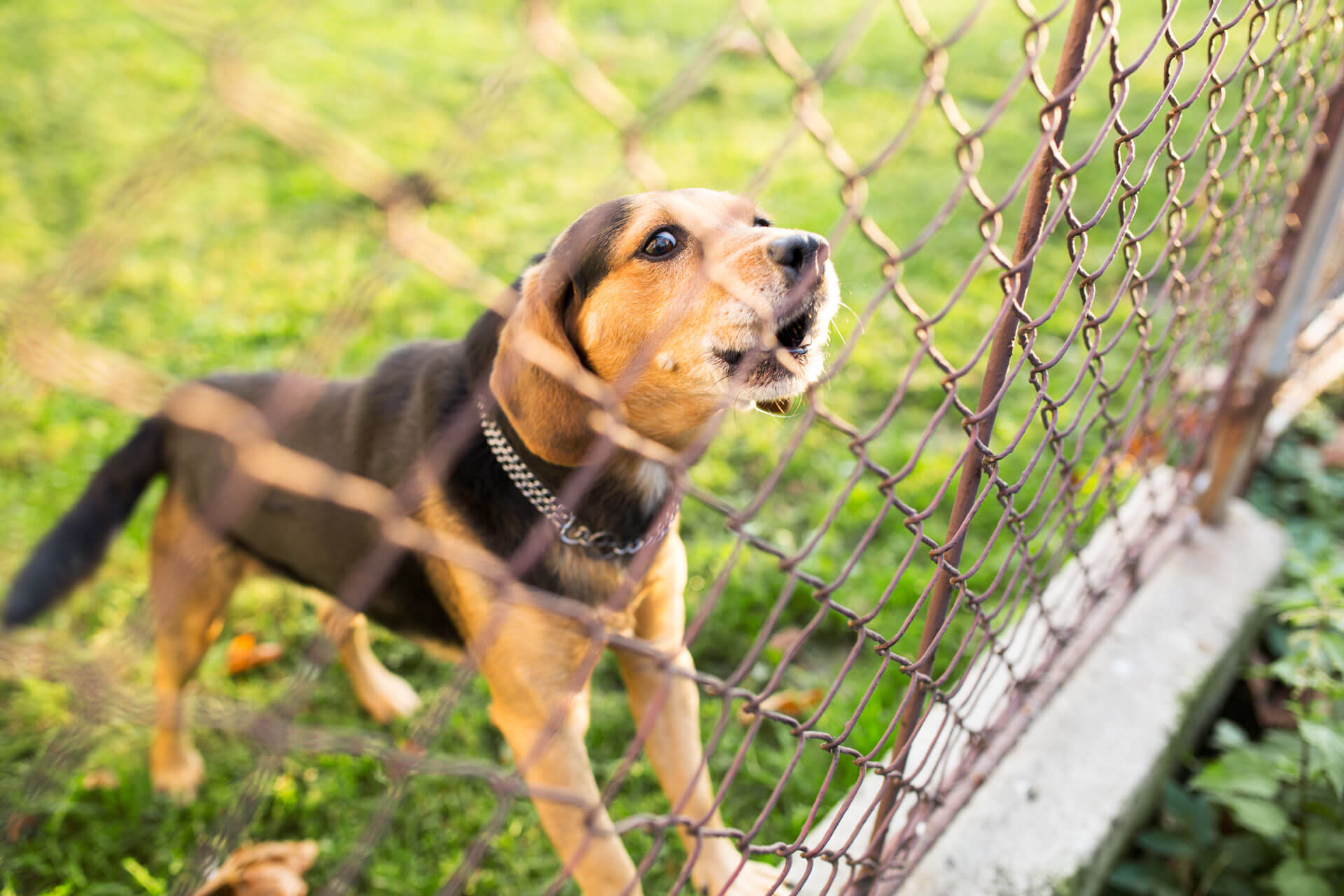 Have a dog who keeps running away every chance they get? Or one who won't stop digging up your vegetable garden? A dog fence can come in handy. And when it comes to dog fence ideas, there are plenty of options out there – outdoor or indoor dog fences, big or small dog fences, permanent or temporary dog fences. Or, of course, a 100% invisible GPS dog fence, which you can set up in the Tractive GPS app. Which should you choose? What's most affordable, and what's most reliable? Which material is best? In this guide, we'll cover everything you need to know about different dog fence ideas, including pros, cons, costs and tips. That way, you can choose the best solution for you and your furry pal(s).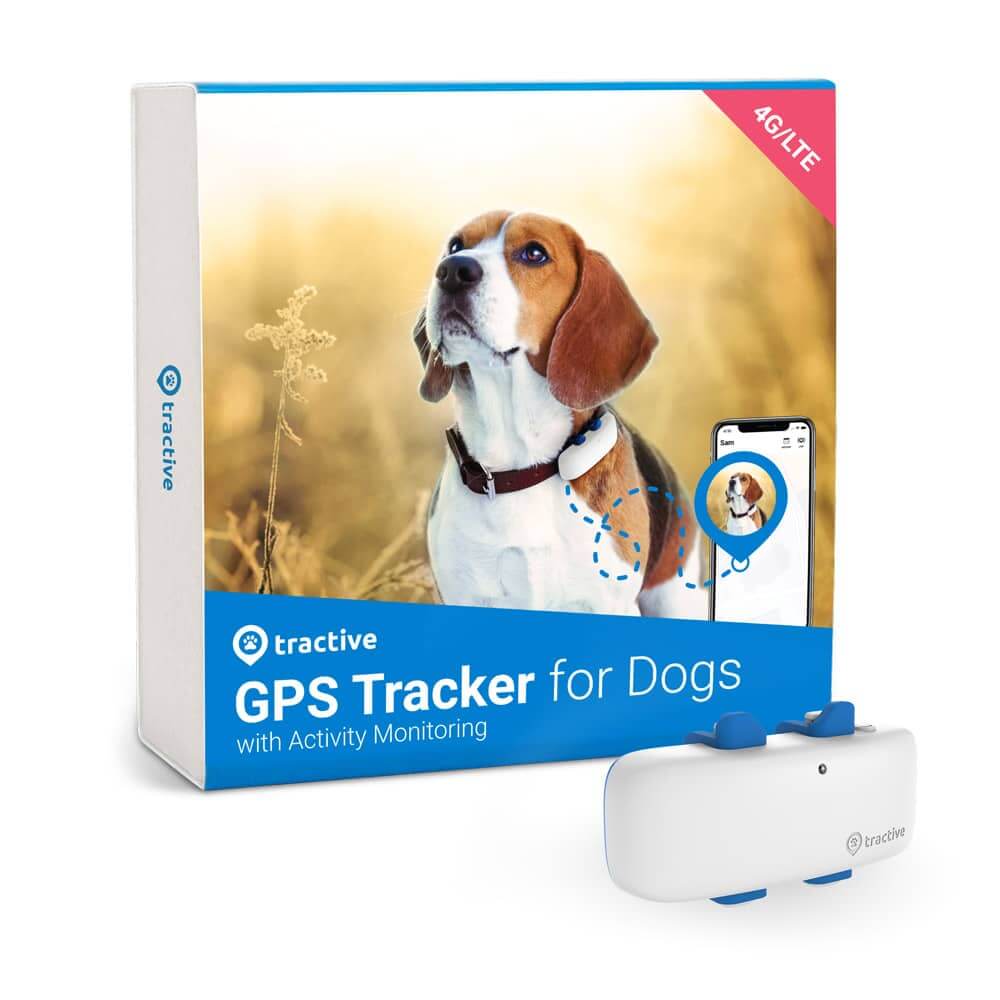 Always know where your dog is
Follow every step in real-time with unlimited range. Get alerts if they wander too far. Keep them happy & healthy with Wellness Monitoring. And let others – like walkers or sitters – keep an eye on your dog too.
Which kind of fence is best for my dog?
When it comes to finding the right fence for your dog, there are many options.
Like with everything, you get what you pay for with dog fences. But beyond price, there are many other factors. You could go with so-called temporary dog fences, or a permanent one. Then there's the material. Some are made of organic stuff – like plants, wood, or stone – while some don't even "physically" exist. Nowadays, there are virtual smart dog fences that don't take up any space, and use GPS to tell you if your buddy wanders off too far. In fact, the Virtual Fence feature is a key reason why many pet parents rely on their Tractive GPS Dog Tracker.

Sound like a lot to think about? Worry not. We'll go through each of the many dog fence ideas out there so you can choose the one that fits you.
But first, a quick list on what to keep in mind when deciding on a dog fence:
Factors to consider when choosing a dog fence
To choose the best fence for your dog, you need to consider several factors, such as:
the purpose of the dog fence or what you want to achieve with it
your dog's age, size, breed and activity level
how high your dog can jump
whether or not your dog likes to dig
whether you want a ready-made fence, DIY dog fence, or one set up by experts
your price range – how much you are willing to spend for a dog fence
how much space

you want to have in and around the fence

whether it should it serve as a visual barrier or be see-through
what neighborhood regulations you need to watch out for
For example, if your dog is hyperactive, an escape artist, or keeps running away, you'll likely need a different fence than someone with a fearful dog who never leaves their side. And if you have a small dog, a small temporary fence may be good enough, while big dogs would usually require bigger, taller fences.
What is the purpose of your new dog fence?
Before deciding on a dog fence, it's a good idea to figure out why you need it. What exactly is the job that needs to be done?
It may be to:
prevent your dog from running away
create a dog run aka designated play or exercise area just for your dog or new puppy
stop your dog from munching on your flowers or otherwise "creatively" destroying the garden
keep your dog in place when you're busy elsewhere
help create an overall dog-friendly backyard
Once you know why you need it, it's easier to pick which type of dog fence will work best for you.
How do I fence my dog in my backyard?
Use any of the outdoor dog fence ideas below to fence your dog into your backyard.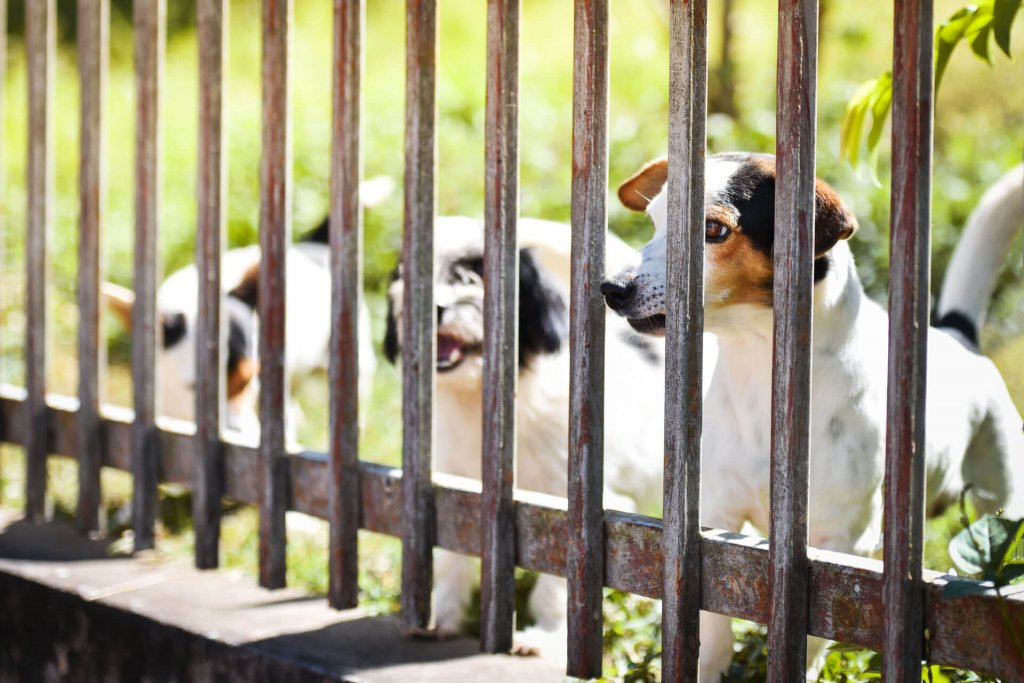 15 outdoor dog fence ideas
Wooden dog fence
Wood fencing is a common option that many pet parents opt for. Advantages of wood dog fences include:
a natural look – it won't stick out like a sore thumb in your backyard
it can be built in any size, depending on your needs
it gives you a bit more privacy
But keep in mind that curious dogs might be disappointed when they can't watch the neighborhood activity. So consider adding a doggie window for your wooden dog fence, which can easily be bought online. Or opt for a more minimalist wooden fence, like the one below: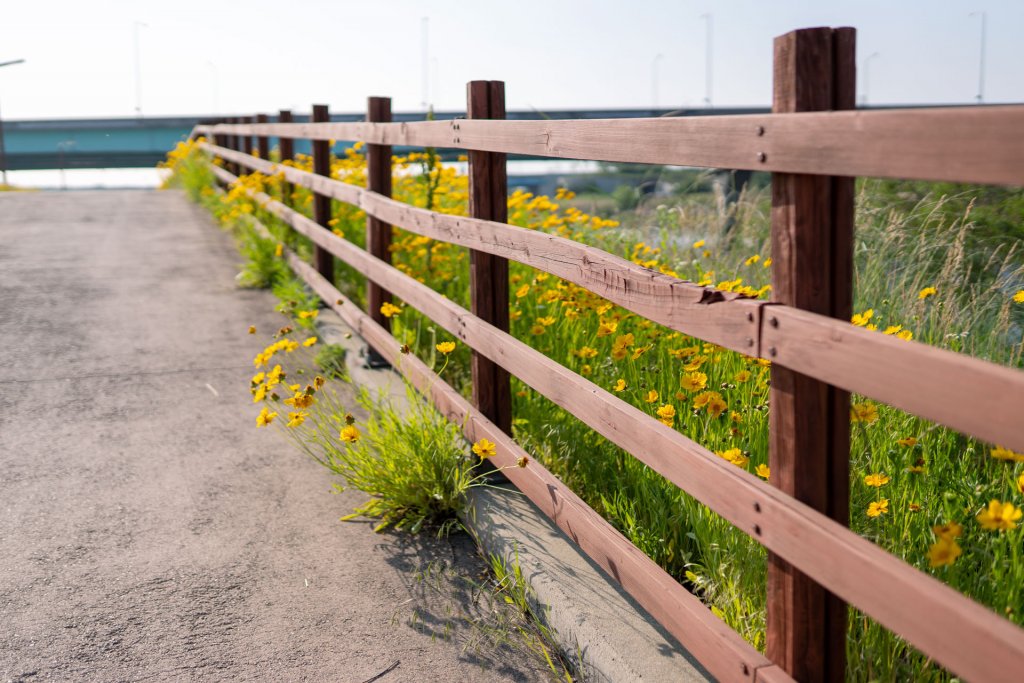 Here are several options for wooden dog fences:
Picket dog fence
A picket fence is a good option for keeping your dog in the yard if you want to keep your property pretty. Picket fences fit well to most homes, and don't look like dog fences at all. Usually, picket fences are smaller than other types of fencing, and may be a good choice if you have a small dog who can't jump very high. But don't forget – picket fences are not likely to give you a ton of privacy.
Split-rail fence
Split-rail fencing is another great minimalistic and natural wood fencing option. Also known as a log fence, zigzag, worm or snake fence, it is typical in the US and Canada where it's traditionally made from timber logs. Since there are large gaps in the fence between the logs, split-rail fencing should be reinforced with wire or another material to make sure it's fully dog-proof.
DIY pallet dog fence
Love DIY projects? A pallet fence could be a good dog fence option for you. Considering you might even find old pallets for free, a cheap dog fence option too. Not to mention, it's environmentally-friendly. You can customize and paint the pallet fence to your liking.
Pallets are ideal for protecting a flower bed… or your garden from your dog. Plus, a pallet fence can withstand cold and warm temperatures. Just make sure that the fence is high enough, so that your dog can't jump over it. Also, if necessary, you can buy prevention barriers to stop your dog from digging under the fence.
Metal dog fence
Many pet parents choose to keep their furry friends in a safe and sound space by using a metal dog fence. Metal is durable, affordable, and comes in several different options: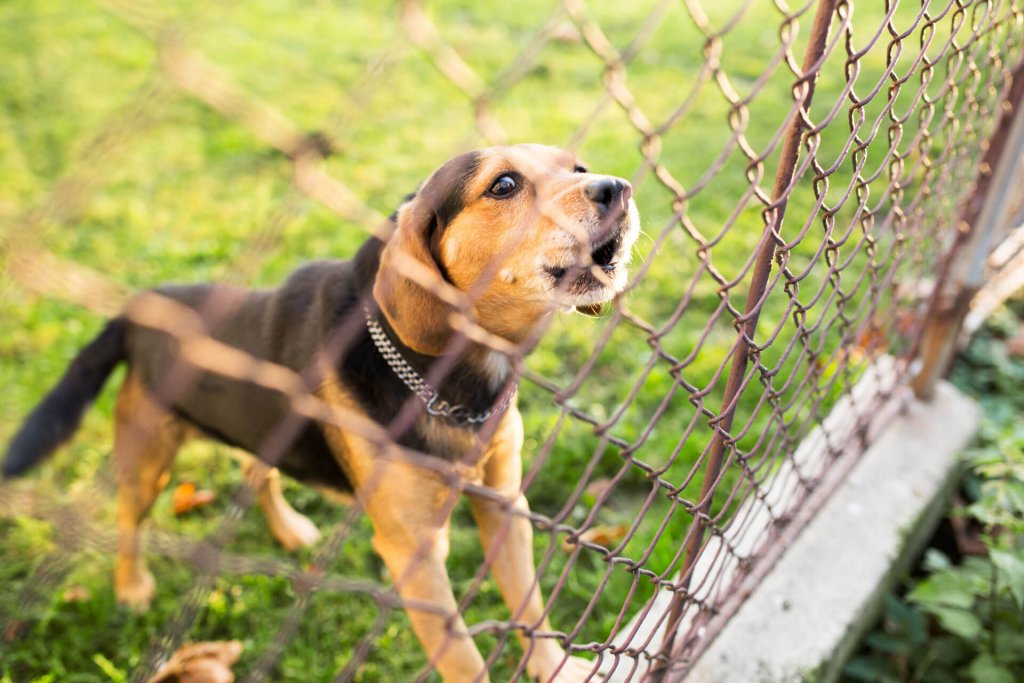 Chain link dog fence
A chain link fence is a popular choice among pet parents. Benefits of a chain link dog fence include:
your dog can watch people passing by
it's cheap and affordable
it's durable and low-maintenance
it's quick and easy to fix
How to keep your dog from digging under a chain link fence
To keep a dog from digging under a chain link fence, use a material at the base of the fence that will discourage further digging. You can bury chicken wire or use large rocks or boulders to do so. It's also a good idea to monitor your dog in the backyard so that if they do start digging, you can correct this behavior. Read all our tips on how to prevent a dog digging under a fence.
Ornamental steel or aluminum dog fence
Many fence companies offer aluminum or steel ornamental fences, which are sturdy, heavy-duty and an attractive option that still allow for some visibility. Choose from different styles, colors, and grades, and know that your dog is not likely to hop over this fence if installed correctly. Ornamental steel fences can be quite pricy, but in the end, you'll have have a more permanent solution.
Wire fence
With a more simple wire dog fence, you can get a quick, cheap, although less durable way of keeping your dog fenced in. And if you pick the right type of wire fence, it doesn't have to look ugly in your backyard either. Chicken wire fence is one of the cheapest dog fence options out there, but other options are hardware cloth or hog wire. Wire fencing is suitable for DIY backyard projects, or for small dog fences. Wired electric underground dog fences are also an option, and they don't create a visual or physical barrier in your yard.
Brick dog fence
For a (much more) permanent solution, a brick wall may be a good dog fence option. Brick is more expensive, but also a lot more durable. That means it can be quite cost-effective in the long run. A brick fence also needs little to no maintenance compared to a wooden fence. These are also ideal for large dogs due to their height, durability and stability. Brick fences can be customized, and more importantly, look gorgeous.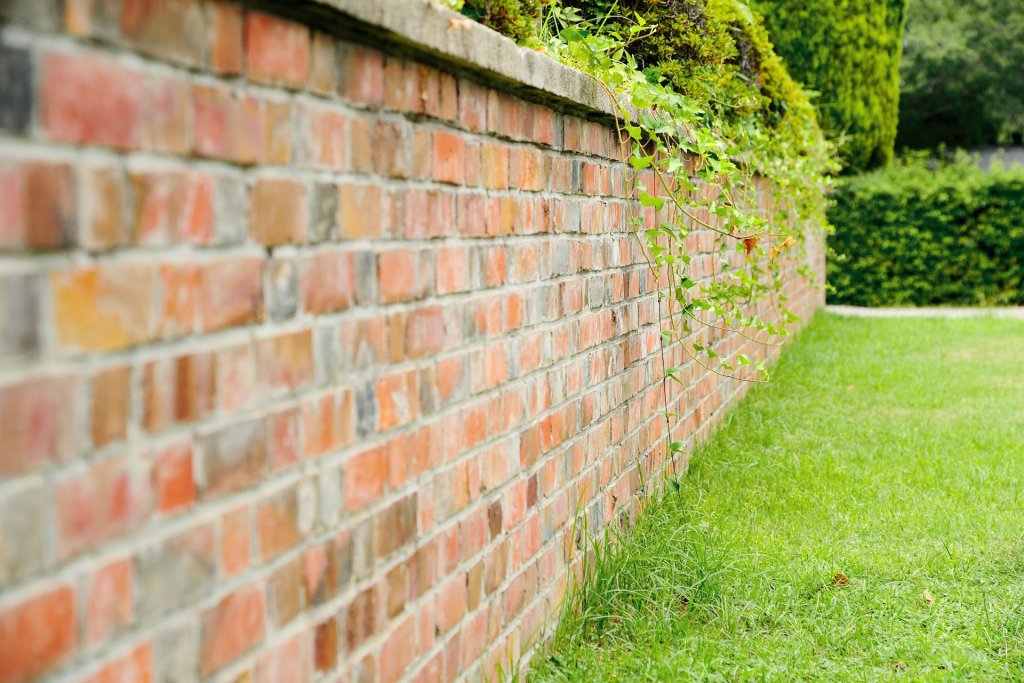 Stone dog fence
Similarly, a stone dog fence is a nice natural, sustainable option which can be created from local stones or boulders. You can get creative and make one yourself, or have the experts install one. Just make sure your dog can't use the stones to make a run (or jump) for it and escape. Stone fences offer a permanent and low-maintenance solution.
Plastic dog fence
Next on our list of dog fence ideas? Ones made out of plastic. That includes temporary, portable dog fences and DIY plastic fences. Fence kits can be bought online and include all the parts you need for an easy-to-assemble dog fence. Polypropylene plastic fencing is one such type of dog fence. High-quality, durable, and UV-light resistant, you can use it to set up a portable dog fence, or use it for a more permanent set up. Just remember to take some extra steps to stop your dog from digging under, or chewing on this type of fence.
Also worth noting: Plastic is, naturally, a less sustainable material than wood, brick or stone. Good to keep in mind if you're trying to do your bit to keep the planet in better shape!
Vinyl fencing
Vinyl fences are plastic-based, made from polyvinyl chloride (PVC). These provide a good alternative to wood or chain link fences, as they won't crack, rot, or splinter and require less maintenance in the long term. Vinyl fencing:
is easy to clean and low-maintenance
won't crack or rot
can be made to look like wood
However, vinyl fencing has plenty of downsides too:
the initial costs are high (in the US, the average cost for setting up a vinyl fence is about $3,6001)
it's made from synthetic, non-sustainable material
it can be stained by algae, mildew, or mold
it may be damaged by extreme weather
Invisible dog fence / electric dog fence
Invisible dog fences allow you to keep an open yard, all while keeping your dog contained. If your dog tries to leave the fence boundary, they will get a small electric shock. Over time, this is meant to train your dog to stay in the fenced area. Of course, you can expect negative side effects with this approach, so be sure to read up on all the pros and cons of invisible dog fences beforehand. As for types, you can find two types of invisible dog fence – underground (wired) and wireless dog fences.
Tractive does not recommend using electric dog fences or shock collars. They can cause physical and/or psychological harm to dogs, as they rely on negative reinforcement and painful punishments. The shock received from an invisible dog fence may even encourage your dog to run away, if the associate the painful shock with your backyard2. A safer alternative to an invisible fence is the Tractive GPS Dog Tracker, with it's Virtual Fence feature.
Underground dog fence
With an underground dog fence, a buried wire and transmitter are used to send a radio signal through the wire, creating a boundary. One of the biggest pros of this fence is that you can create a custom layout to suit your needs. They are also relatively cheap and easy to install, and you won't have a problem with digging or an unsightly physical fence or visual barrier. But remember that an underground dog fence is a shock fence, which is not likely to be pleasant for your buddy.
Wireless dog fence
Wireless dog fences also use radio signals to create a boundary, but don't use wires to draw a boundary. Instead, it creates a "circle" that expands out from a central point or transmitter. These are even easier to set up than underground dog fences. They do, however, require dog training and are generally not suited for yards larger than three quarters of an acre.
How much does an invisible dog fence cost?
In the US, invisible dog fences can cost anywhere from $200 to $2,5003. The final cost depends on factors like the size of your backyard, type of fence, number of dogs, terrain type, and whether you need to pay for a professional dog trainer.
GPS dog fence
A GPS-powered, virtual dog fence is a great, safe (and humane) alternative to an electric dog fence. Let's take a look at how this works with a Tractive GPS Virtual Fence.
With a Virtual Fence, there's no need for a physical or electric barrier, nor a physcial fence that takes up lots of space in your property. Instead, you'll simply get an alert as soon as your dog leaves a "safe zone" – like your yard – and when they're back home.
What's better, you can follow their every step in real-time with Tractive GPS. So even if they break out, you can see where they're off to, and bring them back home if needed. In other words, goodbye to worrying about how to find a lost dog!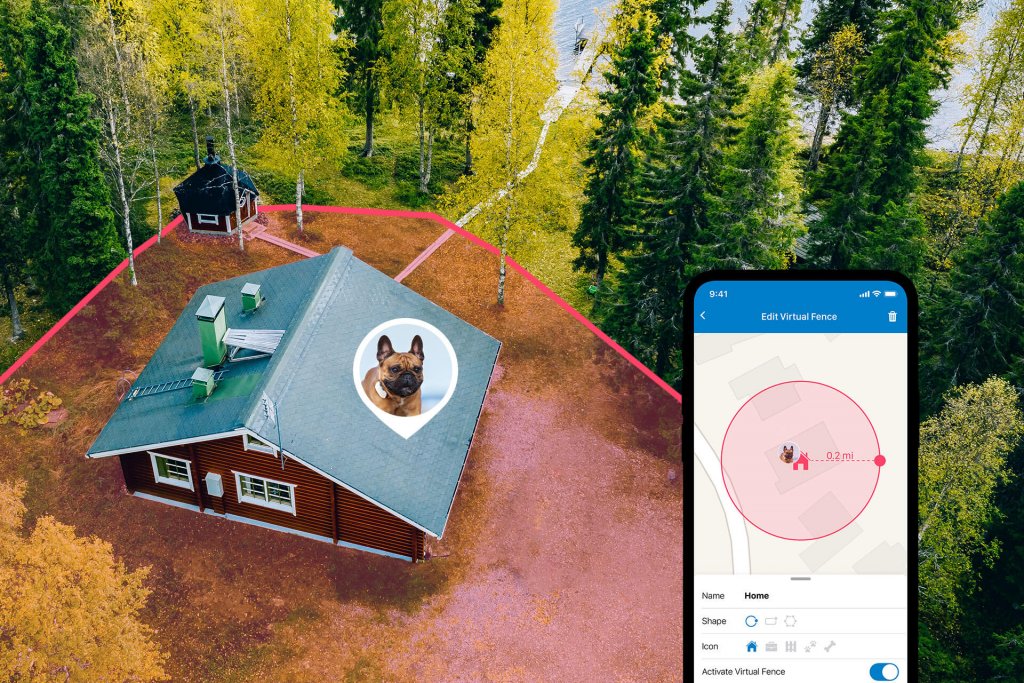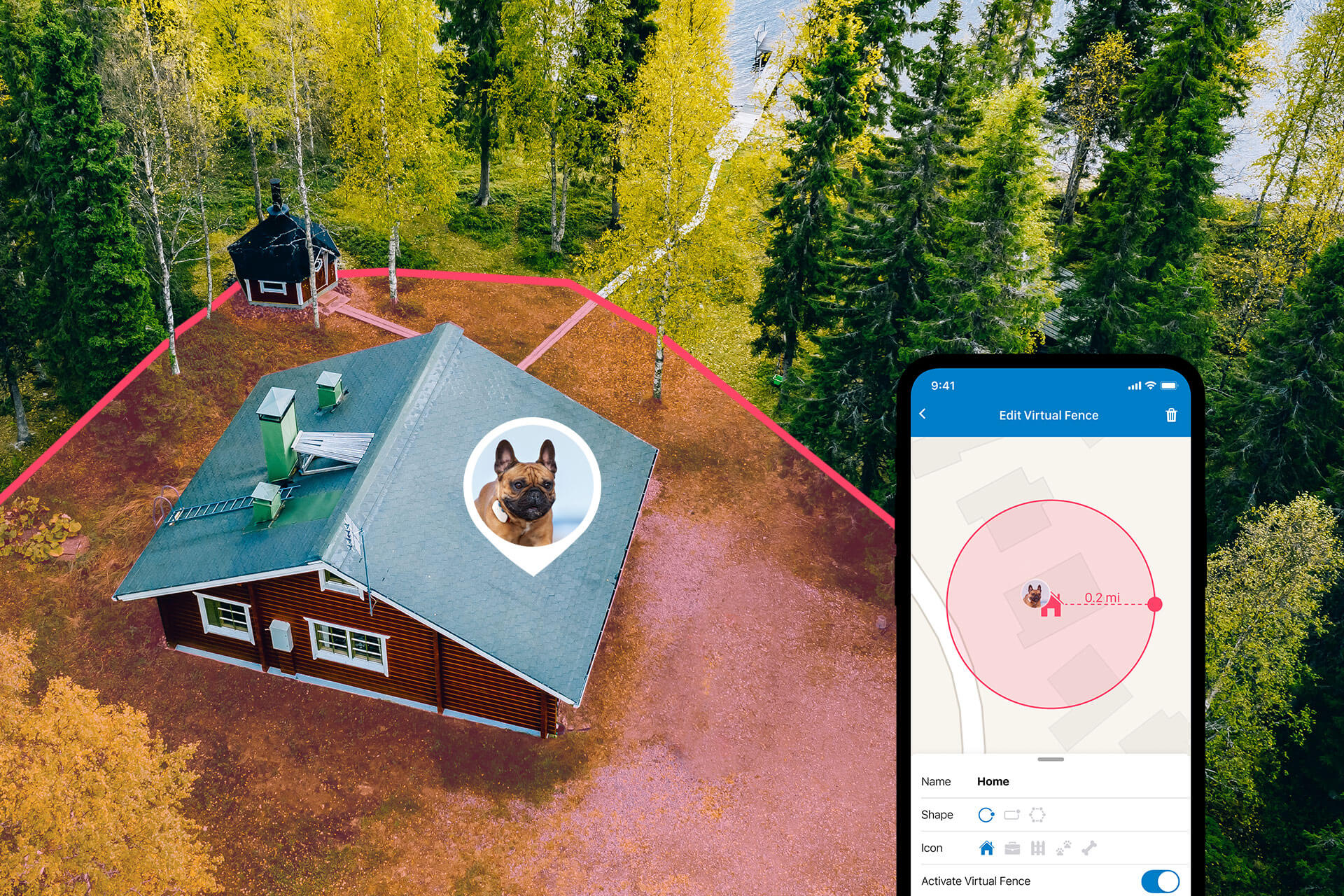 Advantages of a Tractive GPS Virtual Fence include:
low cost and no effort
set up in no time
up to five fences for where your dog spends a lot of time
no-shock and dog-safe
real-time tracking along with breakout alerts
Temporary dog fence
For many pet parents, a temporary dog fence is all that's needed. If you don't want to opt for a permanent, more expensive or time-consuming fence project, consider these options:
Portable dog fence: Even Amazon sells small portable dog fences these days – you can simply move them about as you need to.
DIY temporary dog fence: You can use many of the materials mentioned so far to make a fence to suit your needs, then take it down when you don't need it anymore.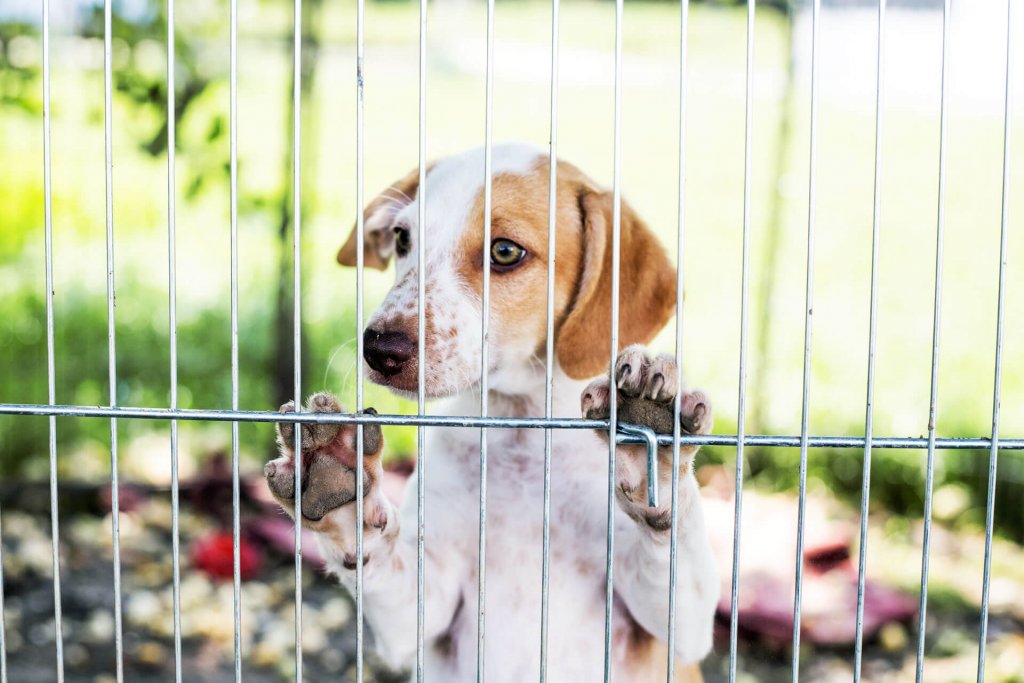 Indoor dog fence
If you just need a dog gate or pet barrier indoors, there are several options:
Baby gate: Store-bought baby gates will fit most door frames inside your home and give you the option to open and close the gate as necessary. This option might make the most sense for you if you need to keep your dog outside of a certain area of your house.
DIY indoor pet barrier: You can also try making a custom dog gate with just a few supplies from your local hardware store. Some materials to consider for your DIY indoor pet barrier: recycled wood, plexiglass, spring rods, PVC pipes and fabric.
Dog crate or playpen: These can be bought online and provide a simple, affordable solution for keeping your dog in place. But since they tend to be small and restrict your dog's movement, don't keep your dog confined to the crate or playpen for too long.
What type of fence is cheapest for dogs?
The cheapest type of fencing options for dogs include:
Metal wire fences, such as chain link
Poultry netting
Keep in mind, however, that inexpensive dog fences may not be the most durable choice in the long run. So if you do decide to opt for a cheaper dog fence, use a GPS dog tracker on your dog's collar as a backup safety precaution, so you'll be able to find your dog in case they escape.
How to keep a dog from digging under fence
No matter which type of dog fence you go for, you may still have a bold escape artist on your hands who will do whatever they can do get out of the fence, including digging out under it. Digging is, after all, part of a dog's nature. To discourage your dog from digging under the fence, try these tips:
Bury chicken wire under the fence, at least 1 foot of it. You can install horizontally or vertically, but just make sure that the ends of the chicken wire face downwards. Cover the chicken wire with soil or grass so it doesn't stand out in your yard.
Use heavy stones or bounders as a barrier at the bottom of the fence.
Monitor your dog in the yard – as soon as they start digging, blow a whistle or otherwise make a noise to discourage them from their activity. Redirect their attention to somewhere they're allowed to dig, such as a sandpit. Reward them with treats for good behavior.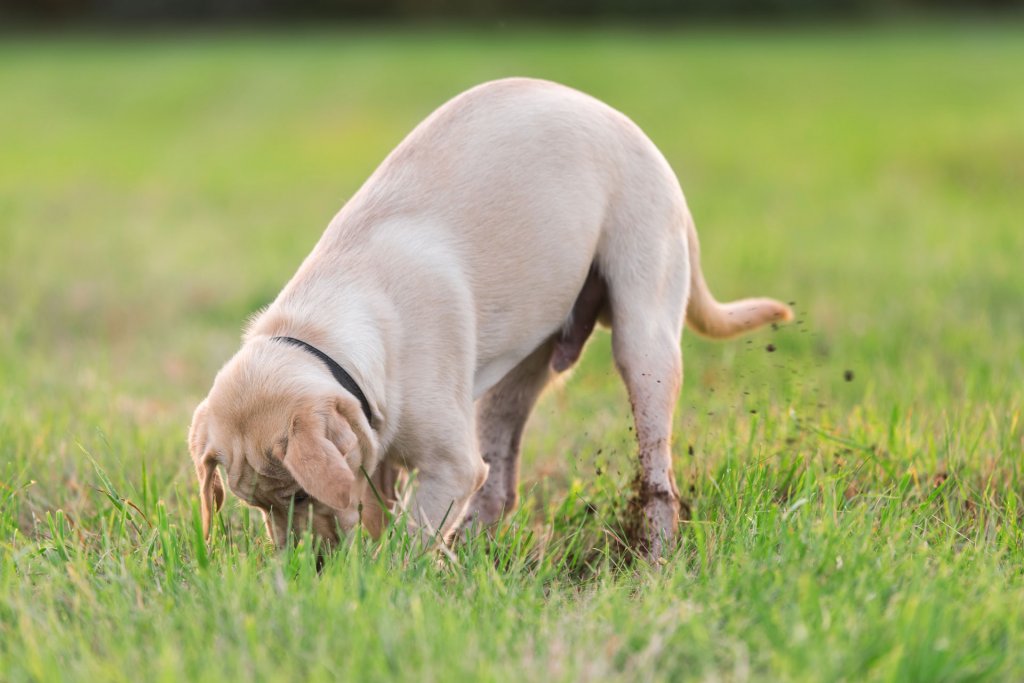 Make sure they get plenty of exercise before putting your dog in a fenced area. Walking, running, or playing off that excess energy will make them less likely to dig under the fence. And speaking of energy, get a Tractive GPS dog tracker and activity monitor to make sure your buddy is getting enough exercise every day.
Consider changing to a different type of fence if necessary. For example, switching from a see-through fence to one your dog can't see through may help decrease doggo digging.
How to keep your dog from jumping a fence
Another problem some dog parents have after installing a fence is that their dog jumps over it! This is obviously not ideal, so make sure you choose a fence that's tall enough in the first place. Dogs might jump over the fence if they're bored, if their prey drive is strong, or they're looking for a mate.
So how to handle a dog jumping over the fence?
Restrict their view – dogs who can't see beyond the fence are often less likely to jump over it.
Check for any jumping aids, and eliminate or move them as necessary. This means removing items your dog might be using to help them jump over the fence, like a trash can.
Try using a coyote roller – a bar at the top of the fence which will roll in case a dog or coyote tries to climb over it and make them lose their grip.
Use a post extender, or L-footer at the top of the fence.
Consider planting trees or bushes in front of the fence.
Supervise your dog and discourage any jumping while in the yard. Redirect their attention to a positive activity and reward them for doing that.
Make the yard more interesting for your dog. Play and hang out with them, hide treats throughout the yard, use a puzzle feeder, or plant some dog-friendly scents around the yard. You can even buy synthetic fox or coyote urine scents online – it might make you go "eww", but they are great for distracting dogs!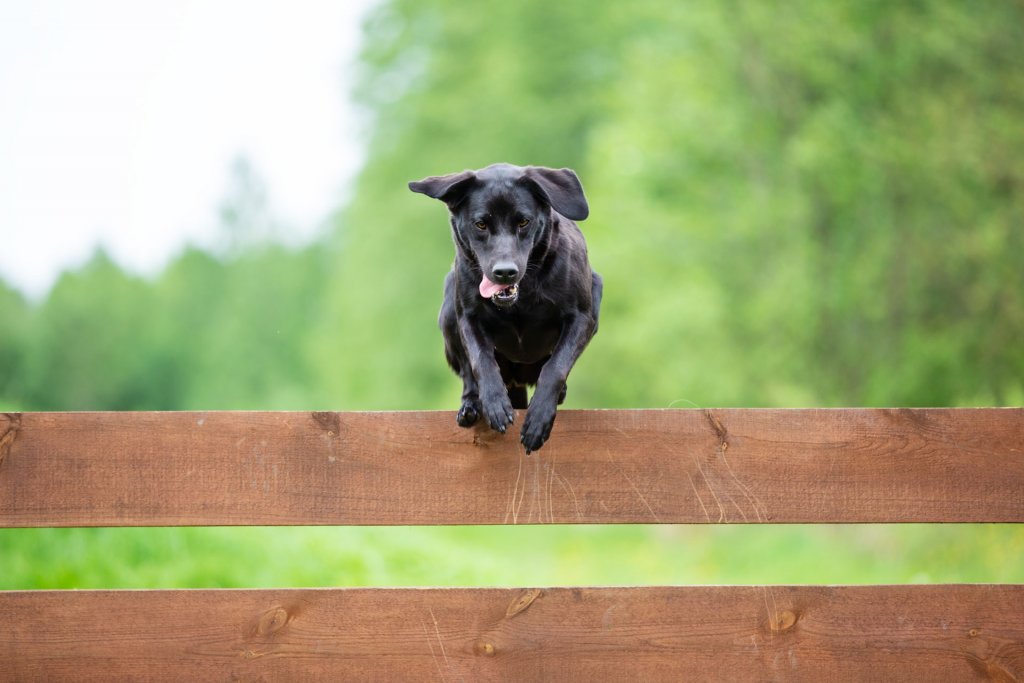 So there you have it, 15 dog fence ideas to keep your canine companion safely secured inside your home or yard. How do you keep your furry friend safe and out of trouble?