Dogs and Children Safety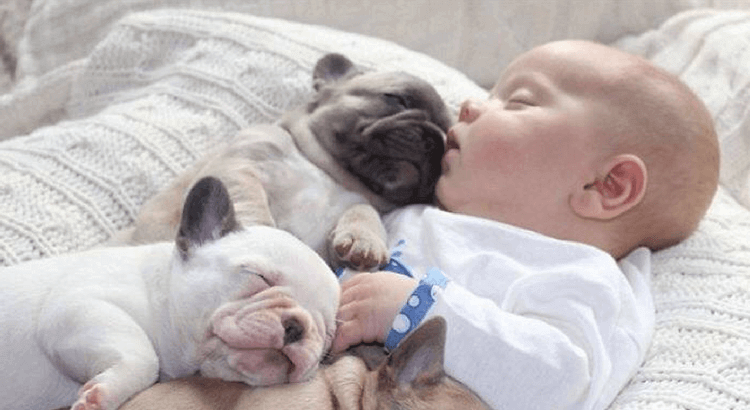 Teaching your children and your dog how to behave together
The relationship between dogs and children can be magical, but doesn't always happen automatically. Therefore, awareness of the relationship between child and dog is very important, especially for bigger families. Imagine that your dog, Bello, has been living with you for two years and now you're having a baby. With a small child in the house, things will definitely change. Not just for you, but for your four-legged friend too. But how can you prepare yourself for this time? What should you be particularly aware of in order to facilitate the safe handling of child and dog?
Tips for a safe handling of child and dog
Having a child and a dog is like having multiple children – you want to make an effort for each of them! However, even if it's hard, you should pay less attention to your dog in the beginning, after your baby is born. This does not mean that your dog is less important to you and will have a worse life now. You should only manage the time in a better way and really enjoy the moments you then have together. Our pets are our constant companions and they are running with us everyday. Prior to the birth of the baby, it would be a good idea to plan fixed times for your dog. Of course you can also split the dog quality time with your partner.
Right in the beginning you should show your dog that the baby's room is a "no-go area". Here, a babygate would be a good ides as the dog will be able to see and smell the baby (getting use to the baby), but not able to enter the room. For hygienic reasons, it is also a good idea to keep the dog out of the room after the baby is born. Eventually, the dog will learn that it is quite normal when you are playing in the nursery room without it. This is an important fact in the safe handling of child and dog.
Make sure that you give your dog a quiet place in the house, or apartment, which can be used as a haven when small children are running around. Your dog should be able to rest and relax in its own private "room". By giving your furry friend a calm "safe zone" you will create a more positive atmosphere in the whole family.
Another good exercise, before the baby arrives, would be to take a walk with your dog and an empty stroller. As a result, the dog will get used to the stroller and will, hopefully, be relaxed in the situation. This could be really helpful for the relationship between a dog and a child.
The time you have for playing with your dog might be less after the baby is born. An easy game which you can bring into the family is the so-called " Treat-search game". Hide some sausage-pieces in the garden and then tell the dog to find them. Whenever one is found, the dog can continue the search. With a game like that, you have both hands free to walk with the stroller outside, and your dog feels entertained at the same time. The "Treat-Search game" can last as long as you need to walk with the baby (and as long as your dog finds it funny).
Another important tip is to teach your child, from the very beginning, that a dog is not a toy. You should teach your child that he/she has to stroke the dog gently and quietly, and respect if the dog does not want to be cuddled.
Dogs and Children Safety
Do you already have some experiences with a child and dog under the same roof, then please share your stories!