Tech
3 Problems You'll Run Into Using Apple AirTag For Cats (And What To Use Instead)
Using an AirTag collar for your cat? Here are 3 problems you'll run into - and how a dedicated cat GPS tracker is a solution to each of them.
Whether you're a new cat parent or a veteran, keeping our feline friends safe is priority #1. So if your cat has a habit of straying outdoors, you might've considered attaching a tracking device to their collar. Like, for example, an Apple AirTag.
But is this Bluetooth-powered device the best option for tracking your feline friend? We've found 3 key problems you'll run into using an AirTag for cats. And also how a dedicated cat GPS tracker is a solution for each of them. Let's dive right in.
Why your cats need a pet tracker in the first place
Although some cat parents tend to keep them indoors, cats are natural hunters and explorers. As a result, they need their outside time to stay healthy. Given their curiosity, they may also wander off, get lost…or accidentally venture into dangerous areas. So it's smart to invest in a pet tracker to both keep them safe – and enable their independence.
In fact, cats that enjoy their outdoor time benefit from exercise, vitamin D, and can patrol and defend their territory. Some cats' territory might not extend beyond your backyard. For other cats, this might include both your backyard, your neighbor's garden, and even the local park. Which means they're more likely to run into danger outdoors. These could be predators, poisonous plants, cars, toxic substances, and even other humans.
So as much as you want your cat to enjoy their time outdoors, you also want to ensure their safety at every step. With a dedicated cat GPS tracker, for example, you can get live updates every 2-3 seconds where your cat is. You can also get alerted immediately if they stray past a "safe zone" defined by the user: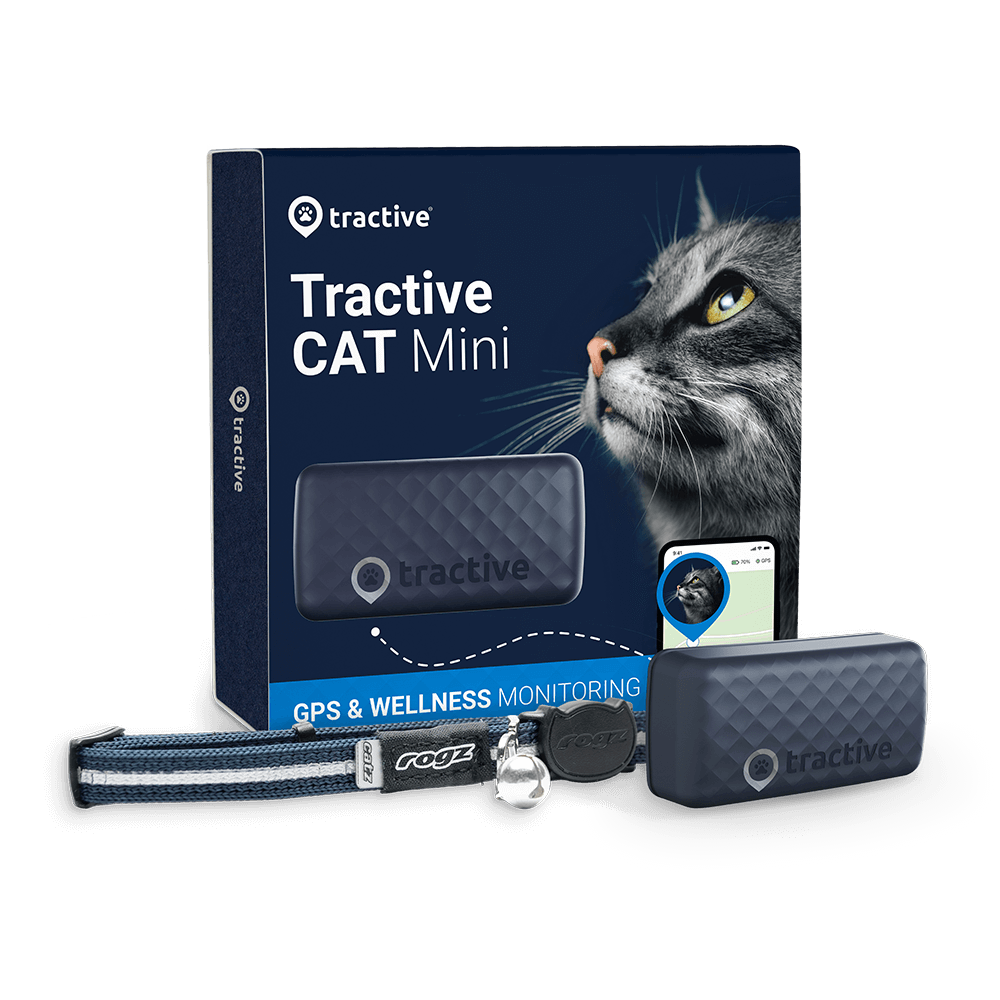 Know everywhere your cat goes
See where they are in real-time, no matter how far they go. Get alerts if they roam too far home. Find out where they've been and discover their favorite spots. Let others track with you.
Now you might've been using an Apple AirTag to keep track of your keys or a backpack or wallet. So you might think it makes sense to attach one to your cat's collar, right? Well, here's a picture of how it might look using an AirTag collar for your cat – pros, cons, and where a GPS tracker might work better.
How an AirTag cat collar might work
Apple AirTags are small, Bluetooth-powered devices designed to help you keep track of personal items, like your wallet or keys. Once you've set up your AirTag, it sends out a Bluetooth signal that connects with nearby Apple devices. When you attach one to your cat's collar, these devices pick up on your AirTag's signal as your cat wanders around outdoors.
If you can't find your cat, you can use Find My App on your iPhone or iPad. This gives you an approximate location of where they might be.

Your app then shows you your cat's last known location and can guide you to them via map.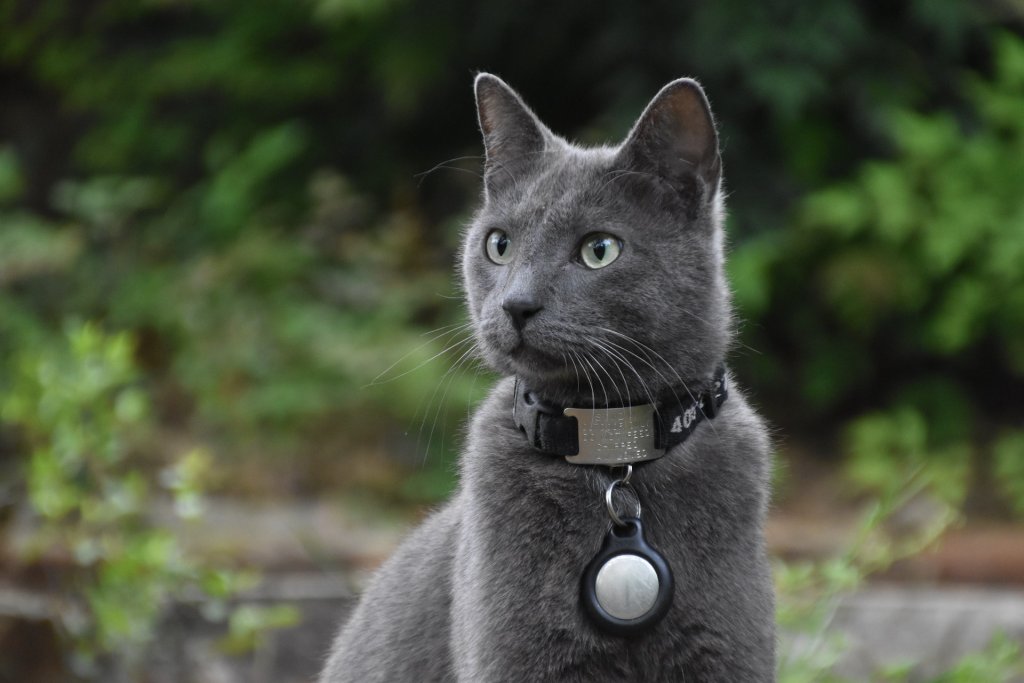 Apple AirTag range
Apple hasn't provided a clear picture of AirTags' tracking range. But typically, Bluetooth trackers tend to work best at a range of 30-33 feet (9-10 meters). So if you've lost, say, a pair of keys outside the range of your AirTag, you can switch on Lost Mode. Now, when your lost keys end up within range of another Apple user's device, its AirTag sends you an alert on your Apple device which shows its location on a map.
Pros to using an AirTag for your cat
AirTags come with a range of benefits. They tend to be:
Lightweight, weighing around 0.39 ounces (or 11 grams). Great for personal items of all shapes and sizes.
Affordable, being priced from $29 onward for a single AirTag, or $99 for a 4-pack.
Water-resistant, especially if you lose an item while on a swim. Your AirTag can last around 30 minutes at a depth of 3.3 feet (or around 1 meter.)
Compatible with all Apple devices, including your smartphone, iPad, and Mac.
Equipped with long-lasting battery life, up to a year.
However, even with all these benefits, AirTags are still a terrible choice for tracking your cat. This applies to both indoor cats who don't stray too far from home and outdoor cats who have a sizeable territory to defend. Here are a couple of key problems you'll run into when using an AirTag cat collar.
Problem 1: AirTags pose a credible health risk for your cat
What do Apple and vets have in common? Well, they've both warned against using AirTags as a pet tracking device due to the safety risk they pose.1 So if you're wondering – are AirTags safe for cats? – here's what you might run into:
Choking hazards
With a well-documented history in the case of dogs, AirTags are notorious for their swallow hazard. Because of their small size and tendency to dangle from their collar, your cat might try to chew or scratch on it to get it off. Other animals they encounter (including your other pets) could also chew it off and swallow your AirTag instead.
Battery leaks
Since AirTags come equipped with batteries, there's always a possibility they might leak and severely damage your cat's organs. The risk of battery leak increases if your cat (or another animal) has chewed on the AirTag, or if it remains in their stomach for a long time.
A bad case of feline stresss
Besides these problems, AirTags don't come along with a ready-made collar. Which means they can be uncomfortable to wear for smaller cats.2 This can both stress them out and cause the AirTag to slip and fall out of a collar or harness – making it likely you'll either lose it or have to make an emergency vet visit if your cat accidentally swallows it. It might also cause your cat to get stuck somewhere in case they're off playing hide and seek.
The solution: Use a tracker built for cat safety
A dedicated cat tracker should be both lightweight and compact – but also designed to be safely out of reach of your cat's teeth and claws. For example, the Tractive CAT Mini comes with a weight-adjustable Rogz Safety collar to prevent them from chewing on their GPS tracker. In fact, Oregon-based professional cat breeder, Clair Chesterman, considers them a better alternative to AirTag cat collars:
Tractive is my #1 recommendation when it comes to cat trackers. It is specifically designed for tracking cats so you are sure that it is safe for your cats to use.

Clair Chesterman
Owner of CFA and CCA-registered cattery and fostering company, FluffyMeowPaws3
AirTags, on the other hand, need a special holder you need to attach to your cat's collar. In case you do, make sure you buy a collar that can accommodate the AirTag flush, so you can secure it better.
Problem 2: AirTags provide limited tracking range for your cat
Curiosity might drive your cat to explore – but with an AirTag, it's stuck (quite literally) to your backyard. Apple AirTags are limited to a typical Bluetooth range of 30 feet (9 meters). So it might only help you keep track of your cat if they tend not to wander outdoors too often.
On average, the range of domesticated cats' territories can vary widely – it might span a few acres for male outdoor cats. Even your indoor cat might want to climb trees in your garden or hide in small, hard-to-reach spaces. So if they wander outside of Bluetooth range, you'll only be notified by your device's Lost Mode if your cat passes by another Apple device user in that area.
In a nutshell: this means an AirTag cat collar only works in areas where you'll run into iPhone or Mac users. (So not a great option for when you're in an area without too many Apple devices nearby.)
The solution: Use a Bluetooth GPS tracker with unlimited range
Some pet trackers come with both built-in Bluetooth and GPS tracking functionalities to give you complete peace of mind. For example, you can track your cat across an unlimited range with the Tractive Cat GPS tracker – and across 175 countries via mobile networks. It also includes LIVE tracking which shares real-time updates to your device, so you can track your cat (literally) every 2-3 seconds.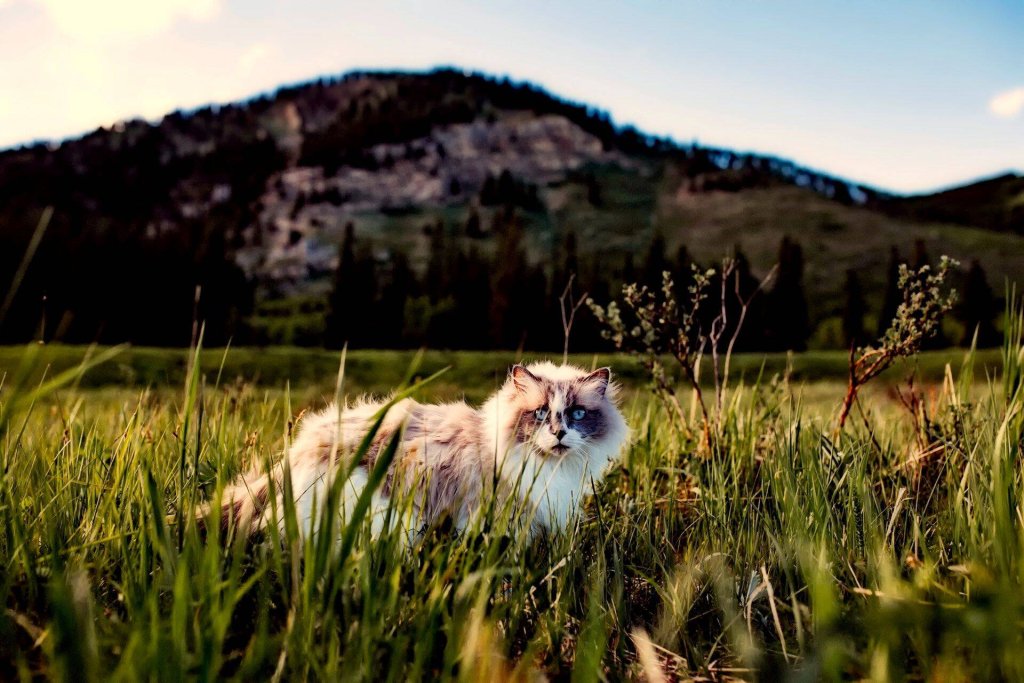 On the other hand, Tractive's Find Mode uses your device's Bluetooth proximity feature to notify you whether you're getting closer or moving further away from your cat when you're within Bluetooth range of its tracker. This comes in handy if your cat is hiding under a bed or a couch – or an outdoors area where GPS signal might fluctuate, like a forest. Find Mode works even if your tracker or phone neither have a network nor internet. Perfect for stress-free cat tracking no matter how far (and how often) your cat likes to wander off.
Problem 3: AirTags weren't built with cats in mind
AirTags work best for non-moving objects like your wallet or keys – items that don't tend to move around too much by themselves. They weren't designed to track moving animals like your cat who's busy patrolling their territory or exploring your garden. Because of this, AirTags are missing a ton of pet-friendly features you might find built-in with a dedicated pet tracker.
For example, they're not 100% waterproof or durable enough to withstand the wear and tear of being attached to your cat's collar. Wherever your cat wanders, they're more likely to get wet and dirty than, say, a pair of keys – which might damage their AirTag and cause it to malfunction. So while it might be an option for tracking your personal items, Apple AirTags are generally neither safe nor reliable options to keep track of your cat.
The solution: Use a dedicated pet tracker for your cats (and your peace of mind)
On the other hand, many dedicated pet trackers come with durable designs, advanced tracking functions, and even wellness monitoring features for your pets. For example, the Tractive GPS cat tracker includes:
A Virtual Fence, which you can use to set up a virtual safe zone for your cat. So if your cat strays beyond it, you'll immediately get notified by your tracker.

A year-long Location History and Heatmap, so you can figure out your cat's most frequent haunts.

Light and Sound location, which can help you track your cat when it's dark outdoors.

Family & Public Sharing, so you can make tracking your feline friend a joint effort.

Wellness Monitoring, so you can track your cat's sleep and activity levels and get a picture of their overall health.
Never lose your cat again – with a dedicated cat GPS tracker
Cat parents around the world are relying on Tractive to ensure their peace of mind – even in emergency situations. Like the case of Nala, an adventurous outdoors cat who went missing one evening and whose parents, Michel and Anja, found her in an empty house still under construction.
In Michel's words:
We went into LIVE Mode and crossed our fingers that the battery would last long enough...we ran towards the location Tractive GPS had pinpointed, and came to an empty house that was still under construction. There was nobody around, but one of the windows had been left open. At that point, we had already given up hope and thought that we were never going to be able to find her. So, out of desperation, I shouted out her name.

And she responded! Nala started screaming as soon as she heard our voices...our little furball managed to pull it together and we finally took her home. After a little comfort food and some cuddling, her world had been restored to normal.

We are both so very thankful that this day – after a few hiccups – had such a happy ending. The fact that Tractive GPS even worked inside that empty house completely saved us and really turned this thing around. I love Tractive for keeping our cats safe.
Read the full story of Michel, Anja, Nala's late night escapade – and how she returned home safely with the help of her Tractive GPS. Because you shouldn't have to compromise on your cat's independence or curiosity just to keep them safe.
So if you're looking for a solution that's built both for your cat and your needs as a cat parent, go for a dedicated cat tracker like the Tractive Cat GPS.
Wondering what kind of adventures your outdoor cat might be getting into? Here's the story of Bernie, a budding explorer whose long-distance wandering landed him an entire new family several miles away. (And, with a little help from his trusty Tractive GPS, was safely reunited with his mum soon after.)
Shop Cat Trackers