Can Amazon Ring's Pet Tag Find Your Lost Dog?
Like any loving, tech-savvy dog parent, you might be wondering if Amazon Ring's Pet tag is the right choice for your buddy. But just how do pet tag QR codes work? And can they help you actively track and find your dog if they've bolted outdoors? Let's find out.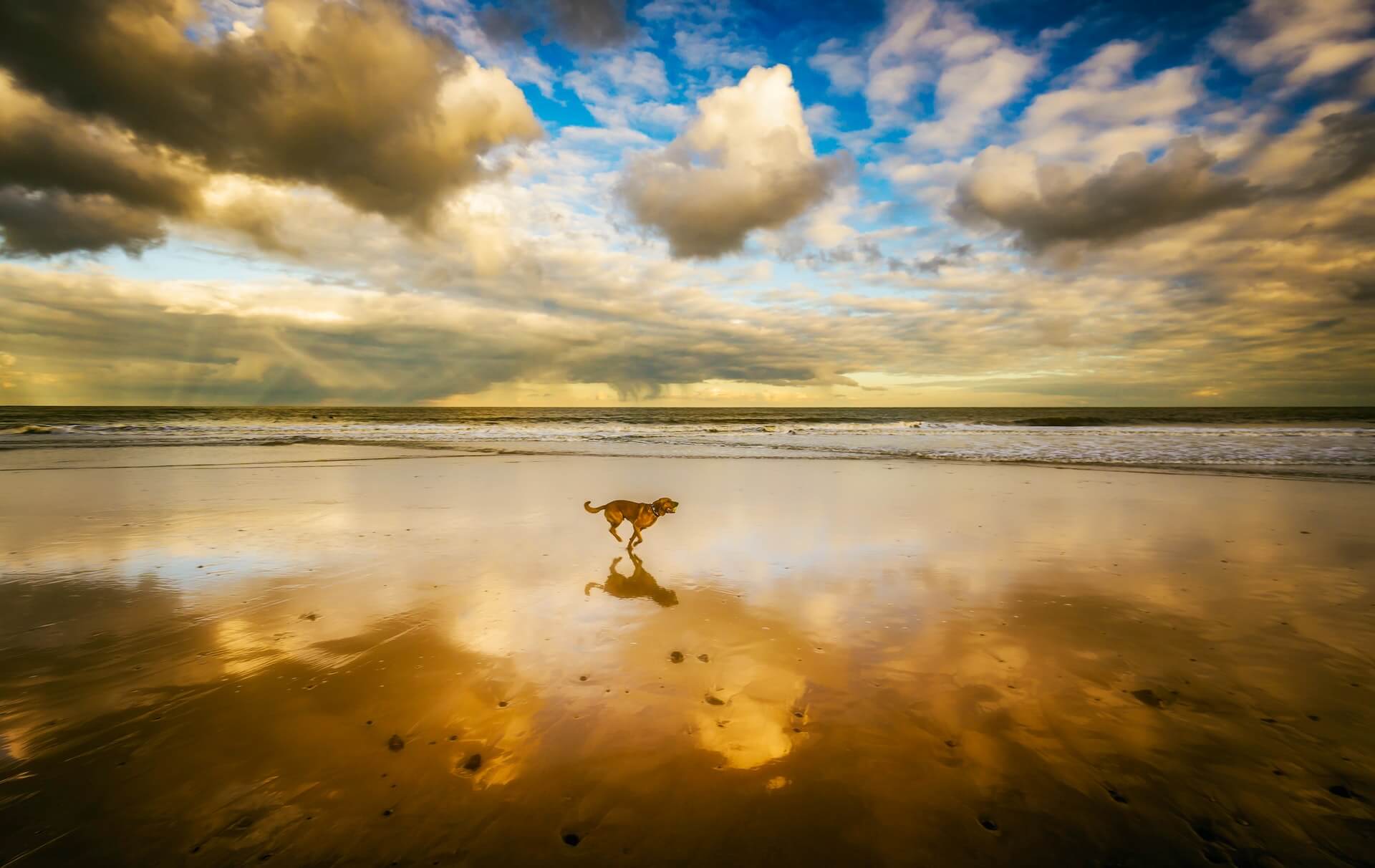 Staying on top of your home security? You might've come across Amazon's Ring and its range of devices – from doorbells, indoor and outdoor cameras, alarms, and more. Their newest release: the Pet Tag. Aka, a lightweight device with a unique pet tag QR code. Which you can attach to your dog's collar to help a stranger identify them when they're lost.
But how does the Ring Pet Tag work in the first place? Can it help you track your dog via real-time updates or GPS functionality? And most importantly: can it help you take an active role in finding your dog if they get lost outdoors?
Short answer: no. Long answer: keep reading. Because when it comes to finding your lost dog, you're best off investing in a dedicated pet GPS tracker. Keep reading to find out how to best ensure your peace of mind as a dog parent.
How does Ring's pet tag QR code work?
The Ring Pet Tag is a small, attachable device you can hang off your dog's collar. It includes a custom QR code that links to your pet's profile on the Ring app.
Now if your dog gets lost, you can switch on Lost Pet Mode. It makes your pet profile public and notifies the Ring community.
So if a helpful stranger finds your lost dog, you'll be notified if they can scan the QR code on your dog's Pet Tag.
They can then contact you via the Ring app to get in touch with you.
Pet Tags are actually similar to microchips. Aka, small pet identification devices you can implant into your dog's skin. So if someone (like a vet) scans your dog's microchip, it can help identify your dog. So they can contact you right after. With a pet tag QR code, you'll be notified via the Ring app instead. (So no skin implantation required.)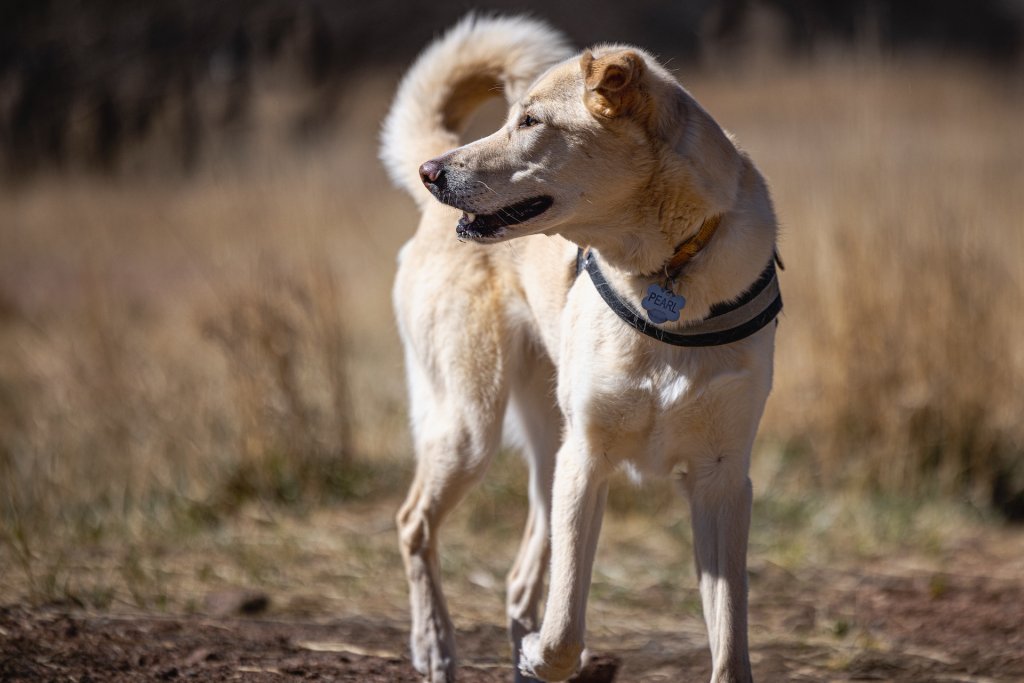 Importantly, neither Ring Pet Tags nor microchips can help you take an active role in finding your lost dog. They can help another person identify your dog. This person then needs to contact you to come pick them up. But neither of these devices offer any GPS or Bluetooth tracking functionalities that can help you track your dog's live location yourself.
At present, Ring Pet Tags are also only available for shipping to the US or Canada. If you're based elsewhere, you're better off exploring your options with dedicated dog trackers that ship internationally or offer authorized international resellers.
Pros of using a Ring Pet Tag
Lightweight. Clocking in at less than an inch in size, the Pet Tag is so small and light, your dog likely won't even notice it.
Affordable. At $9.99 a piece, Ring Pet Tags are a budget-friendly option to get you started.
Community-focused. The Ring app connects you to fellow dog parents in your vicinity. You can also upload your lost dog's picture to Petco Love Lost. This is a large national database of lost and found pets. It'll notify you of similar animals found at nearby shelters or around you – which may include your lost dog.
Data privacy. Usually, someone who's found your lost dog can reach out to you via call or text – directly on the Ring app itself. No need to share any personal contact info.
Sharing essential info. Your Ring pet profile also helps you store your dog's medical details and other info. Like what your dog tends to get spooked by or how a rescuer can help calm them down.
No charging required. You can just attach the Ring pet tag to your dog's collar – and you're done. Now you just need to scan its QR code to identify your dog. No need to replace or charge any batteries.
When combined with products like Ring's indoor and outdoor cameras, the Pet Tag can help you create a secure home environment for your dog. For example, if you invest in a Ring camera, it's immediately compatible with your Ring app. So you can keep an eye on your dog when they're at home or out patrolling your backyard – and you're away.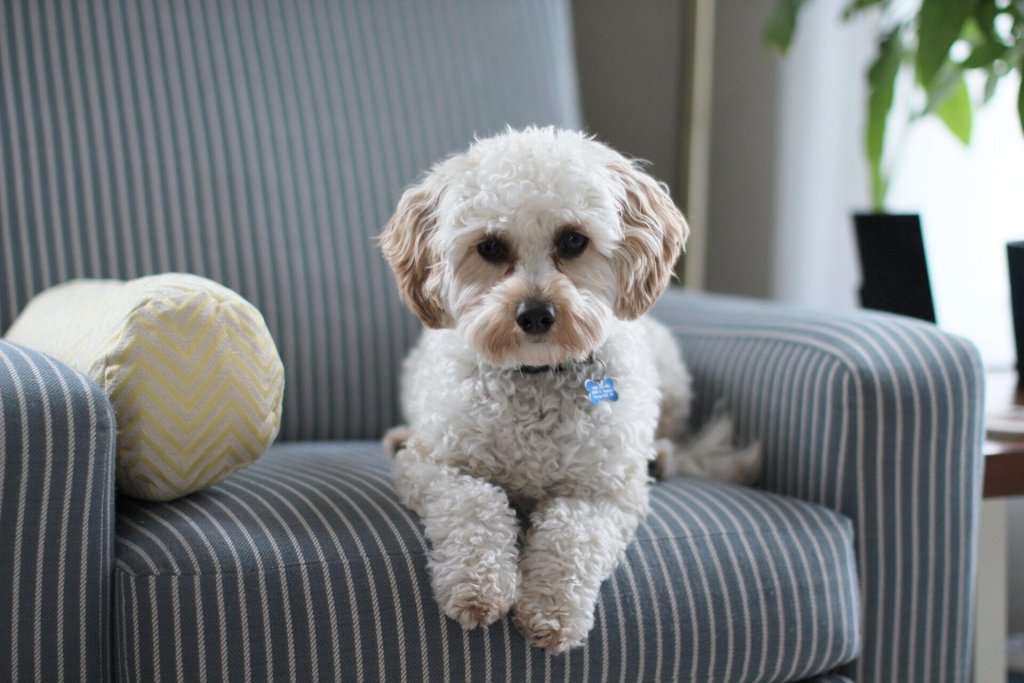 Even with all these perks, your dog might still bolt a fence or sneak through a forgotten backyard door someday. So once they have, can a Ring Pet Tag alone keep them 100% safe?
Why the Ring Pet Tag doesn't actually ensure your dog's safety
When it comes to actively finding and tracking your lost dog, Ring Pet Tags aren't the best choice. They can help someone identify your dog if they get lost outdoors. They're also a smart option to intervene if your dog is about to knock over a plant or get up to something mischievous. (But only while they're still at home.)
In fact, Ring Pet Tags might even limit your ability to find your dog safely and on time. Here are a couple of ways how.
You'll be stuck waiting for another Ring app user to find your dog
You've set up your pet profile, switched on Lost Mode…now it's up to another well-intentioned Ring app user to contact you. With Ring, you can broadcast your call for help with a wider community. But in an emergency, you're still limited to the information you receive via the Ring app.
So the most you can do is hope your dog hasn't wandered off too far and that some kind stranger notices their pet tag QR code. (And then actually gets in touch with you to let you know they've found your dog.)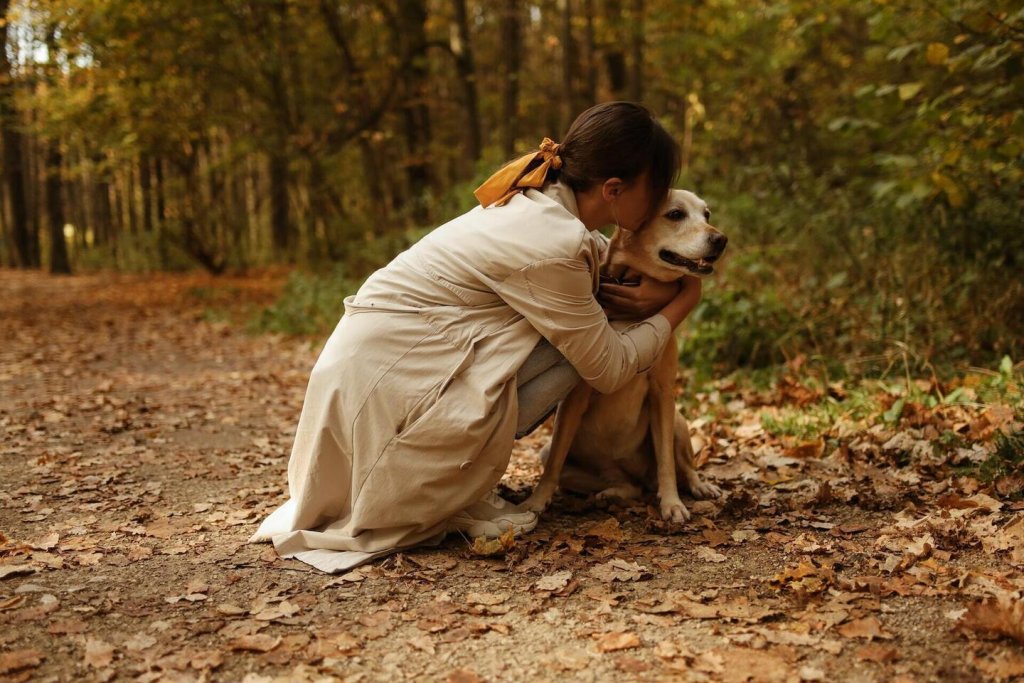 Leaving your dog's safety in a stranger's hands isn't the best choice to ensure it. Rather, tracking and finding your dog yourself helps you take a more active role in keeping your buddy safe.
A pet tag QR code is an identifier – not a pet tracker
If you check your Ring app and see that someone's scanned your dog's QR code, it's still no guarantee that they'll actually return your dog to you. Or that you'll find them safe and sound. Using Ring's Pet Tag means you're leaving their safety in the hands of a stranger. Which, in a world where dognapping is on the rise, can actually put your dog at great risk of harm.
When it comes to actively finding your pet, you're best off using a dedicated GPS tracker. Ideally one with LIVE tracking and real-time updates every 2-3 seconds. So you always know where your dog is, with just a glance at your phone or device.
In some cases, the Tractive GPS has even saved the lives of dogs who've wandered off from their parents. Take the story of Happy, an off-leash Golden Retriever. Who ran off into the forest on his first hike at the Siusi Alps and got completely lost.
But despite the panic of losing her dog, his mum Francesca was able to quickly track his location and find him with the Tractive app.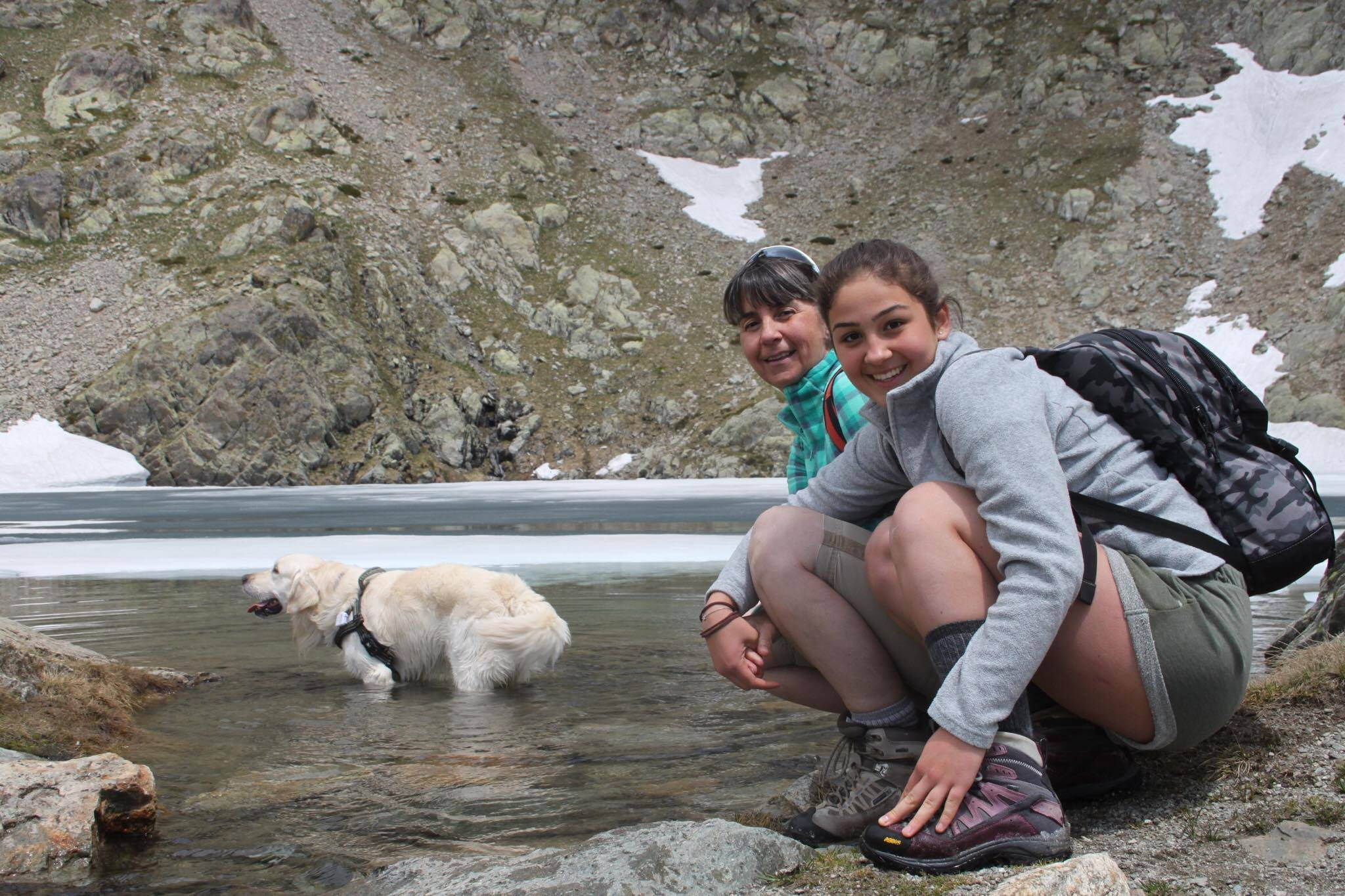 In her words:
I remembered that Happy had the GPS tracker clipped on. So I immediately switched on the LIVE Tracking mode and started breathing more easily the closer I got to his position.

Then, I could follow his path, live, directly on my phone and the position was so accurate…finally, there Happy was, sipping water from the source on a mountain's edge.
Read the full story of Happy, Francesca, and how Tractive is a life-saving tracking device for pet parents around the world.
You'll need multiple Ring products for a pet-safe home environment
Ring products are designed for creating a secure home environment. For example, you could keep tabs on your dog via their indoor and outdoor cameras. Or let them out for some outdoor times with Ring's smart locks. Or use their Video Doorbell or Stick Up Cam to check in on where your dog might have wandered to – within your house or your backyard.
All these devices are separate purchases. So while the Pet Tag itself is on the affordable side, you'll still end up with higher upfront and ongoing costs in the long run having to buy a whole range of Ring devices. (And then install and maintain them over time.)
You'll also have to watch your dog non-stop throughout the day to catch the exact moment a home invader breaks in or they bolt off outside the fence. Which might then be too late for you to intervene to keep your buddy safe.
One app to track them all
With a dedicated pet GPS tracker, you have one app (and tracking device) that keeps all these features in one place. Besides live tracking, here are some features you'll find with the Tractive GPS:
A Virtual Fence, where you can define a "safe" zone for your dog. (Like, say, your backyard – or your neighbor's house.) If they venture beyond this location, you'll immediately get alerted via the app.
Light and Sound location, which helps you track your dog if they've wandered off into the dark outdoors.
Location History and Heatmap, which can help you figure out where your dog likes to hang out most.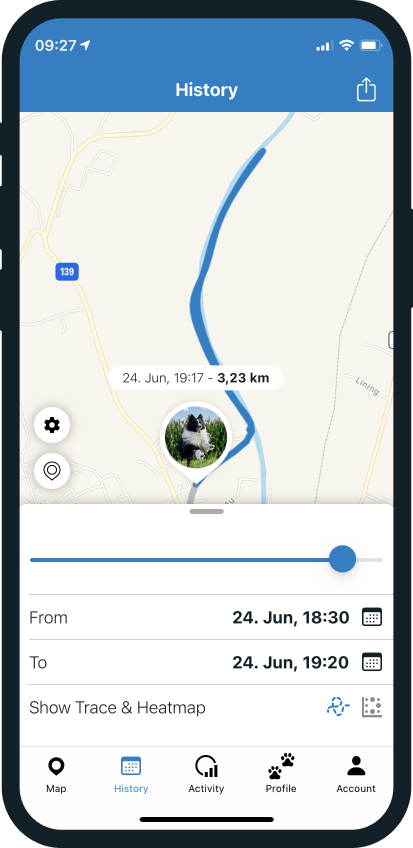 Tractive's Location History is a vital part of search and rescue (SAR) missions, including water rescues.
Water tends to constantly shift and flow, so it's difficult to follow an exact path or landmarks. It's why Ontario-based SAR expert, William Bolton (and his Husky-Lab mix, Sheba) rely on Tractive's Location History and LIVE Tracking during their searches.
Take the story of Imogen, a high-energy Borzoi who bolted off from her yard – and ended up crashing through the ice into a nearby frozen lake.
Luckily, her GPS tracker immediately alerted her mum to where she was. Using Tractive's Location History (and with some help from her neighbors), she rushed to where Imogen was to rescue her from freezing and drowning.
How the right pet tracker can save your dog's life
Whether your dog's a home-buddy or off exploring the great outdoors, the right pet tracker can help you ensure they're safe – always. Because in today's market, you won't just find devices that help you track their location. Rather, dog trackers like the Tractive GPS can even help you stay on top of your dog's health and wellness by tracking their sleep and activity levels. And in some cases, this can even help save your dog's life.
Finding your lost dog – no matter where they've run off to
Pet parents around the world are using Tractive's life-saving GPS technology to find their lost pets – dogs, cats, and even a wild buck! You might assume this makes more sense if your dog runs off on a hike or if you live near nature. But your dog is as likely to bolt in an urban environment as much as a rural one. And both come with dangers of their own – which you can avoid altogether with the right tracker.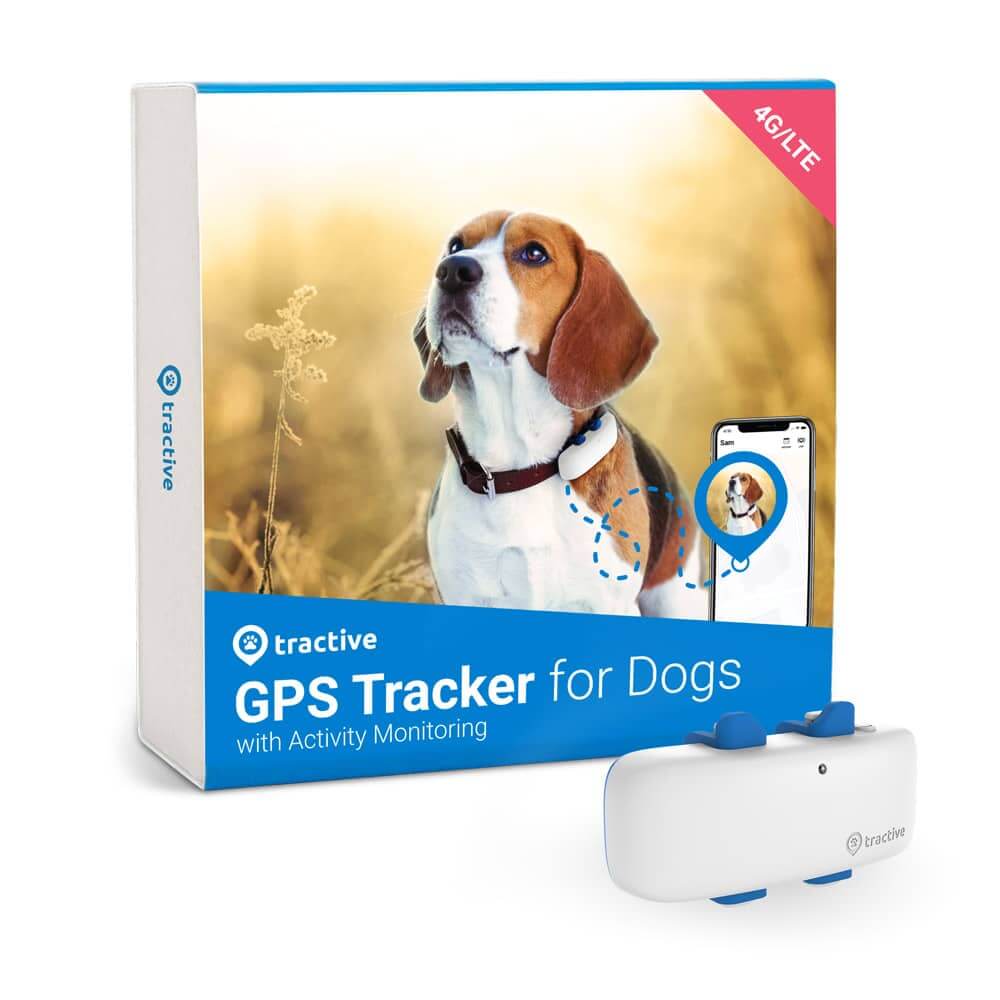 Always know where your dog is
Follow every step in real-time with unlimited range. Get alerts if they wander too far. Keep them happy & healthy with Wellness Monitoring. And let others – like walkers or sitters – keep an eye on your dog too.
Tractive's unlimited tracking range means you have peace of mind as a pet parent – no matter where you are in the world. And it's not limited to GPS tracking alone. Even if you're in areas with limited connectivity or low GPS signal, you can use its Bluetooth tracking functions to get an even more precise and accurate location for where your dog might have run off to.
For example, Tractive's Radar mode uses your phone's Bluetooth features to indicate whether you're moving closer or further away from your dog. (Great for indoor spaces or areas where you have limited GPS due to tall buildings or weather conditions).
Tracking dips in your dog's sleep & activity – and taking action
Besides location tracking, some pet trackers even offer Wellness Monitoring features. For example, you can monitor your dog's sleep and activity levels with the Tractive GPS tracker. Which gives you a full picture of your dog's health and wellness – and helps you identify early on if something's wrong.
For example, one of the first signs your dog might not be feeling well is a dip in how active they are. With regular activity tracking, you can both help your dog get enough exercise – and also take action early on, if you notice they're suddenly more lethargic, tired, or less active than before.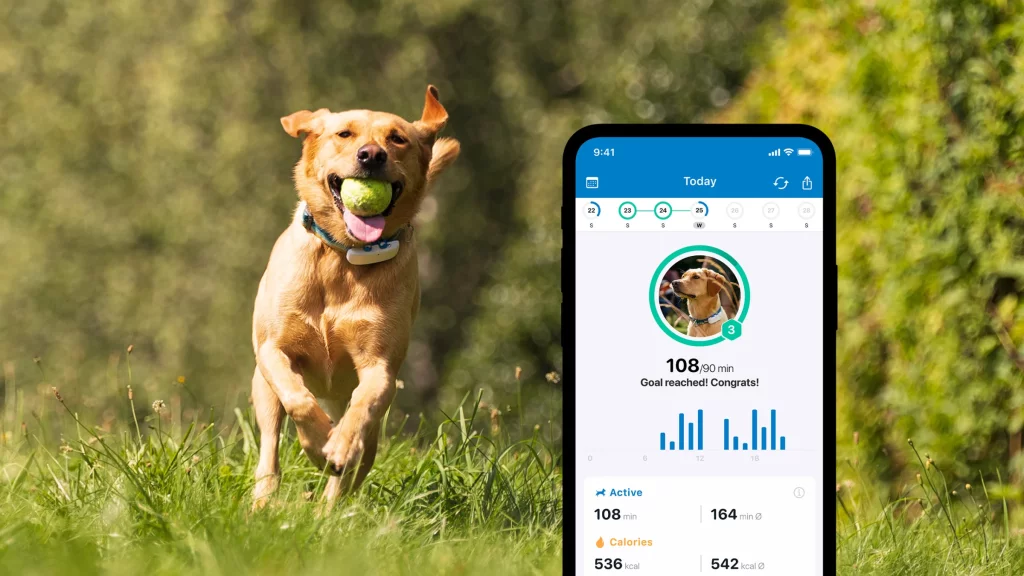 Here's a story from one of Tractive's own pet parents – who caught on to an illness early on from her dog's Wellness profile:
I've chosen Tractive to have an extra layer of monitoring for my service dogs (ADL & PTSD). I keep track of them daily because their health is important to me. They can only keep me healthy and happy and do their job if they're happy and healthy! So it's a great way to monitor activity and to know when you can train more intensely and when they might need a rest.

Evi, my PTSD dog was the first to try it out. And after three and a half weeks of using, and finally really trusting the data that Tractive gave me, I found out she was sick before I could even really see it. Her sleep quality suddenly drastically decreased from around 90% to 60% and her active minutes dropped by about 50 a day.

So even though she still looked happy and healthy, my Tractive device stated otherwise. So I went to the vet with this information. They took me and Tractive seriously…and it turned out she had the beginning of an infection in her ears!

My Tractive GPS is a part of my primary gear now – and I don't want it any other way.
Take an active role in finding your lost dog – with a dedicated GPS pet tracker
Ring products are built for home security – not dogs. The Pet Tag places your buddy's safety in strangers' hands. It also doesn't let you actively track them when they're lost. You could consider them an option if your dog doesn't venture beyond your living room or backyard. But the moment your dog notices an open backyard door? Not the best choice.
Losing your dog can be a terrifying experience. So if you're looking to ensure their safety no matter where they go – indoors or outdoors, into the wilderness or down the neighborhood block – go for a pet tracker that's built for your peace of mind.
With a dedicated pet tracker like the Tractive GPS, you always know where your dog is – no matter where you are in the world. So you can take your buddy's safety into your own hands and secure your peace of mind for the long term.
Want to see Tractive's GPS tracking magic in practice? Here's everything you need to know about the tracker in just 2 minutes: