Tech
Is There A Cat Or Dog GPS Tracker Without Subscription?
Why do so many pet GPS trackers require a subscription plan? What does the service provide? And is there a GPS tracker without a monthly fee suitable for tracking dogs and cats? Find out here!
Decided on GPS tracking to follow your cat or dog's every step? Great choice. A GPS pet tracker can be a lifesaver, and helps you keep four-legged family members safe. Though you might be wondering, why do popular GPS trackers for dogs and cats come with a paid subscription? Or whether there's a reliable GPS tracker without subscription for cats and dogs out there? (Hey, we'd want to save money too)
To help you make the best choice, we'Il go into different kinds of no-subscription trackers for pets and look at their pros and cons. Plus, talk about whether GPS trackers without a subscription are enough to keep pets safe, and why GPS trackers with a subscription plan are worth the cost.
Finally, we'll introduce you to the GPS tracker that could save your dog or cat's life.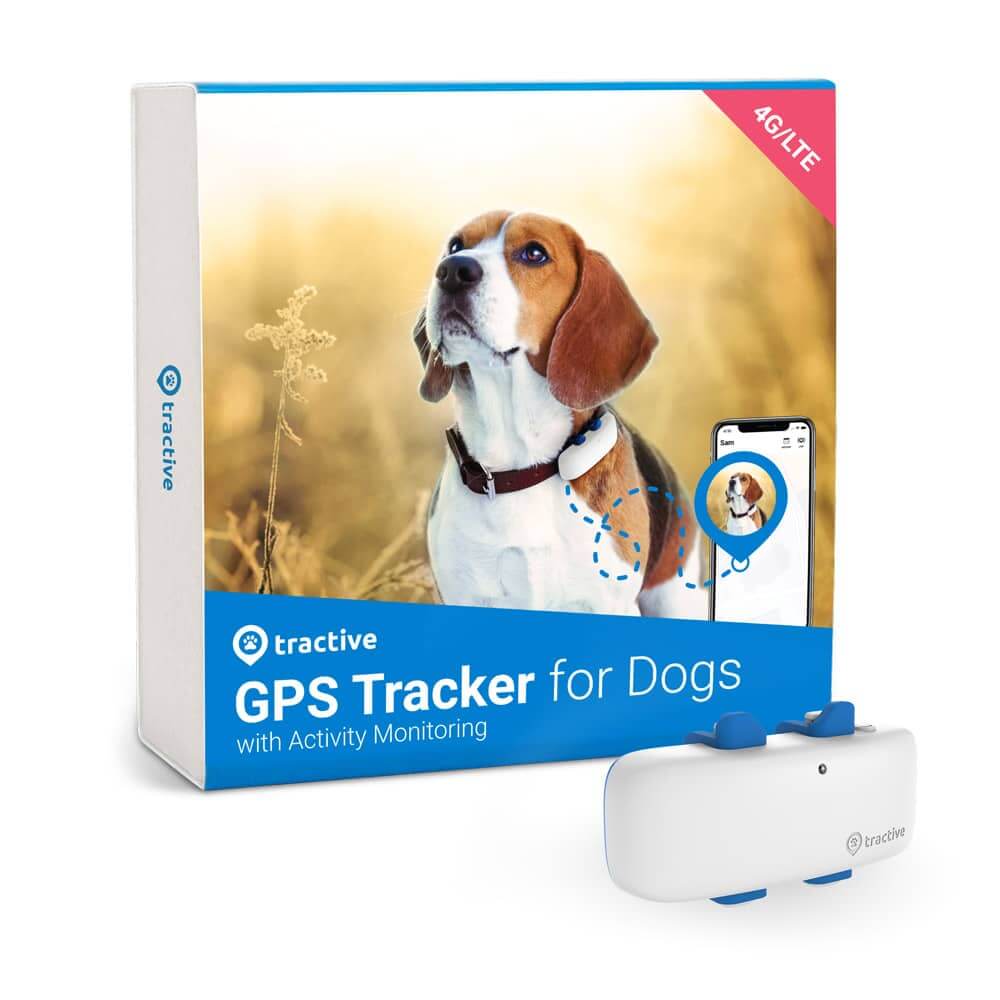 Always know where your dog is
Follow every step in real-time with unlimited range. Get alerts if they wander too far. Keep them happy & healthy with Wellness Monitoring. And let others – like walkers or sitters – keep an eye on your dog too.
See what Consumer Reports says about Tractive
Is there a GPS tracker without subscription?
Technically, yes. There are some GPS trackers without subscription plans available. However, if you want to be able to follow every step in real time, these tracking devices might disappoint you.
Not all trackers are built alike. There are:
Pet GPS trackers like Tractive which offer unlimited range, real-time tracking, and many more safety and health features.
Bluetooth trackers or item finders which are designed to help you find keys and other valuable but easy-to-lose stuff.
Adventure trackers that help hikers out in remote areas in case of emergency.
Vehicle trackers that help you track your motorcycle, bike, car or truck.
Family trackers to check on loved ones, like a grandparent or a child.
Price, range, features and tracker functions, as well as potential monthly fees, all depend on the type of tracker – and what it's used for.

Bluetooth trackers generally don't require a subscription plan, since they don't have a SIM card. They just send data when there's a Bluetooth device (like your phone) nearby.

This means that their range is limited to around 76 – 122 meters (250 – 400 ft). So they're great for finding misplaced items around the house or garden.

GPS loggers are a type of tracker that use GPS but don't come with a subscription.

However, GPS trackers like this can't send location to another device – like your phone – in real time. Fine for navigation tools for your car or bike. For pets? Not so much.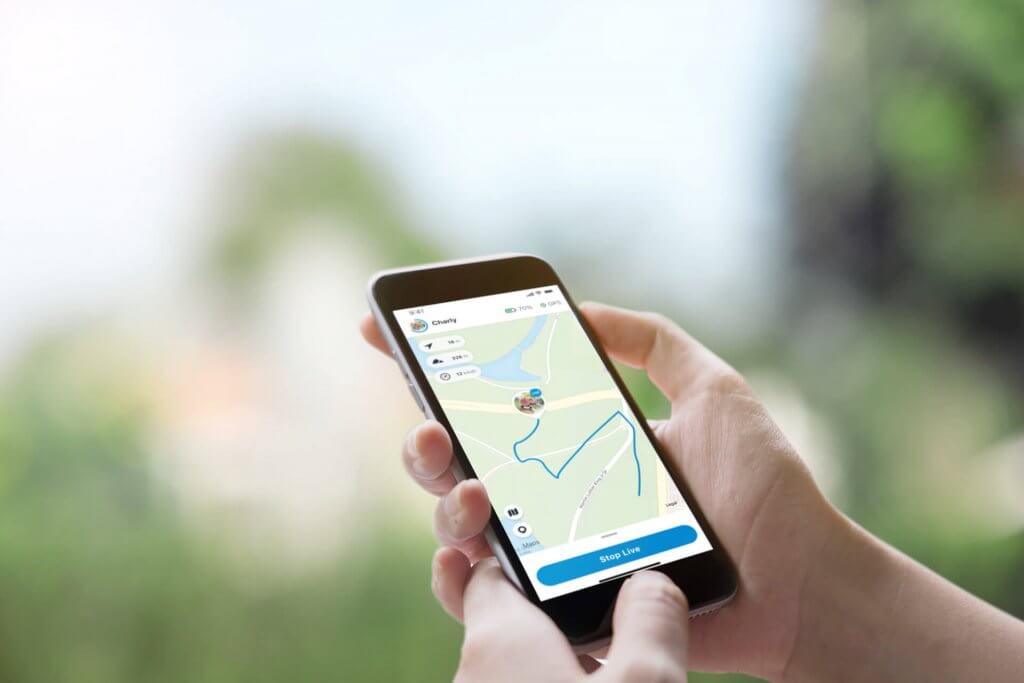 Can I track my dog or cat in real time with a GPS tracker without subscription?
Unfortunately, most no-subscription GPS trackers don't offer live location or unlimited range, two features that are crucial when you're trying to find a pet that's run off.
For example, some trackers offer a subscription-free version, but only work with WiFi. Other no-subscription pet tracking systems – like those from Garmin or Marco Polo – only work within a a few miles. PETFON is the only GPS tracker without subscription that can track in real time, but even then you're limited to a range of 3.5 miles (5.6 km) in an open field.1
As many dog parents know, our buddies can cover that distance in minutes. And being able to track them live – with position updates every few seconds – is essential to keeping them safe and sound.
That's why experts say:
If you need real time information about your kids… and let's face it, our pets are our children… it's better to buy a real-time GPS tracking device with monthly service.

Live View GPS
Learn how real-time GPS tracking for pets works with Tractive GPS in the video below:
Advantages & disadvantages of a GPS tracker without subscription
Let's dig into the pros and cons of these so-called no monthly fee GPS trackers.
The most obvious advantage? Clearly, not having to pay for a subscription.
However, the price you pay for a GPS tracker reflects the quality of the device, the service and the features. So while skipping the subscription might seem smart, it likely means missing out on key peace-of-mind features like live tracking.
No-subscription GPS trackers also have limited range. Like with a Bluetooth tracker, if your pet roams too far, your tracking device will be useless.
Advantages
A GPS tracker without a subscription might sound really attractive. After all, who wouldn't want to be able track for free?
No-monthly fee GPS trackers seem to promise:
Low cost
No contracts
No recurring payments
Global service (The G in GPS stands for "global", so you'd think it works everywhere… right?! 🤔)
If the idea of a subscription-free GPS tracker is starting to sound too good to be true – that's because it probably is.
Once you start thinking about how a tracker without a subscription fee can provide real-time, unlimited tracking… you'll realize it most likely can't.
The disadvantages of a tracking device without a service fee might not be clear at first glance, so let's take a closer look.
Disadvantages
No-subscription GPS trackers lure in users looking to pay 0$ a month. But the cost-saving nature of these trackers can mean that their function and features are limited. Sometimes, they're not actually GPS trackers at all, but Bluetooth trackers which can only find items within close range.
Common disadvantages of no monthly fee trackers include:
No real-time tracking
Poor location accuracy
May be built for a different purpose than tracking pets
Less features overall
Limited range
Don't work with networks in the area
May rely on Bluetooth (or a network of devices) rather than GPS
Fewer hardware and software updates
Higher purchase price
For example, item finders like Apple AirTag don't require a subscription plan, but they also can't track your pet with the accuracy of a GPS tracker. And they rely on other Apple devices nearby to locate your pet.
Plus, the purchase price of a tracking device without subscription plan may be significantly higher than that of trackers with a low monthly fee.
Types of GPS trackers without a subscription plan
So, what are these no-subscription GPS trackers all about? Here's a short overview of the different kinds of tracking devices you may see advertised as a GPS tracker without subscription.
Bluetooth trackers
Bluetooth trackers are also known as item finders, because they help you locate missing items, like your keys behind the couch. They do this by communicating with your phone using Bluetooth technology, within a limited range, and without too many other features.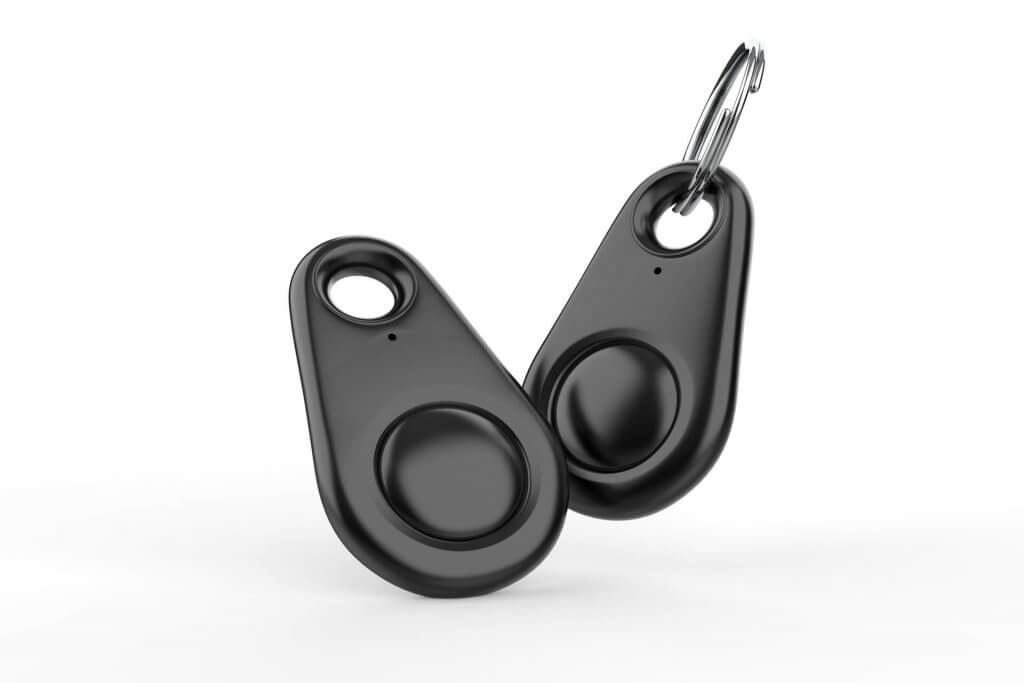 Popular Bluetooth tracker brands include:
The benefits of Bluetooth trackers include their small size and no subscription fee. They also often come with a long-lasting, replaceable battery.
But since they usually don't contain GPS or a SIM card, these trackers have two big downsides:
Limited range
No real-time tracking
That means that if your pet leaves Bluetooth range – give or take 100 meters or 328 ft – the tracker will stop working, right when you need it most.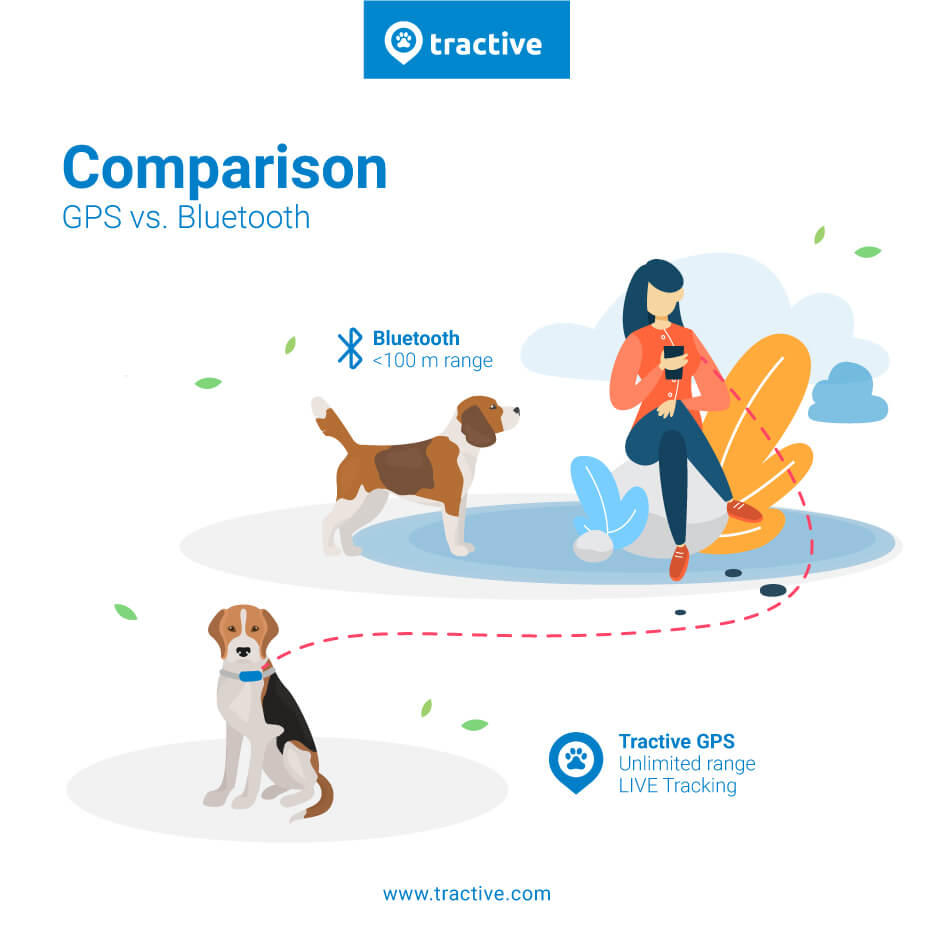 Buyer beware: Some companies selling "Bluetooth GPS pet trackers" on Amazon do not contain any GPS technology, and are therefore not true GPS trackers.
For this reason, Bluetooth trackers are best for non-living beings that can't get too far away – it's very unlikely that your backpack, wallet, or laptop will jump the fence. So a limited-range Bluetooth item finder should work just fine for locating those items.
However, it doesn't hurt to add a Bluetooth tracker to your pet's collar in case you want to be extra secure.
With Bluetooth trackers, you're also missing out on a lot of features that help you know what your furry friend is up to, such as virtual fences, activity tracking and location history.
The bottom line: Bluetooth trackers won't help you find your lost dog or cat in real-time, and only work within a limited radius of your phone.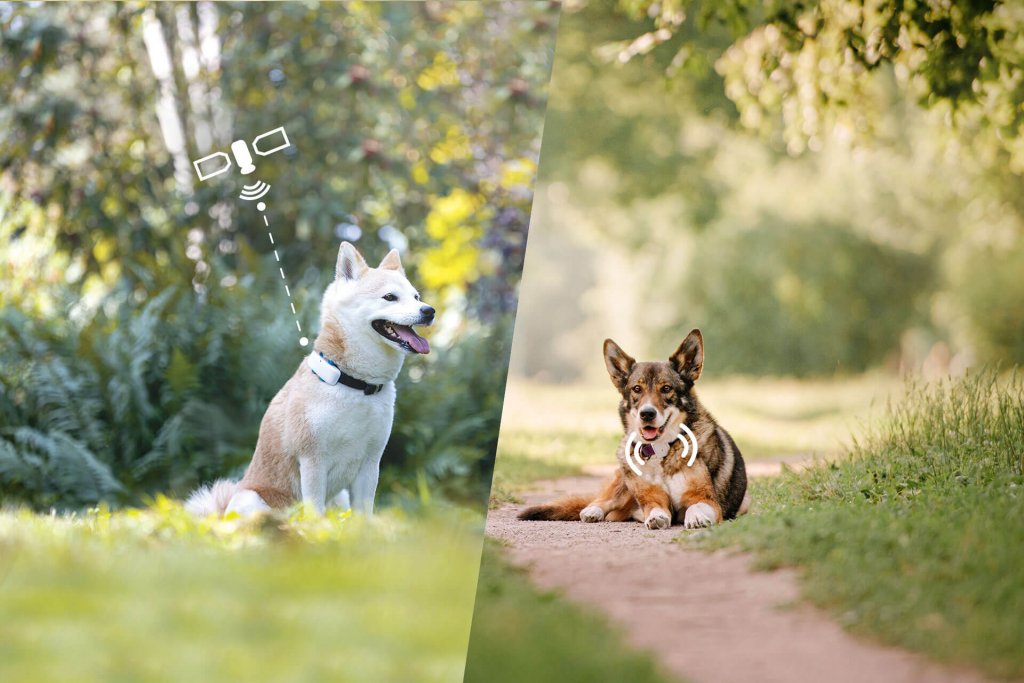 Radio frequency trackers
Radio frequency trackers are another type of tracker commonly considered by pet parents. So do they work better than Bluetooth trackers when it comes to tracking dogs and cats?
A radio GPS tracker consists of a receiver and transmitter, which communicate using radio frequencies. Radio trackers are considered safe for pets.
Like Bluetooth trackers, these devices attract users with their small size and long battery. They are also usually subscription-free.
Unfortunately, many radio GPS trackers with no monthly fee also have a limited range (130 meters or 426 ft). Additionally, natural or human-made obstacles (like trees or buildings) can reduce that range. So again, if your pet wanders too far away, you'll be out of luck with a radio tracker. And probably wishing you had went for a real-time, unlimited range GPS tracker with an affordable plan.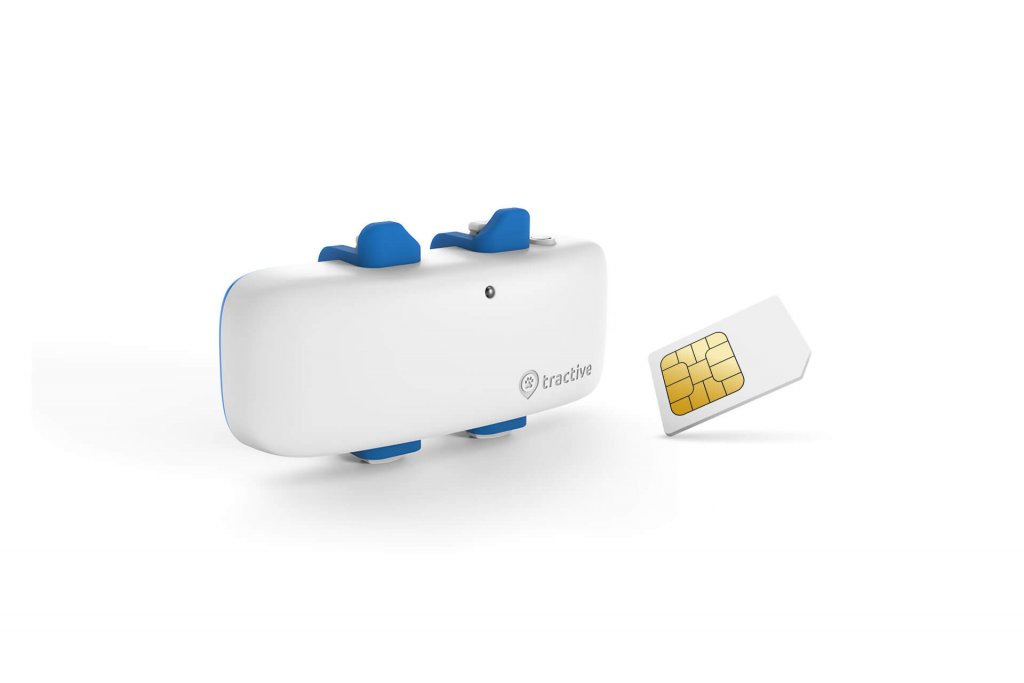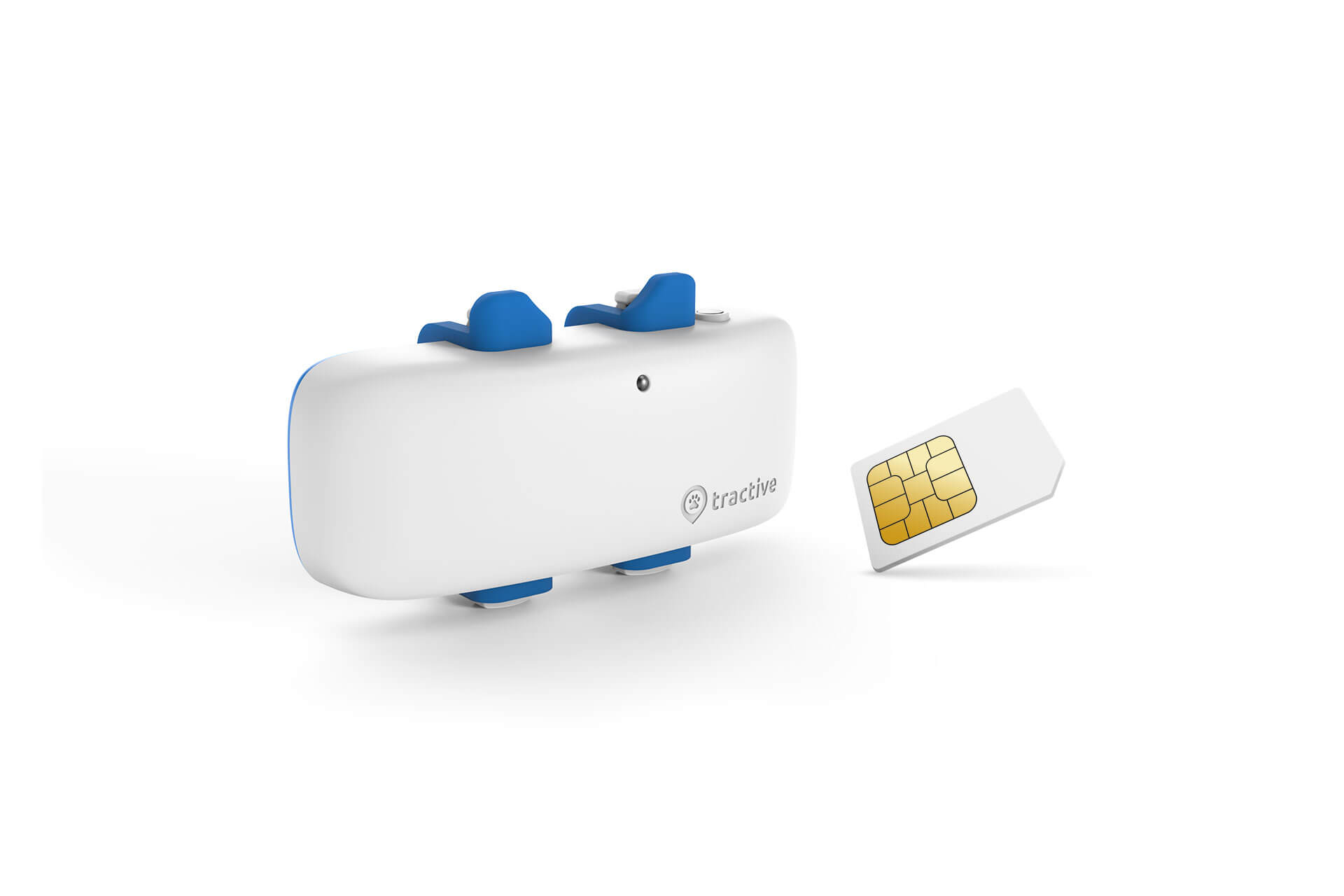 GPS trackers without a SIM card
Another option is a GPS tracker without a SIM card. While they don't come with a connected subscription plan, you can purchase your own SIM card for the tracker and choose which plan & network you want to go with. This gives you control over costs.
The downside is, your tracker will only work with a single provider and you may lose coverage in certain areas. For example, if you go on vacation somewhere that doesn't support your network.
Additionally, many simless GPS tracker are sold by not-so-great manufacturers on Amazon – so quality and customer support could become an issue. Considering you're relying on this device to keep your cat or dog safe… doesn't seem ideal.
How much does a GPS tracker for dogs cost?
Considering the shortcomings of the trackers mentioned above, it's wise to consider investing in a GPS tracker with a subscription plan for your furry friend.
And it's actually more affordable than you might think. You can get a Tractive GPS Dog Tracker for $49.99, and enjoy tracking with unlimited range for only $7 a month*. That's like a coffee and a cookie a month.
Not convinced yet? Let's take a look at what else you get when you go with the world's most-trusted GPS pet tracker.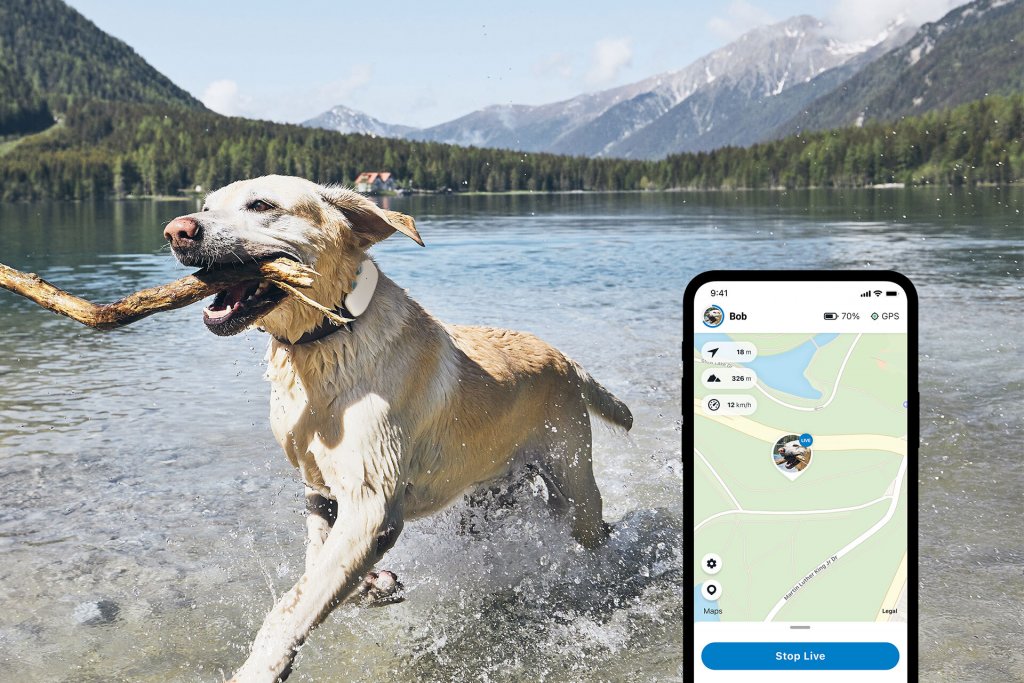 *Prices based on the US at time of publication. For current prices in your region, check our plans.
What is the best cat or dog GPS tracker?
Around a million pet parents trust Tractive to:
know their dog or cat is safe
get peace of mind
monitor their buddy's health
do all that for great prices
That's why we've been working for over a decade on purrfecting (couldn't resist!) what we offer dog and cat parents. We promise to keep the cost of the GPS tracker affordable, so that as many pet parents as possible can make use of this life-saving technology.
But don't take it from us. Read what real Tractive users have to say themselves.
Here's some features that Tractive pet parents love:
LIVE Mode: Find your furry pal in no time with position updates every 2-3 seconds.
Virtual Fence: Set up a safe zone (like your yard) or a no-go zone (like the neighbor's yard!) and get alerts if your escape artist wanders too far.
Location History: See where your dog or cat has been in the last 365 days and discover their favorite spots.
Activity Tracking: Set goals and compare activity with similar pets. Spot sleep patterns and know if something's up. Keep your buddy healthy.
Family Sharing: Let friends, family, walkers and pet-sitters track with you.
Conclusion on GPS trackers without subscriptions
While it may be possible to find your dog or cat with a GPS tracker with no monthly fee, experts recommend getting a real-time GPS tracker with monthly service if you want to follow every moment.
A GPS tracker with an integrated SIM card and subscription plan can show you where your furry friend is in real time, no matter how far. These are key features for pet parents whose wandering dog or cat may go far – whether out of fear or curiosity.
Subscription-free GPS trackers have downsides that often outweigh their advantages for pet parents. They fall short when it comes to tracking range, live tracking, pet friendly features and more. Sometimes, they can actually be more expensive than GPS trackers with a subscription!
That said, it can't hurt to add a no-subscription tracker (like a Bluetooth smart tag) to your dog or cat's collar as a backup. But we would recommend a true GPS pet tracker like Tractive GPS if you want 24/7 peace of mind and to always know where your buddy is.
To learn more about the pet-parent friendly features of GPS pet trackers, check out these reads:
Get Tractive GPS