Tech
What Is A Virtual Fence?
Even the most durable physical fence has a downside, like the dog jumping the fence, or not being able to move it. That's why virtual fences are here to stay. So how can a digital, virtual GPS fence help you? Whether you have farmed animals or busy dogs to keep up with, learn how a virtual fence can help you get peace of mind.
Fences are going digital! With a virtual fence, you can contain or virtually keep track of an animal, like a cow, cat or dog thanks to a little help of GPS and some other amazing technologies. So what is a virtual fence exactly and how does it work? What are the benefits of virtual fences over traditional fencing or other outdoor dog fences? How do popular virtual fence products compare? What's the best virtual fence for dogs and cats? We'll explore all that in this post.
What is a virtual fence?
When it comes to fencing options for animals, there are generally three types: permanent, temporary, and virtual fences. Virtual fences use GPS to contain animals within an area. They are commonly used in the agricultural industry for mapping and containing grazing dairy cattle and other herding livestock.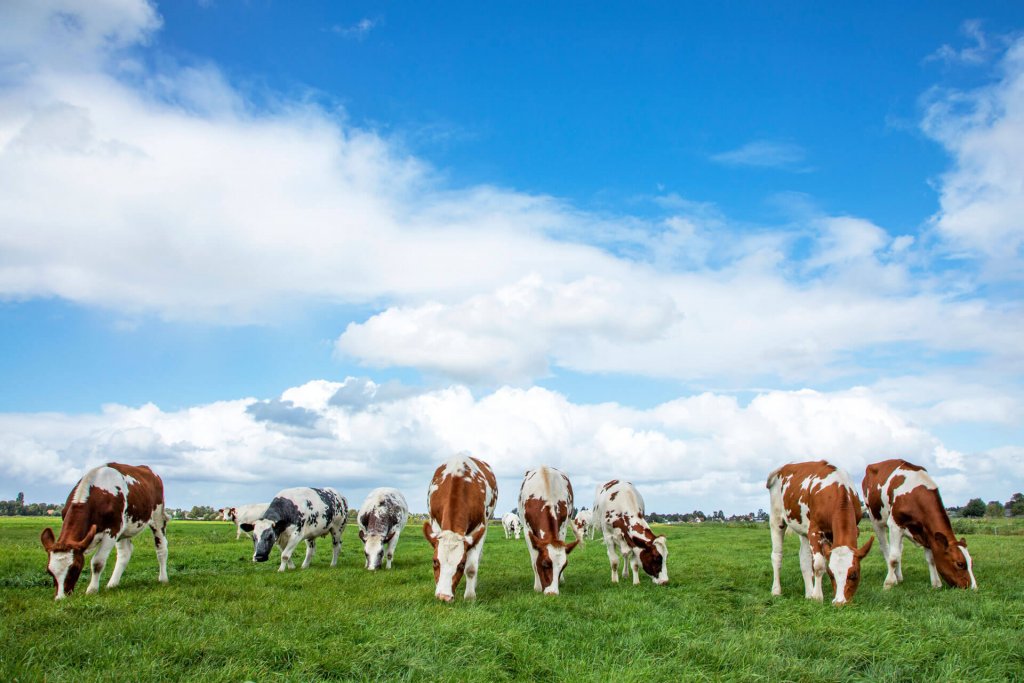 However, GPS trackers with virtual fences for pet parents are also becoming increasingly common, as they provide a safe, reliable way to make sure your dog or cat stays in the yard and out of harm's way.
A virtual fence uses collar-mounted GPS devices to contain animals within an area.

Source: Animals 2019
How does a virtual fence work?
First, the GPS tracker component is attached to the animal's collar; it detects the animal's location anywhere in the world using GPS satellites. A virtual fence is drawn on the map in the fencing software or app.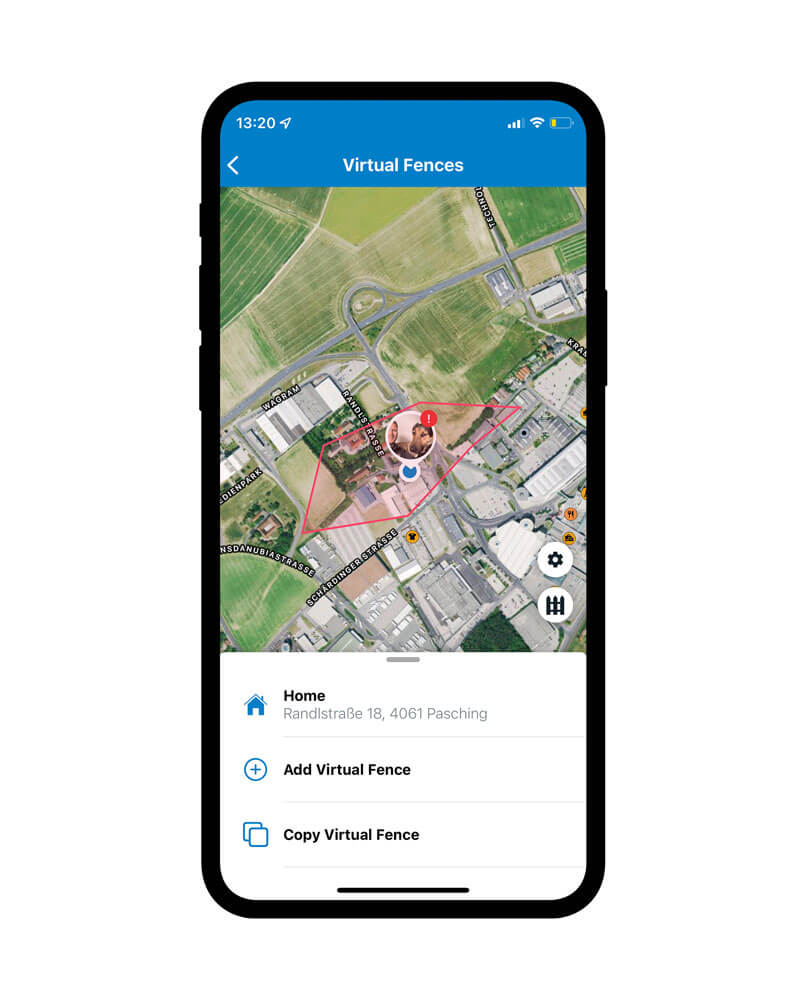 The GPS device communicates with the app to determine where the fence boundaries are and if the animal has crossed it.
With typical virtual fencing for cattle, an audio tone is emitted from the device on the cow as it approaches the fence's boundary. If the animal goes beyond the perimeter, an electric pulse is released; training the cattle to stay within the fenced area. This is also how typical invisible or wireless dog fences work.
But animal rights advocates have called invisible fences that use electric shock dangerous and unethical.
Thankfully, nowadays popular pet trackers like Tractive GPS offer a 100% safe, shock-free virtual fence designed specifically for the pets we love – and would never want to hurt. No electric pulse or shock administered – instead a notification is sent to the pet parents phone when the dog or cat leaves the virtual fence.

Benefits of virtual fencing
Virtual fences offer many benefits over traditional ground-based fencing. Some of these include:
Flexible fence boundaries: draw the boundary anywhere in the world and change it as needed.
Remote control: set up, manage and monitor the virtual fence and the animal(s) inside from anywhere, anytime on a smartphone, tablet or computer.
Quick, easy setup: no time-consuming, professional installation required; setup can be done in under 5 minutes by anyone.
Low cost: costs only a small fraction of traditional fencing. The Tractive GPS for example is only $49.99 + a low monthly subscription fee.
Portable: there is no limit to where the GPS tracking collar can track or where a digital perimeter can be set up, so you can move it around as you like.
Customizable: since virtual fences can be drawn on a map, they are highly customizable in nearly any shape or size you choose.
Types of virtual fences
Technically speaking, a virtual fence is any fence without a physical boundary. So this includes in-ground wired dog fences (which transmit a radio signal through buried wire) as well as invisible wireless dog fences. The latter creates a fenced area using a radio signal 'circle' around a central transmitter or base station. Other types of virtual fences use GPS and other wireless technologies to map an area of containment. While most invisible dog fences use electric shock to train the animal to stay inside the fence, some do not.
Different kind of virtual fences include:
Wireless dog fence
Electric dog fence
Invisible dog fence
Read more about wireless, electric and invisible dog fences
Popular virtual fence brands
To better understand the different types of virtual fences and their, well, differences, let's compare two popular brands: the SpotOn Virtual Smart Fence and the Tractive GPS Virtual Fence. Because no two virtual fences are exactly the same.
Tractive GPS Virtual Fence
The Tractive GPS Virtual Fence is one of the most valuable features of the Tractive GPS, a popular GPS tracker for dogs and cats. Pet parents receive an alert anytime their furry friend leaves the Virtual Fence boundary, and can immediately track their pet in real-time with the LIVE tracking feature. The Tractive GPS also has a sound option and light option, plus cool features like activity & sleep monitoring for pets.
SpotOn Virtual Smart Fence
Another type of virtual fence is the SpotOn Virtual Smart Fence, a containment system that uses GPS. Containment here means that the collar actively works to contain your dog to the yard or fenced area. In addition to using GPS and cellular service, the SpotOn collar uses a combination of audible warning tones and electrostatic shocks. So when your dog gets close to the fence boundary, a series of warning sounds will be emitted from the collar, followed by a final shock which is intended to correct the dog's behavior. How well the dog in turn corrects their behavior (i.e. stops trying to leave the virtual fence) all depends on how they complete the associated training program.
Warning: Shock collars are not recommended by many animal welfare agencies, as they may harm your dog and the relationship you have with them. Read more about the shocking truth about electronic dog collars.
Tractive GPS vs SpotOn
| | SpotOn Virtual Smart Fence | Tractive GPS Virtual Fence |
| --- | --- | --- |
| Type of fence | GPS, electrostatic shock | GPS |
| Purchase price | $1,495 | $49 |
| Monthly service fee | Starting at $5.95 / month | starting at $4.99 / month |
| Set up process | Walk SpotOn and your smartphone along a boundary | Draw the Virtual Fence in the Tractive GPS app |
| Requires cellular coverage | Yes | Yes |
| Cellular carriers | Verizon, AT&T | Verizon, AT&T, T-Mobile, Viaero (US) + More in Canada and Worldwide |
| Availability | USA & Canada | Worldwide |
| Battery life | 24 hours | Up to 7 days |
| Minimum fence size | 1/2 acre | 50 meter radius circular, 100×100 meters rectangular fence |
| Maximum fence size | 1,000+ acres | unlimited |
| Multiple fences | | |
| Customizable shape | | |
| Tracking | | |
| Portable | | |
| Waterproof | | |
| Low battery alerts | | |
| Activity & sleep tracking | | |
| Customer rating | 2.9 out of 5 stars on Facebook | 4.5 out of 5 stars on Trustpilot |
What's the best virtual fence for dogs and cats?
Okay, we are biased, but here at Tractive we believe a shock-free Virtual Fence and GPS dog tracking collar like the Tractive GPS is best option for our furry family members! Many virtual fences use containment tactics like electrostatic shock to scare a dog into staying inside the fenced area. But without any physical fence boundary, this can be a cruel way to teach your dog to stay inside the (invisible) lines. It's no wonder that invisible dog fences like SpotOn require dog training in addition to their hefty price tag. At only $49 plus a small monthly subscription fee, you can track your dog and set up virtual fences anywhere in the world with the Tractive GPS. 100% shock free. Since all virtual fences are made differently, be sure to do your own research to find the best virtual fencing option for you and your needs.
Discover Tractive GPS Virtual Fence
So, did you learn something new in this post? Share it with a friend!
Get Tractive GPS