What's A Virtual Fence & Which One Is Best?
Even the most durable physical fence has a downside, like your dog jumping or digging under it - or your cat sneaking past it, ninja-style. That's why virtual fences are here to stay. So how can a digital, virtual GPS fence help you?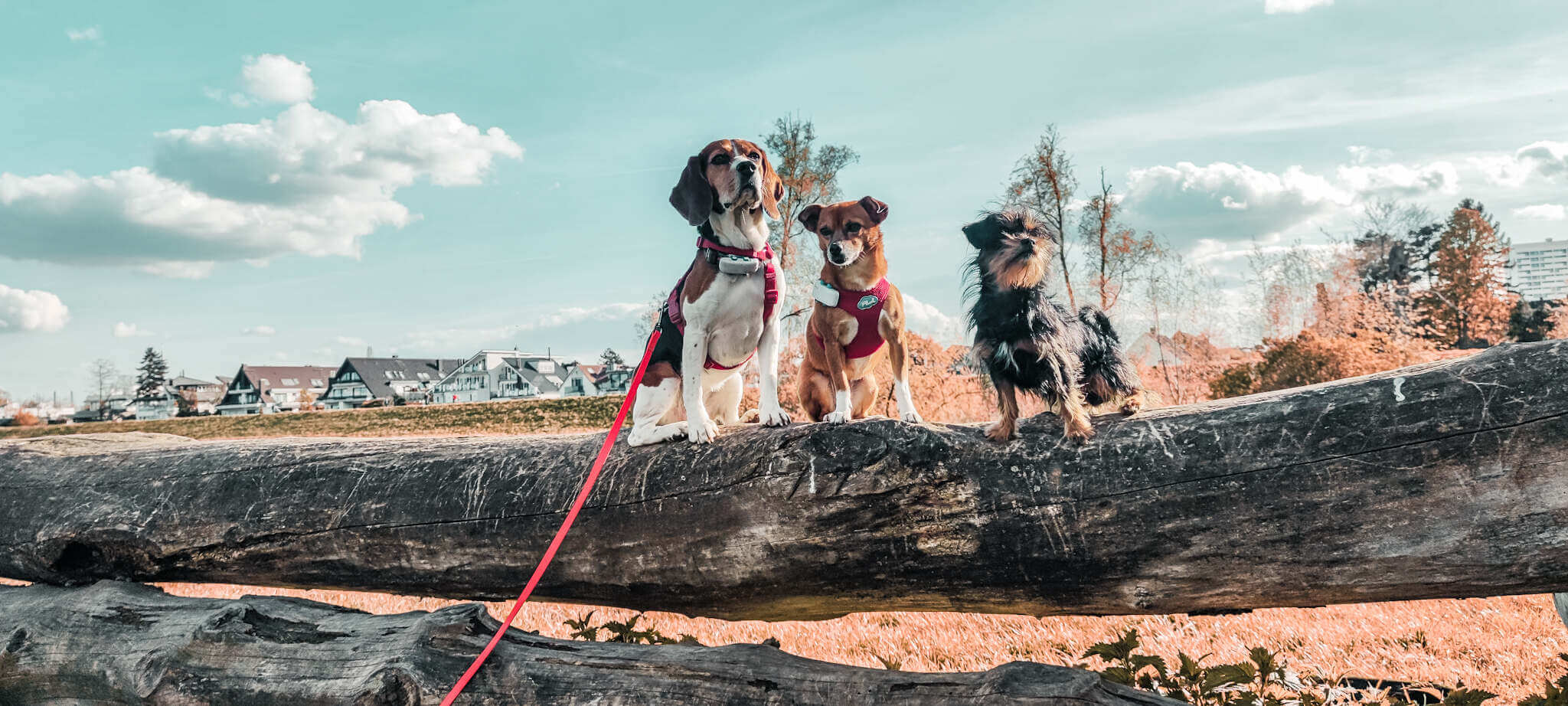 Fences are going digital! With a virtual fence, you can contain or virtually keep track of an animal, like a cow, cat or dog – thanks to a little help of GPS and some other amazing technologies. Virtual fences help you prevent them from wandering too far – while also teaching your pets their boundaries in a safe, humane way. Plus, unlike a regular fence, you can take it with you (and set it up) wherever you go.
But what is a virtual fence exactly and how does it work?
We'll explore all that and more in this post. Let's get started.
What is a virtual fence?
A virtual fence is an alternative to your regular picket fence. It uses GPS to contain animals within an area and uses a blend of technology and behavioral conditioning to keep them there. Besides GPS, virtual fences use sensors and programming to establish invisible boundaries. So your pets can roam within its limits – and help you intervene if you notice they're wandering past them.
Because when it comes to fencing options for animals, there are generally three types:
permanent,
temporary,
and virtual fences
These are commonly used in the agricultural industry for mapping and containing grazing dairy cattle and other herding livestock. In fact, physical barriers like fences have been the go-to solution for keeping pets and livestock safe for centuries.
But traditional fences are now old news – plus, they might not be enough to keep your dog from jumping them or prevent your outdoor cat from sneaking past them. And keeping your pets indoor for their safety alone isn't a great option either. (You'll just end up stressing them out – or worse, boring them. Resulting in scratched furniture or inappropriate peeing around the house.)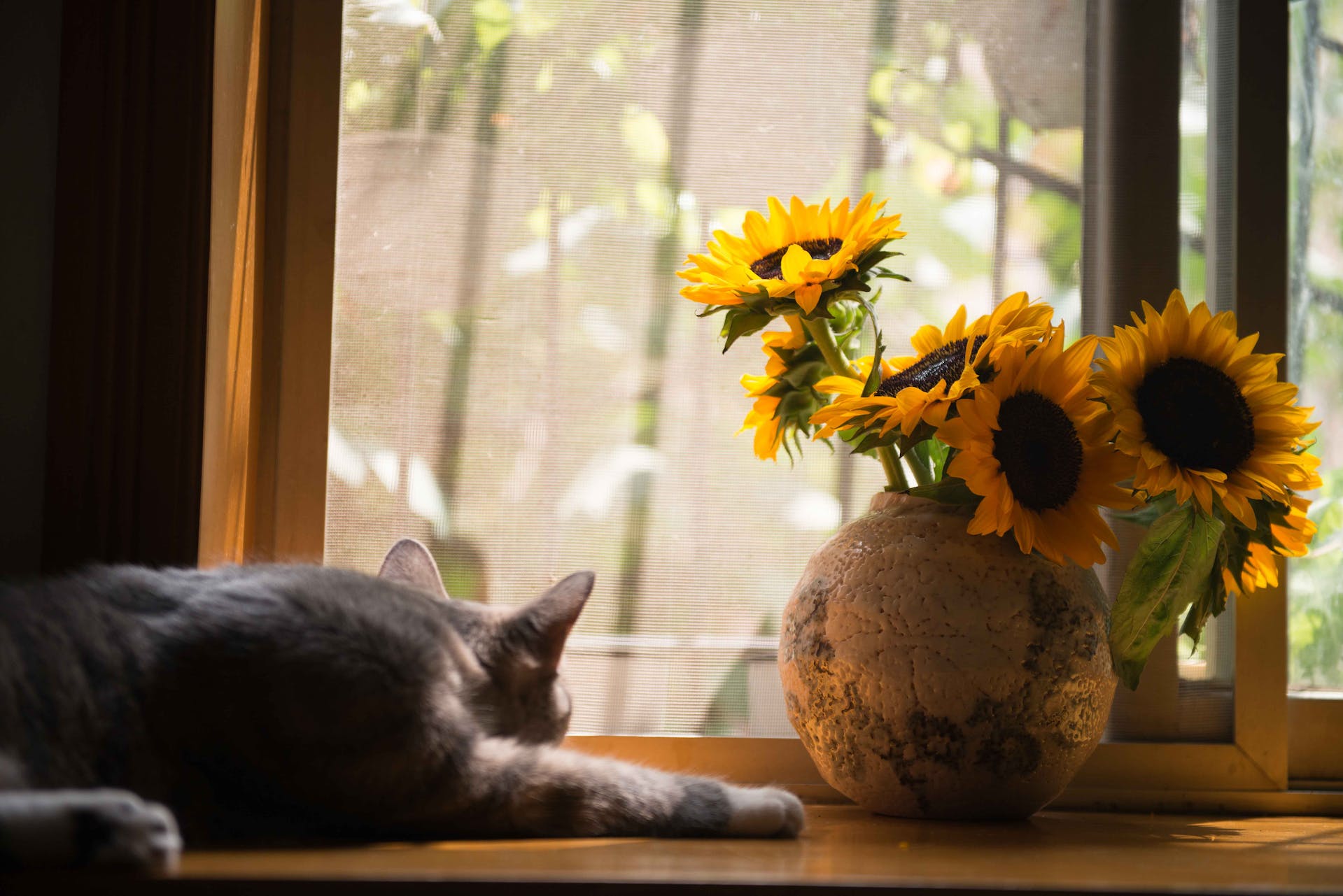 Enter virtual fences. Aka, a smart and humane alternative to teaching your pets their boundaries. What's more, GPS trackers with virtual fences for pet parents are growing increasingly popular. They provide a safe, reliable way to make sure your dog or cat stays in the yard and out of harm's way.
A virtual fence uses collar-mounted GPS devices to contain animals within an area.

Source: Animals 2019
Now with all this said – how do virtual fences work in the first place? Let's start with Tractive's very own.
How does a virtual fence work?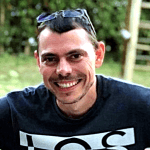 "A Virtual Fence is a continuously monitored area that you, the user, create. You can easily move or resize it while still sitting on your couch.

Once you've defined a specific area, your Tractive GPS starts monitoring it. As soon as your tracker picks up that your pet is outside a safe zone or inside a danger zone, the system immediately detects a change in the area it's monitoring.

Which means you'll get a notification right away – so you can intervene and prevent your pet from wandering too far."

– Ivelin Nenkov, Embedded Systems Engineer at Tractive since 2016
Let's start with attaching your Tractive device to your dog or cat's collar. It contains a GPS tracker component, which connects to local satellites – so you can track your pet anywhere in the world, no matter how far.
Next, check your app. You'll see a virtual fence emerging on the map, like in the example below: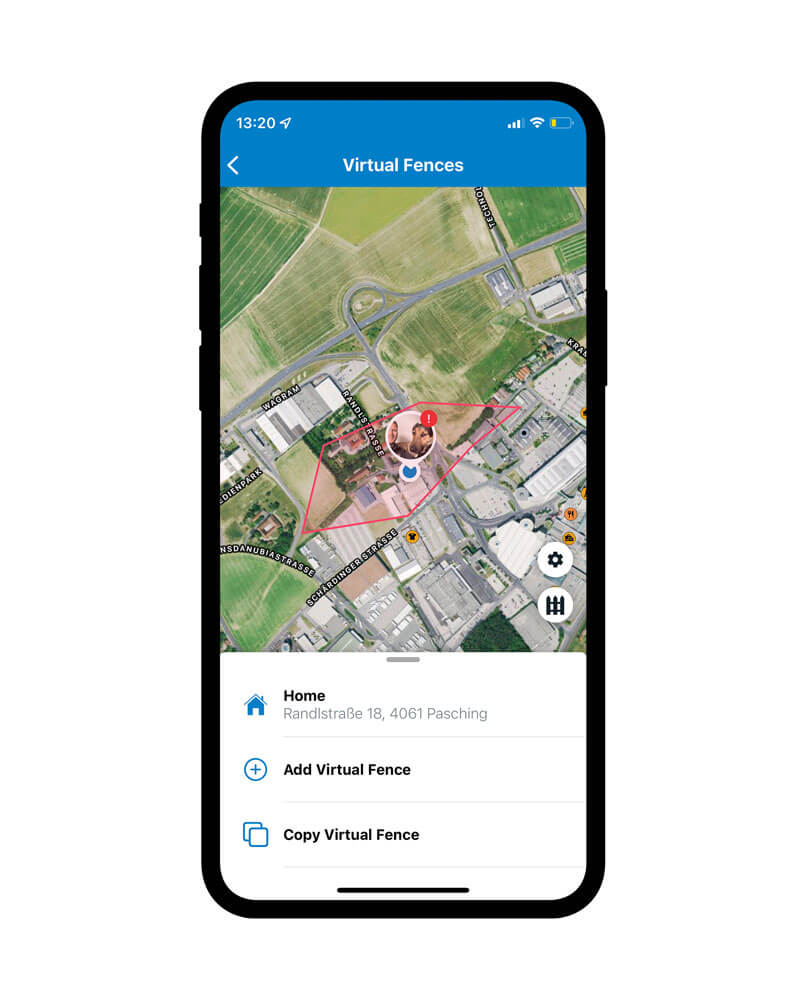 Your Tractive GPS device communicates with the app to determine where the fence boundaries are – and if your pet has crossed it.
You can set up your own virtual fence with Tractive's options – aka, "safe zones" and "no go zones".
Once you've set up your very own customizable virtual fence, you'll immediately get a notification once your dog or cat (literally) crosses the line. Helping you prevent them from wandering somewhere dangerous, smelly, or where they might pick up something potentially infectious, like fleas, ticks, or pollen.
Or alerting you if your normally indoor pet might have been the victim of dognapping – or makes an escape attempt once they spot an open door. (Like they might if you have frequent visitors.)
Discover GPS & Health Trackers For Pets
Read more:
Types of virtual fences
Technically speaking, a virtual fence is any fence without a physical boundary. So here are some typical examples you might come across:
Underground wired dog fences, which transmit a radio signal through buried wire
Invisible wireless dog fences, which create a fenced area using radio signals around a central base
Electric dog fences, which prevent animals from venturing past through the use of static shocks
GPS dog fences, like Tractive's – which notifies you via your device if your pet has ventured past it
Besides these examples, other virtual fence devices might use sound or a beep to keep animals from straying. You might've heard of audio-based Bluetooth trackers like Tile or Apple AirTag. These let out an audible ringtone or sound the closer you are to the item you're tracking. With typical virtual fencing, it works similarly. When, say, a cow approaches the fence boundary – the tracking device might let out a sound to warn them not to stray further.
Why you should avoid virtual fences that rely on static shocks
Unfortunately, some of these fences also let out an electric pulse if the animal ventures beyond the virtual fence perimeter. This is intended to train the cattle to stay within the fenced area. Aka, how typical invisible or wireless fences might work. Some dog training collars work similarly – letting out a static shock to "train" dogs to stay within boundaries.
We cover more wireless, electric and invisible dog fences in our post, including how safe they are and whether it's a good idea to use invisible fences that rely on static shocks.
It's important to note that both vets and animal rights advocates discourage the use of collars or invisible fences that use electric shocks.1 (No matter how mild.) They consider these dangerous and unethical – and more likely to cause your pets harm.
Your dog or cat might receive a more intense shock than intended – causing them unbearable pain.
Static shocks are more likely to cause your pets unnecessary stress, anxiety, and make them act out aggressively in self-defence.
Some dogs with high prey drive won't stop chasing or hunting down "prey" – even with a shock.
Over time, using aversive techniques like static shocks can negatively affect your dog or cat's trust in you. And worse, they don't even guarantee their safety or long-term wellbeing.
Tractive's Virtual Fence: A smart, humane alternative to aversive boundary training
Thankfully, nowadays popular pet trackers like Tractive GPS offer a 100% safe, shock-free virtual fence designed specifically for the pets we love – and would never want to hurt.

No electric pulse or shock administered. Instead, you get an instant notification on your phone or device when your dog or cat leaves the "safe zone" of your virtual fence. So a smart, humane alternative to boundary training your pets.
Discover GPS & Health Trackers For Pets
Benefits of virtual fencing
Virtual fences offer many benefits over traditional ground-based fencing. Here are a couple:
Flexible fence boundaries
Your Tractive GPS device connects to mobile networks across 175 countries around the world. This means you can draw your virtual fence boundaries anywhere in the world – and change it as needed. So you can stay on top of your pet's location, even while on vacation.
Remote control
Your Tractive device connects seamlessly with your phone, tablet, or computer via its built-in SIM card. Which means you can set up, manage and monitor your virtual fence (and pets) from anywhere, anytime on your device.
Quick, easy setup
No time-consuming, professional installation required. You can set up your virtual fence in under 5 minutes – and by anyone.
Low cost
A virtual fence costs only a small fraction of traditional fencing. The Tractive GPS for example is only $49.99 + a monthly fee that's less than your Netflix subscription.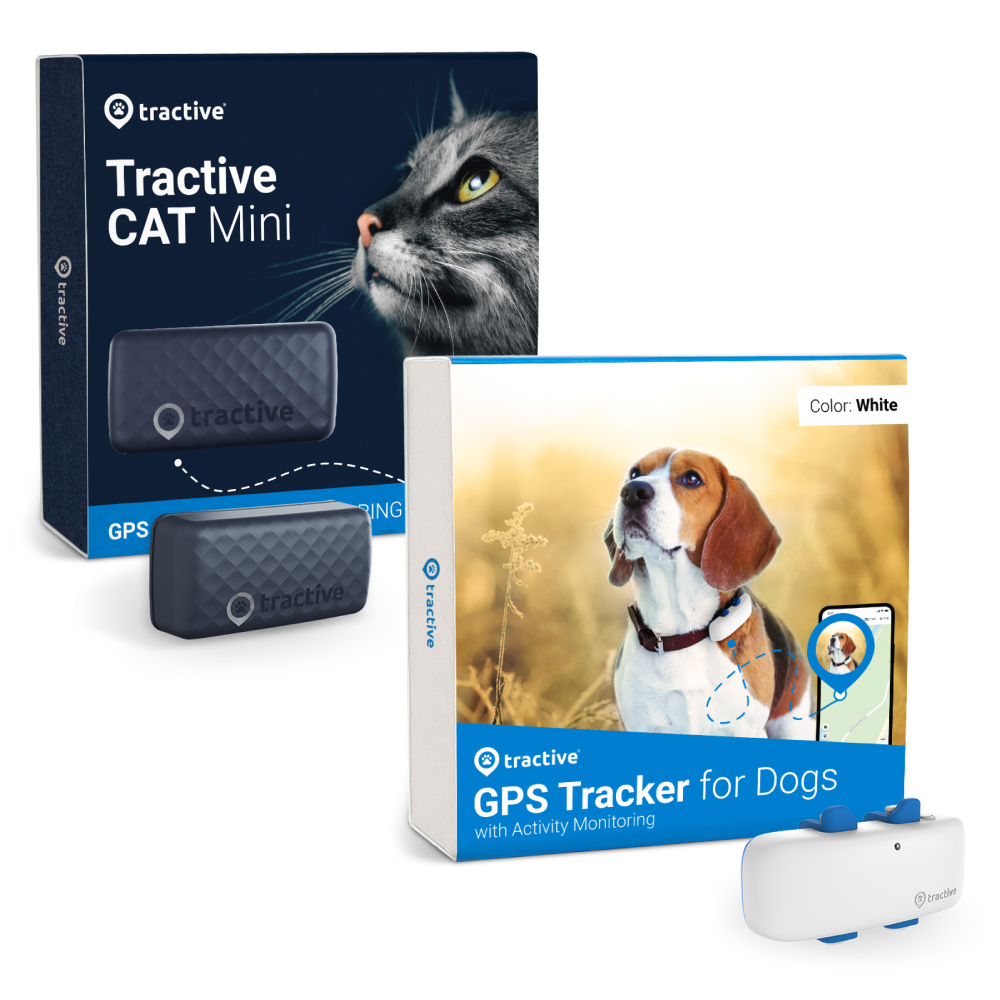 Always know where your pets are
Follow every step in real-time with unlimited range. Get alerts if they wander too far. Keep them happy & healthy with Wellness Monitoring. And let others – like walkers or sitters – keep an eye on your pet too.
Portable
Because it's, well, virtual – you can carry your virtual fence around with you wherever you go. Tractive's GPS tracking works across an unlimited range. So there's no limit to where your pet's GPS tracking collar can help you stay on top of their location. Carry your digital perimter around with you, set it up, and move it around – no matter where you are in the world.
Customizable
Since virtual fences can be drawn on a map, they are highly customizable in nearly any shape or size you choose. Here are three options you can choose and fiddle around with to best fit your yard, ranch, or neighborhood:

Popular virtual fence brands: A comparison
No two virtual fences are exactly the same. So to better understand the different types of virtual fences and what sets them apart, let's compare two popular brands: the SpotOn Virtual Smart Fence and the Tractive GPS Virtual Fence.
Tractive GPS Virtual Fence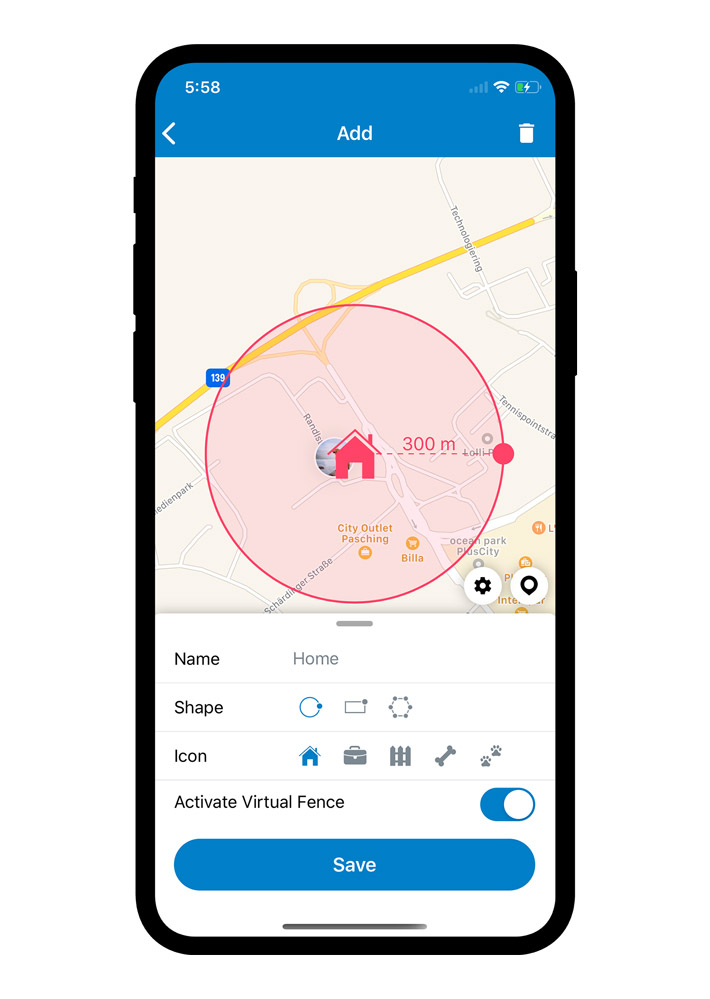 The Virtual Fence is one of the most valuable features of the Tractive GPS, a popular GPS tracker for dogs and cats. You'll receive an alert anytime your dog or cat leaves the Virtual Fence boundary. Plus, you can immediately track your pet in real-time with the LIVE tracking feature.
The Tractive GPS also has a Light & Sound option, plus cool features like activity & sleep monitoring for pets.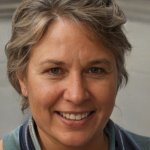 "Tractive is the #1 cat GPS tracker in the industry. And it's the highest quality cat tracker you can find.
I was able to set the safe zone as my house area and once my cat gets outside, I get an alert right away.
In fact, it probably saved my cat's life that time she chased a bird and got lost. She was scared and I was able to find her with the help of the GPS tracker.
Tractive's chip frequently calculates your cat's location and is updated on the map every 2-3 seconds. Furthermore, the LED will help you guard your furry friend at night."
– Clair Chesterman, Owner of CFA and CCA-registered cattery and fostering company, FluffyMeowPaws3
Discover GPS & Health Trackers For Pets
SpotOn Virtual Smart Fence
Another type of virtual fence is the SpotOn Virtual Smart Fence, a containment system that uses GPS. Containment here means that the collar actively works to contain your pet to the yard or fenced area.
In addition to using GPS and cellular service, the SpotOn collar uses a combination of audible warning tones and electrostatic shocks. So when your dog or cat gets close to the fence boundary, a series of warning sounds will be emitted from the collar, followed by a final shock. (Intended to "correct" their wandering behavior.)
How well your pet stops trying to leave the virtual fence all depends on how they complete the associated training program.
Warning: Shock collars are not recommended by vets and animal welfare agencies, as they may harm your pet and the relationship you have with them. Read more about the shocking truth about e-collars for dogs.
Tractive GPS vs SpotOn
| | SpotOn Virtual Smart Fence | Tractive GPS Virtual Fence |
| --- | --- | --- |
| Type of fence | GPS, electrostatic shock | GPS |
| Purchase price | $1,495 | $49 |
| Monthly service fee | Starting at $5.95 / month | starting at $4.99 / month |
| Set up process | Walk SpotOn and your smartphone along a boundary | Draw the Virtual Fence in the Tractive GPS app |
| Requires cellular coverage | Yes | Yes |
| Cellular carriers | Verizon, AT&T | Verizon, AT&T, T-Mobile, Viaero (US) + More in Canada and Worldwide |
| Availability | USA & Canada | Worldwide |
| Battery life | 24 hours | Between 7-30 days |
| Minimum fence size | 1/2 acre (or ~2000 meters) | 500 feet (~50 meter) radius circular, 100×100 meters rectangular fence |
| Maximum fence size | 1,000+ acres | unlimited |
| Multiple fences | | |
| Customizable shape | | |
| Tracking | | |
| Portable | | |
| Waterproof | | |
| Low battery alerts | | |
| Health alerts | | |
| Activity & sleep tracking | | |
| Customer rating | 2.9 out of 5 stars on Facebook | 4.5 out of 5 stars on Trustpilot |
So…what's the best virtual fence for dogs and cats?
No matter what you end up picking, we'd always recommend putting your pet's health and safety first. Compromising their wellbeing and trust in you is never worth it.
Many virtual fences use containment tactics like electrostatic shocks to scare pets into staying inside the fenced area. But without any physical fence boundary, this can be a cruel way to teach your dog or cat to stay inside the (invisible) lines.
(It's no wonder that invisible dog fences like SpotOn require extensive training in addition to their hefty price tag.)
So if you've found your dog digging a hole beneath your fence for the hundredth time, consider investing in a safe, shock-free virtual fence and GPS pet tracking collar. At only $49 plus a small monthly subscription fee, you can track your pet and set up virtual fences anywhere in the world – 100% shock free.
Discover GPS & Health Trackers For Pets
Want to see how to set up a Tractive Virtual Fence in action? Here's a video that covers it in under a minute:
Got a friend or a loved one who's got an escape artist pet at home? Share this post with them and make their day!