GPS Tracker for Cats (incl. Collar)
Tractive GPS Cat Tracker
All-in-one GPS cat tracker with faux leather collar

Worldwide location tracking & activity monitoring

LIVE mode - location updates every 2-3 seconds

Up to 5 days battery life

Waterproof, shock-resistant and weighs 28g

Choose a plan starting from $ 5.39 per month after checkout
See where your cat's going - and where they've been - with the Tractive GPS Cat Tracker and app. Add activity & fitness tracking, plus a HUNTER® faux leather collar with cat-safe buckle, and you get the best all-in-one cat tracking collar.
Product is currently out of stock
Would you like to get an email notification when the product is available again?
Email address
Temporarily out of stock.
Estimated shipping date for orders with this product:
Plastic-free packaging

Free shipping

14 days money back guarantee
Currently Unavailable
Temporarily out of stock.
Estimated shipping date for orders with this product:
Never lose sight of your cat
LIVE Tracking

Need to track your cat's every move? Turn on LIVE mode and get updates every 2-3 seconds.

Virtual Fence

Got a curious cat that loves to explore? Mark areas like your home or street as safe, and know the moment your cat leaves them - and when they come back.
Keep tabs on your cat's activity
Activity Monitoring

See how much time your cat spends napping and moving around. Spot any changes to their normal behavior. Keep them fit and happy. Ready to start? Check out Activity Monitoring by Tractive

Location History & Heatmap

Want to know where your cat's been? Find all about their adventures, secret spots and favorite places to hang out.
Comfortable & safe

Comes with secure faux leather collar designed to make tracker feel light, and help cats move as freely as possible.

Light & sound

Find your GPS tracker in case it falls somewhere where it's hard to see, like a forest.

Cat-safe power button

There's no risk of your cat accidentally turning the power on or off.
One subscription. No limits.
Your tracker works a bit like your phone.

It's got its own SIM card and can connect to networks worldwide.

And thanks to a subscription that covers all mobile fees,

you get to enjoy 24/7 coverage in over 150 countries. At no extra cost.
Pick a plan that best suits you, with prices starting from as little as a cup of coffee a month.
Monthly
starting from
Payment of $ 9.95 once a month
1 Year
starting from
Save 50% over monthly plan
Payment of $ 77.90 once a year
2 Years
starting from
Save 58% over monthly plan
Payment of $ 129.39 once every 2 years
Pick the right plan for you during activation, right after purchasing your tracker.
View Plans
Frequently Asked Questions (FAQs)
What's the range of the Tractive GPS collar cat?

How does a Tractive GPS tracker work?
How can I attach the cat tracker to the collar?

What is Activity Monitoring, and how does it work?
As seen in the new Amazon Original series
The Pack, a new reality competition series from Prime Video, celebrates the unrivaled bond between dogs and their human companions. Hosted by gold medalist Lindsey Vonn and her dog Lucy, the series features twelve teams of dogs and their human parents on an epic adventure across multiple continents. Tractive joined the teams as they traveled around the world to ensure every four-legged contestant was safe, happy, and trackable!

Can't wait to watch?

The Pack premiered on November 20 in more than 240 countries and territories, exclusively on Prime Video. Visit amazon.com/ThePack to learn more.
Small but strong. Adventure-proof.
Thanks to cutting-edge technologies, the Tractive cat collar with GPS can be located accurately and reliably from almost anywhere in the world: whether your cat is in the backyard or on the other side of the globe.
Easy to adjust collar

Comes with tracker mount and a breakaway mechanism that keeps your cat safe.

100% waterproof

The cat tracking collar is IPX7 waterproof and is shock resistant as well.
Small & lightweight

The GPS for cats weighs less than 30g (1.1oz) and is recommended for cats above 4 kg (8.8 pounds).

Interchangeable battery

The battery lasts up to 5 days, is easy to attach and detach, and can be replaced with a spare battery while charging.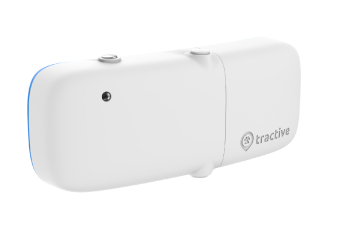 Take Tractive GPS Everywhere
Get the free app for iOS, Android and Web

Apple iOS 11+, Android 7.0+, Computer or Mobile Browser.
Alexa users can enable the Tractive GPS skill via the Alexa app.

Subscription plan starting at $ 5.39 / Month

Tractive GPS trackers require a subscription plan. Choose between different options starting at $ 5.39 / month.
You're good to go the moment you get your device.
Finding your dog or cat
has never been easier
What our customers say about Tractive GPS
We had lost her for over a year so I was really nervous when it came to letting her have her freedom back. This has give us a real peace of mind.

... that comes with using Murray's tracker. He's part of the family and this keeps him safe.

It's very useful for outdoor cats and works better than expected. It's very light so my cat got used to it very quickly and the customer service is just great.