Gift Bundle for Cats
Tractive GPS Cat Tracker + 1 year of service
A perfect gift for cats and their owners

Includes 1 GPS tracker to know the location of your cat

Includes a €50 gift card for 1 year of service (no subscription required)

Comes in a special gift box

Snow-proof and reindeer-friendly

Only available until Dec. 31, 2019
Still looking for the perfect gift for cat owners? The Tractive Gift Bundle includes the latest Tractive GPS tracker for cats, as well as, a €50 gift card that allows them to track the exact location of their four-legged companions and monitor their activity for 1 year. Give your friends the gift of safety this year!
All major credit cards accepted

Free shipping

Limited stock only!
Hurry, while stocks last!
US $99.99
US $89.99
Never lose your cat again
Virtual Fence (Geofence)

Get notified immediately when your cat leaves a defined safe area (e.g. backyard or neighborhood).

LIVE Tracking

Pinpoint the real-time location of your furry friend when it matters most. In LIVE Tracking mode, the location will be updated every 2-3 seconds.
The best product for your outdoorsy cat
Activity Monitoring

The cat tracker records the daily activity of your kitty and shows you how active, playful or calm they are, and how much time they are sleeping. You can also set activity goals for your cat.

Location History

Ever wondered where your pets are when you are not around? Tractive products not only show where your pet is right now, but also where they have recently been.
Tracker shape

The tracker comfortably fits your feline's neck without disturbing them.

Cat-collar friendly clip & mount

The flexible rubber clip fits almost any collar width: Wider collars are placed between rubber clip and mount, thinner collars can be put through the two rectangular holes on the sides of the rubber clip.

Battery latch

By pressing the 2 middle buttons found on the top and on the bottom of the tracker, you can open the tracker to charge.
Frequently Asked Questions (FAQs)
What is the range of operation?

Where does the Tractive GPS tracker work?
Who else can see my cat's location?

Can I attach the GPS tracker to my cat collar?
Thanks to cutting-edge technologies, Tractive GPS trackers can be located accurately and reliably from almost anywhere in the world: whether your pet is in the backyard or on the other side of the globe.
Small & Lightweight

Tractive GPS device weighs less than 30g (1.1oz) and is recommended for pets above 4kg (8.8 pounds).

100% Waterproof

Tractive GPS devices are IPX7 waterproof and shock resistant.
Rechargeable Battery

2-5 day battery life, depending on cellular coverage and usage. The device fully recharges in less than 2 hours.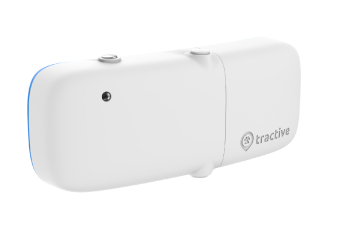 Tractive GPS for your Smartphone and your Browser
Free Apps for iOS, Android and Web

Apple iOS 11+, Android 5.0+, Computer or Mobile Browser.
Alexa users can enable the Tractive GPS skill via the Alexa app.

Subscription plan

Tractive GPS trackers require a subscription plan. When choosing a subscription plan, the €50 voucher from the Gift Bundle will be deducted from the chosen plan.
We send it in a reusable tin box so that it's ready to gift
What our customers say about Tractive GPS
It has saved our dogs so many times!

Works well and makes walking with the dog very relaxing

I´m using two Tractive devices for nearly two years now. They are both working very well and I will definitely keep on using them.