Gift Bundle for Dogs
Tractive GPS DOG LTE + subscription for 1 year
The perfect gift for a dog owner

Always know where your buddy is with your GPS dog tracker

Comes with a gift card worth 1 year of BASIC subscription

Peace of mind with features like LIVE mode on the free Tractive GPS app

100% waterproof and reindeer-friendly
Looking for the perfect gift for dog owners? Give them peace of mind with the Tractive Gift Bundle. Includes Tractive GPS DOG Tracker + gift card to cover 1 year of subscription. Keep an eye on your furry friend at all times, and keep them fit with Activity Monitoring.
Delivery in
2-6
business days
Tractive GPS DOG LTE + subscription for 1 year is currently not available in our webshop. Contact Tractive for more information.
No longer available
Product is currently out of stock
Would you like to get an email notification when the product is available again?
Email address
This product is currently not available in our webshop. Order now at
Longer than usual delivery times.
Expected shipping date for orders with this product:
Plastic-free packaging

Free shipping

Limited stock only!
Currently out of stock
No longer available
No longer available
Hurry, while stocks last!
$129.99
$109.99
Longer than usual delivery times.
Expected shipping date for orders with this product:
Delivery in
2-6
business days
LIVE GPS Tracking

Looking for extra reassurance? Go into LIVE mode and you'll get updates every 2-3 seconds.

Virtual Fence (Geofence)

Know the moment your doggo leaves - or gets back into - an area you've marked as safe. For example, your garden. Or the neighborhood.
Keep your dog active and healthy
Activity Monitoring

Check in on your dog's fitness and activity levels. See how they compare with similar dogs. And set four-legged activity goals. Ready to start? Check out Activity Monitoring by Tractive

Location History & Heatmap

See where your dog's been, and find out your furry friend's favorite places to hang out.
Comfortable & flexible

Securely fits most dog collars and harnesses, and stays out of your dog's way.

Light & sound

Find your GPS tracker in case you drop it somewhere where it's hard to see, like a forest.

Dog-safe power button

There's no risk of your dog accidentally turning the power on or off.
Frequently Asked Questions (FAQs)
What's the range of the Tractive GPS dog tracker?

How does a Tractive GPS tracker work?

Is there a warranty for the Tractive GPS?
Who else can see my dog's location?

What is Activity Monitoring, and how does it work?

Which subscription plan is included in the bundle?
Small but strong. Adventure-proof.
Tractive GPS trackers provide an accurate, reliable location anywhere in the world, whether your dog's in the backyard or on the other side of the globe.
Small & lightweight

Weighs 35g (1.2oz) and is recommended for dogs above 4kg (8.8 pounds).

100% waterproof

Tractive GPS is IPX7 waterproof and shock resistant.
Rechargeable battery

Battery lasts up to 7 days on a single charge, depending on cellular signal and usage.

Improved connectivity

Uses the most advanced network technology to give you the best, most accurate tracking experience for your dog.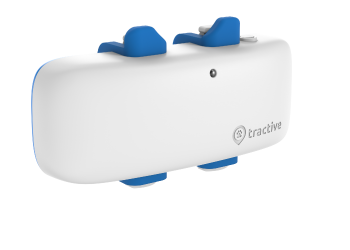 Take Tractive GPS Everywhere
Get the free app for iOS, Android and Web

Apple iOS 12+, Android 7.0+, Computer or Mobile Browser.
Alexa users can enable the Tractive GPS skill via the Alexa app.
We send you everything you need to stay connected to your dog.
What our customers say about Tractive GPS
My dog ran away chasing a deer while we were hiking. I doubt I'd have found her without Tractive.

Genuinely impressed with this product. Had it for over a year now and it's got us out of a number of narrow escapes

It's more than just GPS, it provides more useful information as well like suggested active time.