GPS Tracker for Dogs
Tractive GPS DOG LTE
Locate your dog on your phone in real-time

Monitor your little buddy's activity

Get notified if your dog wanders a bit too far from home

NEW! Enjoy the best tracking experience with LTE technology

Get wet! 100% waterproof and adventure-proof

Long-lasting battery that goes for up to 5 days

Subscription starts from only US $5.39 per month per tracker
Meet Tractive GPS DOG LTE, our most accurate and energy-efficient pet tracker yet. It combines new LTE technology with our most popular features for even more peace of mind. And with unlimited range, it lets you see your dog's location and activity levels everywhere in the world.
Product is currently out of stock
Would you like to get an email notification when the product is available again?
Email address
All major credit cards accepted

Free shipping

14 days money back guarantee
LIVE GPS Tracking

Looking for extra reassurance? Go into LIVE mode and you'll get updates every 2-3 seconds.

Virtual Fence

Know the moment your doggo leaves - or gets back into - an area you've marked as safe. For example, your garden. Or the neighborhood.
Keep your dog active and healthy
Activity Monitoring

Get daily reports and helpful health information. Compare activity with dogs like yours. And set four-legged activity goals.

Location History & Heatmap

See where your dog's been, and find out your furry friend's favorite places to hang out.
Tracker shape

Designed to comfortably fit your dog's neck without disturbing their movements.

Tracker attachment

The GPS tracker's flexible rubber clip adapts to dog collars of different sizes.

Battery

The dog tracker can be easily charged by attaching the magnetic battery side to the charger provided.
Frequently Asked Questions (FAQs)
What's the range of a Tractive GPS dog tracker?

How does a Tractive GPS tracker work?
Will the Tractive GPS dog tracker fit my dog's collar?

What is Activity Monitoring, and how does it work?
Tractive GPS trackers provide an accurate, reliable location anywhere in the world, whether your dog's in the backyard or on the other side of the globe.
Small & lightweight

Weighs a bit above 1oz (35g) and works for dogs of all sizes - from Chihuhuas to Bullmastiffs.

Rechargeable battery

Battery lasts up to 5 days on a single charge, depending on cellular signal and usage.
100% waterproof

Tractive GPS DOG LTE is IPX7 waterproof and shock resistant.

LTE technology

Operates on the LTE network to ensure efficient and accurate tracking of your dog.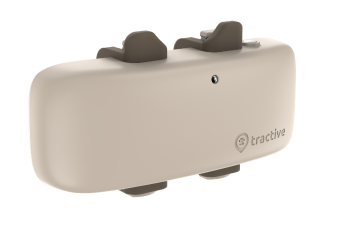 Tractive GPS for your Smartphone and your Browser
Free Apps for iOS, Android and Web

Apple iOS 11+, Android 5.0+, Computer or Mobile Browser.
Alexa users can enable the Tractive GPS skill via the Alexa app.

Subscription plan starting at US $5.39 / Month

Tractive GPS trackers require a subscription plan. Choose between different options starting at US $5.39 / month.
We send you everything you need to stay connected to your dog.
Finding your dog or cat
has never been easier
What our customers say about Tractive GPS
It has saved our dogs so many times!

Works well and makes walking with the dog very relaxing

I´m using two Tractive devices for nearly two years now. They are both working very well and I will definitely keep on using them.